HFX Wanderers utilize Caribbean connection to sign Trinidadian quartet
---
HFX Wanderers FC have made their first overseas transfers by signing four high-profile players from Trinidad and Tobago.
Together, Jan-Michael Williams, Elton John, Akeem Garcia and Andre Rampersad are making history as the club's first international signings and will join the team pending medicals and the completion of an International Transfer Certificate.
All four have won national championships with club teams in Trinidad and Tobago and three of them have played on the international stage for their home country, at both youth and senior levels.
'Accomplished group' signed to 'help the team gel quickly'
Wanderers head coach Stephen Hart had the inside track on the players, having been in charge of Trinidad and Tobago's national team between 2013 and 2016.
"I'm delighted because we have a group of players who are familiar with each other and basically they play down the middle of the park, so I think that's very important," Hart said.
Building the spine of the team for the new Canadian Premier League has been the first concern for the Wanderers coach since taking the reins last year.
"They've played with and against each other. I see them competing for some of those key spots and I hope they help the team gel very quickly," Hart added.
As well as expecting all four players to make an immediate impact for his team, Hart is counting on them to bring invaluable guidance to the younger Canadian players he's planning to sign and develop.
"They're accomplished players who bring lots of experience. They're game savvy with the kind of dedication that comes from having the right attitude of being a professional," Hart said.
'Larger than life' goalkeeper
Having amassed 81 full international caps for Trinidad and Tobago, goalkeeper Jan-Michael Williams arrives at the Wanderers as the most experienced of the new Trinbago bunch.
Williams, 34, has played in Belgium, Hungary, Honduras and Guatemala.
The 6-foot-3 'keeper has also won a number of league titles at club level in his home country for W Connection and Central FC.
"I am extremely excited to play in the Canadian Premier League and to be a part of the inaugural season," said Williams, who has also appeared in CONCACAF Gold Cups and World Cup qualifiers.
Described as "larger than life" by Hart, Williams is looking forward to being reunited with the Wanderers coach, after playing for and captaining Trinidad and Tobago when Hart was the Soca Warriors' boss.
"I like how Stephen treats his players and what he demands, so for me that's a big plus," Williams said. "We can set our standard high trying to be the best team and win the competition because it's a new league, so it's something I'm really looking forward to."
Strength in midfield and attack
A former Central FC teammate of Williams, midfielder Elton John joins the club as another veteran professional, having also won titles with North East Stars FC and San Juan Jabloteh FC.
John, 31, who has also played in Belgium and represented Trinidad and Tobago at both youth and senior levels, is equally at home playing at centreback, making him another valuable addition for Hart.
The Wanderers coach rates him highly as a player who is versatile and also has composure on the ball.
"I'm excited and happy for a new challenge," John said. "I'm ready to make the fans happy with the Wanderers and hoping they accept me as a player."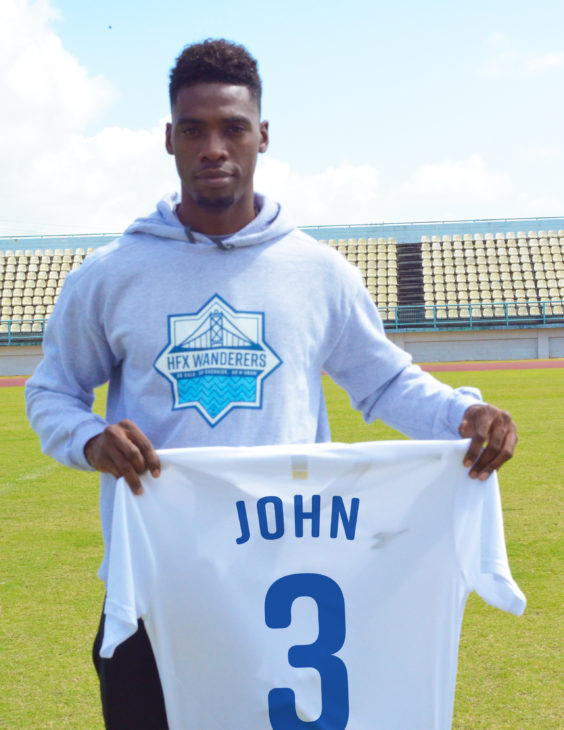 The two promising younger players on their way to Halifax from the Caribbean are joining the club in part through the club's other Trinbago connection — Wanderers assistant coach Derek King.
Akeem Garcia and Andre Rampersad were both key members of King's recent championship-winning FC Santa Rosa team.
"His movement off the ball is very good," King said of Garcia. "He can play No. 9 or 10 as well as on the right or the left. He'll be a good asset because he can play any of these positions."
'Ready to give everything'
Garcia scored ten goals in FC Santa Rosa's run to the top, playing as an attacking wide player or striker.
The 22-year-old has turned heads since forcing his way into Trinidad and Tobago's under-17 squad at 14 years old before moving up to his country's under-20 team. Garcia has appeared twice for the senior national team.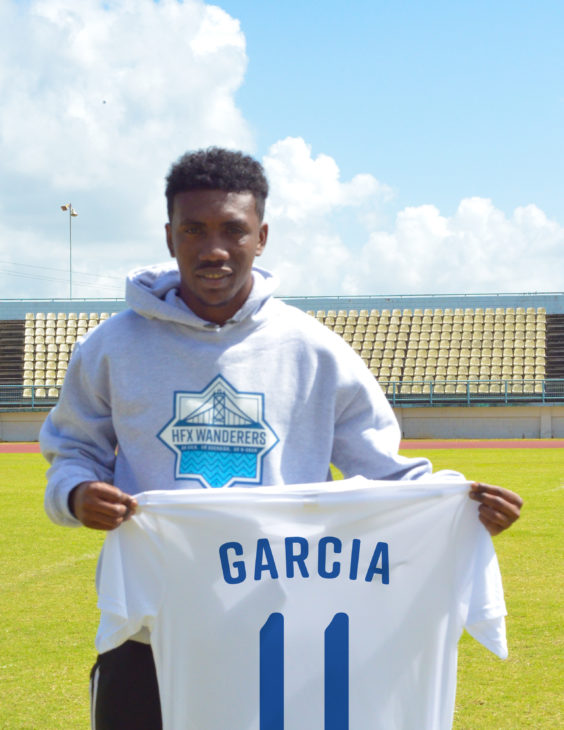 "It's a great feeling to sign for my first club away, that's been one of my dreams. I'm really happy and I'm ready to give everything," Garcia said.
Andre Rampersad, 23, is a box-to-box midfielder who is thrilled to be joining the Wanderers after eight years with FC Santa Rosa, where he formed a good understanding with Garcia.
"It's overwhelming for me as a player getting this opportunity and I want to make a big impact and do my best for my club," said Rampersad. "We've all got something to show and something to prove."
King knows Rampersad as well as anyone and describes him as something of an unsung hero on the pitch.
"His work rate and energy levels are very high and he has good quality skill-wise," King said.
More signings on the way
While the Trinidad and Tobago players are feeling more comfortable about taking on a big move to Halifax together, all four are also keen to meet new teammates and become a part of the community.
Stephen Hart believes it's that kind of character that will give all four the chance of becoming popular players with the fans and in the dressing room.
"They all have to compete for positions and there are no guarantees but at least they will bring a certain working relationship that makes the process of adapting easier. They all understand how my assistant coach Derek King and myself work," said Hart.
The four new international players join the Wanderers first signing, defender Zachary Sukunda, who was announced by the club last November.
Three prospects chosen in the CPL-USPORTS Draft, Peter Schaale, André Bona and Christian Oxner, will also have the chance to fight for contracts in pre-season.
The club expects to announce additional signings in the coming weeks.