Gatorade Team of the Week (CPL Week 9)
---
The Gatorade Team of the Week for the ninth week of Canadian Premier League action in 2022, brought to you by Kristian Jack and OneSoccer's Oliver Platt.
---
Goalkeeper
Andreas Vaikla (FC Edmonton)
Edmonton came painfully close to picking up their first win of the season, and a big part of that was the continued heroics of Vaikla. He made four saves, including a couple of excellent ones on William Akio, to end Edmonton's losing streak in a 1-1 draw with Valour.
Defenders
Miguel Acosta (Atlético Ottawa)
Acosta was the launching point of several Ottawa attacks throughout their win over Pacific on Sunday, as he would win the ball back (he won possession 10 times, and won four tackles), and then launch brilliant line-splitting passes forward (14 passes into the final third).
Diego Espejo (Atlético Ottawa)
Espejo was tidy in all aspects of his game, but particularly in possession for Ottawa on Sunday. He completed a team-high 93 per cent of his passes and had three clearances as Atleti limited their opponent to a single goal or less for the fifth straight league match.
Mateo Restrepo (HFX Wanderers) 
As part of a vintage defensively solid home performance from Halifax, Mateo Restrepo put in quite the shift at the back. He had four interceptions, and five clearances as Wanderers kept a big clean sheet against the visiting York United.
Brett Levis (Valour FC) 
Valour was left frustrated after a draw with FC Edmonton, but Levis certainly put in an incredible shift during that match. He had seven interceptions, three shots, and 12 duels won during an all-action performance that helped to earn his side a late point.
Midfielders 
Mateo Hernández (York United) 
Despite a losing effort for his side, Hernández demonstrated his quality throughout 90 minutes on Saturday. He led York with three chances created, 60 touches, and won possession 10 times.
Ollie Bassett (Atlético Ottawa) 
Bassett's fifth team of the week appearance this season comes after a club record third straight win for Atlético Ottawa and it is once again the result of his incredible ability to create chances. Bassett was heavily involved in both Ottawa goals on Sunday, and created three chances during the match.
Andre Rampersad (HFX Wanderers) 
Another week, another dominant midfield display from Andre Rampersad. Whether it was on the ground (nine duels won) or in the air (seven duels won), Rampersad helped Halifax to control the middle of the park at home.
Gabriel Bitar (FC Edmonton)  
Bitar has been a bright spot all season for Edmonton, and there was no exception on Sunday. His brilliant run and through ball to Mamadi Camara created the Eddies' goal in the game, and he helped them come close on several other occasions with three chances created over the course of 90 minutes.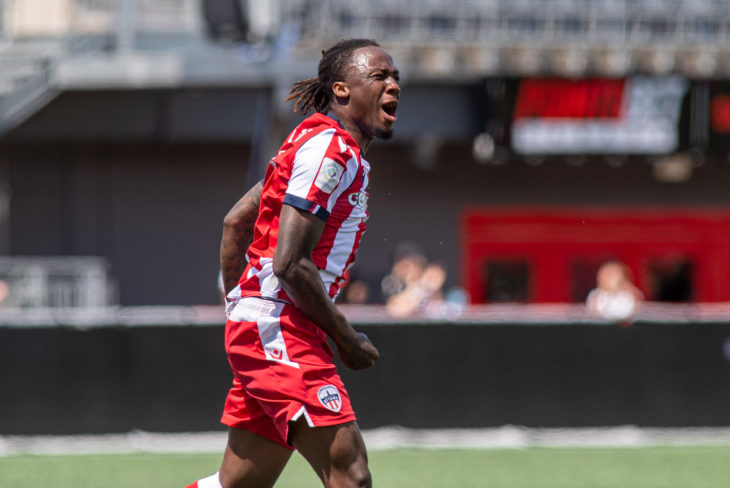 Forwards 
Ballou Tabla (Atlético Ottawa) 
Tabla was a threat in attack all afternoon yesterday, slaloming through Pacific defenders on several occasions as he had an impressive six successful dribbles. This allowed him plenty of time in the opposition box, where he had 11 touches and had an assist on Ottawa's opening goal.
Akeem Garcia (HFX Wanderers) 
Garcia scored his 20th career goal for the Wanderers over the weekend from the penalty spot, and his third goal of the season to hand Halifax a big win over York United.