CPL Editorial: Three intriguing players you should look forward to seeing in 2019
---
Player signings are rolling in by the day across the Canadian Premier League as the seven founding teams inch closer to kicking off the inaugural season in April, and with rosters filling out, a few interesting names, young and old, have come to the forefront in Canada.
Here are three players each member of CPL Editorial is looking out for in 2019:
Kurt Larson, Managing Editor
Kyle Bekker: With fanfare comes elevated expectations – especially when you're on record lamenting the lack of opportunities for Canadians in other leagues. Bekker joins Forge FC as one of the CPL's most accomplished players to date, having appeared for Canada 18 times. He's also in the top 20 for MLS games played by Canadians, which, perhaps, validates Bekker's earlier claim. Regardless, coach Bobby Smyrniotis will look to build around Bekker in Season 1. We'll see how Bekker handles that responsibility.
Randy Edwini-Bonsu: Coach Jeff Paulus told me earlier this year that, with a little fitness work and a full pre-season, Edwini-Bonsu still has the pace and magic and ability to carve up opposing defences. The Canadian international made a big claim late last year: he's chasing the Golden Boot in Season 1. Is he all talk? Maybe. But I'm eager to see if the still-just-28-year-old can return to form.
Marcus Haber: Some of my colleagues are steering clear of the big names. Not me. In a squad that appears to be skewing younger, Haber has an immense amount of responsibility to do more than lead at Pacific FC. He has to score goals in order for Pacific to be successful. One CPL coach recently told me Haber is one of the most intriguing signings in the league … so far. I agree. But I also want to see how much he'll contribute.
Armen Bedakian, Associate Editor
Chris Nanco: Speaking to Nanco, I was struck with the sense that this is a player with big ambitions – bigger, maybe, than the CPL, too. Nanco gives off the same air as any professional I've seen in the sport: confident in his abilities and in his speech, acutely aware of his shortcomings, but also unabashed in demonstrating the versatility of his skills. He's 23 years old and ready to embrace stardom, and, though the path to, say, a Golden Boot won't come easy, he'll be as hungry as any to prove himself in 2019.
Allan Zebie: This FC Edmonton defensive midfielder says he models his game after N'Golo Kante, and if he's anything like his inspiration, he could quickly rise among the Canadian core ranks while offering the sort of options that John Herdman's isn't exactly swimming in. I see Zebie as an example of the kind of players that have been ignored in Canada: his position alone lends itself to a lack of attention, anyway. But, I'll be curious to find out if Zebie has the skills – and the energy – to turn heads.
Manny Aparicio: I remember watching Manny Aparicio coming through the ranks at TFC's Academy, and one of the things that stood out the most for me was his willingness to take private lessons with Ryan Nelsen and, coincidentally, Jimmy Brennan, after training. He's reunited with his old coach at York9 FC and can play in a number of positions in midfield. Aparicio is exactly the kind of player the CPL was born to serve – and, with that in mind, his experiences in Spain see him return a more mature player.
Marty Thompson, Digital Content Editor
Marcel Zajac: Despite MLS interest, the 20-year-old forward left the University of Akron ahead of his fourth and final year to join the CPL. As a pacey forward, I'm curious to see how Zajac fits in with Forge's already impressive attacking core. Joining Kyle Becker, Chris Nanco and Tristan Borges would surely seem like a dream for a pure finisher like himself.
Marco Carducci: At 22, Carducci is staring down a rare starting job for a young goalkeeper. As his compatriot Valour FC's Tyson Farago told me, Canadian 'keepers have the physical ability to be great, but just need the playing time. While we did put him "on the cusp" of the Canadian national team goalkeeping picture, he has the most upward trajectory of the player pool considering his age and this potential opportunity. A season of CPL action could do wonders.
Dylan Sacramento: It's nearly impossible to predict which CPL players will emerge as elite. Dylan Sacramento could prove to be the best midfielder in the CPL by the summer and it wouldn't surprise me. A technically sound, attack-minded midfielder, Sacramento is coming off an MVP season in League1 Ontario with Vaughan Azzurri, scoring 14 goals in 14 games. The potential is there for players like Sacramento to take the league by storm.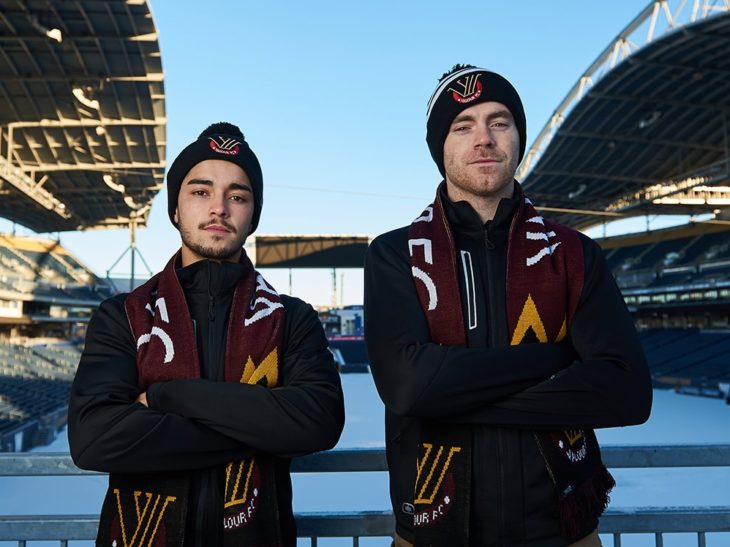 Oliver Platt, Contributor
Jan-Michael Williams: The goalkeeper position is consistently one of the most underrated on the field in terms of importance, but HFX Wanderers should be in good shape with the 81-cap Trinidad & Tobago international between the sticks. The 34-year-old brings a level of experience that will be difficult to match and the exploits of Wanderers' Trinidadians promises to be one of the stories of the inaugural season.
Marcel Zajac: Forge FC pulled off a real coup by acquiring Zajac, a forward on the rise who seemed destined for the MLS SuperDraft. His decision to cut his stint in the college game short to turn professional and have more control over the environment he continues his development in is a fascinating one. No doubt many other up-and-coming Canadian players will be watching closely.
Roger Thompson: York 9's centreback clearly has a mind for the game and has played at a good level in Europe. It's easy to be excited by some of the attacking names arriving in the league but no team lacking strength at the back has a hope of contending for silverware and Thompson stands out as one of the more notable defensive additions made by any club thus far.
Steven Sandor, Contributor
Son Yongchan: There's been so much hype around this player coming out of the Open Trials. FCE coach Jeff Paulus says he's the best pressing midfielder he thinks FCE has ever had, and that includes the NASL years. That's a lot of pressure on a player who hasn't kicked a ball in a North American pro league as of yet. How will he handle the move? And, maybe more importantly, we'll find out if there's anything that can wipe that ever-present smile off his face.
Nik Ledgerwood: I'm waiting for a specific Ledgerwood moment – the reaction the first time he walks onto the pitch in Edmonton. Here is the former captain of FC Edmonton now bringing his veteran presence to the team from, whelp, Calgary. He's truly the first player in the Canadian Premier League who can say he crossed from one rival to the other. But, with his national team experience, he's going to be expected to bring a lot to Cavalry in season one. Right now, there isn't a player in the CPL who has as many national team caps as Ledgerwood.
Kyle Porter: I know Kyle well from his time at FC Edmonton, when he played an all-out attacking role. When he is in his element, he can be a dynamic and speedy attacking force. I know work has been done to make him a fullback since that time, but I still feel he's at his best when he plays in an advanced role. He brings some MLS experience, and he really did score some wonderful goals in NASL, too. Playing close to home may be an X-factor for him.