'Let them sleep on us': Cavs a dark horse? Wheeldon responds
"Is Cavalry FC shaping up to be something of a dark horse in the Canadian Premier League?"
It was a simple question posed by CanPL.ca to Tommy Wheeldon Jr., the head coach of Calgary's newest professional sports organization, set to kick off in the Canadian Premier League in 40 days' time.
The reasoning was twofold: Much of the Cavalry roster, as previously examined, is familiar with each other, as the team is built on the back of the championship-winning Calgary Foothills team from the PDL (now USL League Two). The other reason? Wheeldon Jr. himself, who has made no secret of his desire to prove his doubters wrong through a brand of tactically-sound, character-driven soccer.
The symbolism of the expression isn't lost on Wheeldon Jr., who chuckles as this reporter rattles off an opening question about "dark horses" to the man who hopes to build a soccer culture from the confines of a revered showjumping venue at Spruce Meadows.
"If people want to dub us a dark horse, that's no problem," Wheeldon Jr. offers coyly in response. "But I think we'll be a contender."
Cavalry FC, he affirmed, isn't in the CPL to "make up the numbers," but will vehemently "challenge for trophies."
And, above all, make soccer a part of the city's identity.
If Calgary is anything, it's hockey-crazy, but the same could be said for almost every square inch of Canada.
Calgary is also deep into Canada's version of "football country." The Stampeders rule the roost here. Soccer hasn't even really been on the radar since 2004 when the city last fielded a top-tier side.
But Wheeldon Jr. is hoping to imprint Cavalry Football Club into the "football country" conversation. He certainly has the work ethic to do so.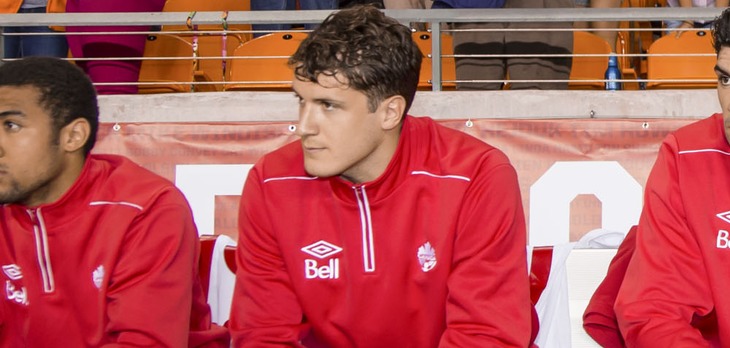 Offer Wheeldon Jr. a topic of discussion and he'll dissect it a million ways to Sunday. When exchanging thoughts about how he's upgrading his Foothills' ranks with player acquisitions like, say, Mason Trafford, Wheeldon Jr. immediately rattles off a hundred different angles we should take into consideration.
Cavalry knew of Trafford via Martin Nash, don't you know? Oh, and Trafford is a left-footed defender – "There's not many of those in the country." Wheeldon Jr. figures his solitary cap for Canada is baffling, calling Trafford "one of the best in Canada" at his position.
A short pause, a tangent, and he keeps going: Trafford was named one of the NASL's top defenders three or four years ago (write that down); Alessandro Nesta – the Alessandro Nesta, of World Cup-winning Italian national team fame – brought Trafford on after seeing him play. That's as ringing an endorsement as any as far as left-footed central defenders go, no?
And, rounding it all off, Trafford is a "first-class pro" and a "quality human being." Cavalry FC is "lucky to have" a player who Wheeldon Jr. figures is "one of the top defensive players in the country." The game-tape, at the very least, lends credence to the idea.
Before you know it, Wheeldon Jr. has written your player profile for you. Cheque, please.
Wheeldon Jr. will, of course, need players like Trafford to justify the "dark horse" label, if it does apply to his team at all.
And, with a somewhat tougher early schedule – Forge FC, Valour FC and FC Edmonton get to skip the first two matches of the Canadian Championship this year, he points out – Wheeldon Jr. will need veteran players like Trafford to help guide his upgraded squad through the opening half of the CPL season.
"We know we have to drive the hard yards," Wheeldon Jr. admitted. "For us, we'll take that all in stride."
Foolishly, or maybe teetering on bold and brave – the Cavs' coach has that inspiring effect on people – I offered to the man himself that he may actually enjoy the burden of the additional challenge; perhaps he even relishes it.
He delivers a signature chuckle, then replies:
"Do you know what? It probably comes from the fact that I was never the best player, and I had no choice but to put in the work to be where I needed to be. The same thing happened when I first joined the Foothills – we were told we couldn't do this or that, or we couldn't succeed in the PDL. But we made two finals in four seasons and won the last one as my sign out. So, yes, maybe I do."
It's why, as all eyes turn to Forge FC in Hamilton on April 27 and Bobby Smyrniotis' side emerges as early favourites in the league, Wheeldon Jr. remains as steadfast and determined as ever to prove himself and his team to everyone watching – his doubters, his supporters, and anyone in between.
"I don't mind if people say we're the best; we'll still compete and be the best," he said. "If people say we're not, then we'll show them we are. Those are the challenges presented. I don't pay a lot of attention to what others think. I pay attention to what my players, ownership group and fellow coaches think.
"So, let them sleep on us," he concluded. "We'll do our talking on the pitch."