Here's the unique story behind each 2019 CPL kit
---
The Canadian Premier League's inaugural slate of home and away kits have been released, with Italian outfitter Macron providing the seven founding clubs with tailor-made uniforms complete with unique designs inspired by community ties.
To that end, each club's kit carries a story all its own. Here's a behind-the-scenes look with club representatives who were in Bologna to help design their team's first look:
PACIFIC FC
"Purple is our colour, our identity. Our goal was when we kick off, to have a purple stadium. Obviously, we need purple kits for that," – Josh Simpson, Pacific FC president.
---
FC EDMONTON
"Our home kit will be our home kit. We're going to play at home in blue. I think we need to be proud of our home colours. I am not going to allow the kit or heat become an excuse on performance," – FC Edmonton head coach Jeff Paulus.
---
CAVALRY FC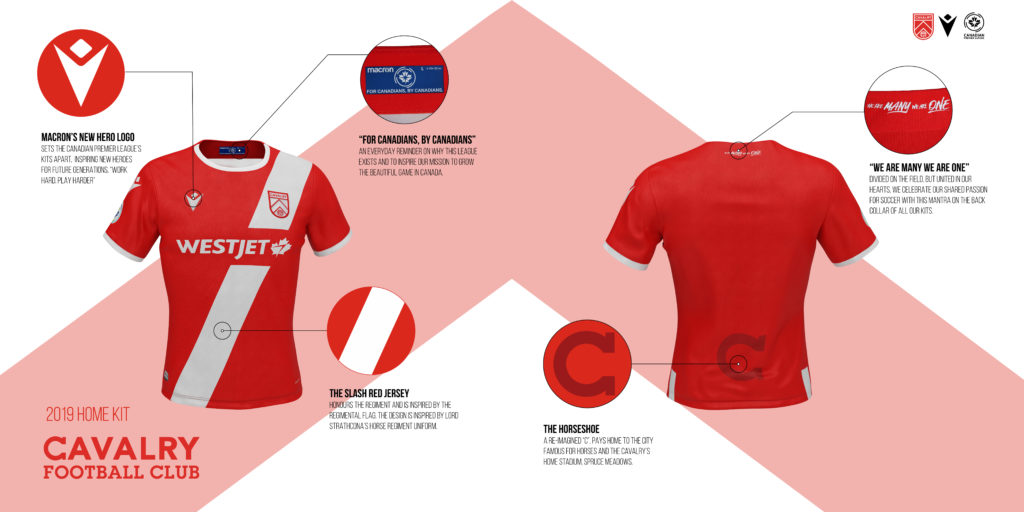 "That's the beauty of Macron, you can do anything. It's not a copy-and-paste, where every club's shirt looks the same. Every club has its own identity and history, and that was a great part of this journey," – Cavalry head coach Tommy Wheeldon Jr.
---
VALOUR FC
"We took the lead firmly from the logo itself, and the colours. The maroon of the Victoria Cross and the ribbon that pins under our V for Valour," – head coach Rob Gale.
---
FORGE FC
"Designing the home and away kits was an incredible honour, and I'm confident we created and designed a jersey that reflects the city and will leave a legacy far beyond this first season," – Forge FC senior director Greg Dunnett.
---
YORK9 FC
"See, York9 has a bigger mission: Uniting Newmarket, Aurora and Richmond Hill, Markham, East Gwillimbury, and King, Vaughan, Whitchurch-Stouffville, and Georgina – the nine municipalities of York Region – together under one green banner."
---
HFX WANDERERS FC
"We're developing these iconic images for a club that we hope will exist in that format for a hundred years or more. You take that seriously and put the time, care and effort into it that it deserves," – HFX owner Derek Martin.