CPL debate: What should be the next classic match rebroadcast for OneSoccer?
---
Even though the COVID-19 pandemic has shut down live sports events in Canada, it hasn't stopped our friends over at OneSoccer from airing games on its channel.
Last week, OneSoccer rebroadcasted classic Canadian matches live on its YouTube channel, giving fans across the country a chance to relive a trio of important matches.
From Canada's historic 2-0 win over the U.S. in Concacaf Nations League qualifying, to the the women's side's come-from-behind effort versus Brazil at the 2020 Tournoi de France and the CPL's "Inaugural Game" between Forge FC and York9 FC, Canadian soccer supporters had the chance to "ooh" and "aah" all over again as they watched these games.
Soccer fans across the country responded overwhelmingly positive to OneSoccer's efforts, and are clearly wanting more.
So, with this in mind, it raises the obvious question: Which match should be the next candidate for a OneSoccer rebroadcast?
The CanPL.ca team of Marty Thompson, Charlie O'Connor-Clarke and John Molinaro have some thoughts.
---
SELF-ISOLATION HELP: 10 soccer books to read || 7 CPL matches to re-watch || 5 soccer movies to check out
---
THOMPSON: York9 vs. Forge, 905 Derby rain-out to open York Lions Stadium
Truthfully, the second "905 Derby" wasn't a match many people saw in its full, uninterrupted glory. Referees halted proceedings after 60 minutes with lightning strikes and a menacing downpour threatening to bring an early end to York9's inaugural home game. Players trotted onto the field about an hour later, setting up a 30-minute mini-match – and potentially the best half-hour of football to come from this all-Ontario rivalry.
York9 was the much better side before the intermission – Ryan Telfer and Wataru Murofushi created promising chances from midfield and coach Jimmy Brennan thought he had the eventual CPL Champions "on the ropes" despite a 0-0 scoreline. However, Bobby Smyrniotis regrouped and his troops pounced on a soggy York Lions Stadium pitch, eventually shifting Forge's seasonal narrative from "talented-but-ineffective" to "quick and clinical."
Chris Nanco's opening goal was seemingly forgotten when Tristan Borges scored his first CPL goal en route to a Golden Boot. That jaw-dropping freekick trickery put a perfect bow on that bizarre May afternoon. Ultimately, this match is a mouth-watering time capsule taken before Forge were considered favourites (they sported an unimpressive record of 2-1-2 at the time) and well ahead of Borges' rise to fame.
Also, come on, it's basically two games in one! That's great value, OneSoccer.
O'CONNOR-CLARKE: CanWNT vs. Saint Kitts & Nevis, Concacaf Olympic Qualifiers
It's not very often something happens in sports, particularly not in soccer in North America, that sends massive waves across the internet. Such was the case back in January, when Christine Sinclair scored twice for Canada down in Edinburg, Texas to become the greatest goalscorer in the history of international football.
The major climax of the action came in the 23rd minute, giving ample time for the online community to explode while the rest of the match unfolded, but the rest of the game was still a spectacle of the Canadian women's team at their high-flying best. We saw Sinclair's early heroics followed by a slew of goals from the next generation, en route to an 11-0 romp over poor Saint Kitts & Nevis.
It wasn't a close game, nor even a particularly competitive one, but it was a heck of a night for Canadian soccer — one we won't soon forget.
MOLINARO: Cavalry vs. Whitecaps, Leg 2 of Canadian Championship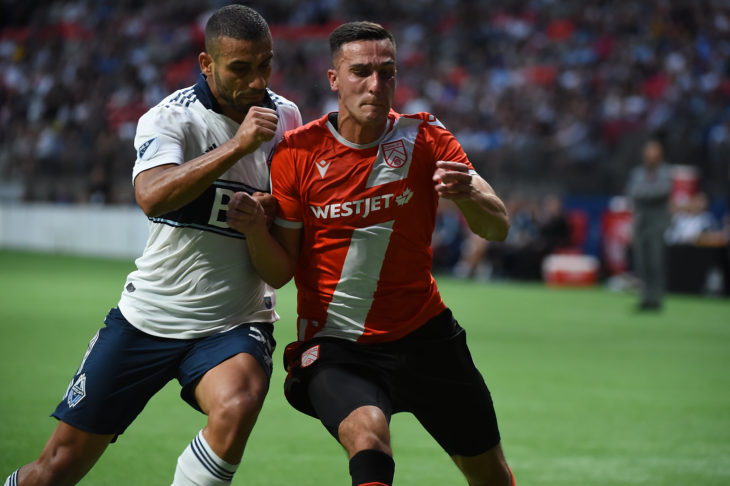 After playing to a 0-0 draw vs. the Whitecaps in Leg 1 of their series from last year's Canadian Championship, Cavalry FC travelled to Vancouver looking to make history in the return match – and that's exactly what they did.
Cavalry pulled off an unforgettable upset over the Whitecaps at BC Place via a 2-1 win to become the first CPL team to beat an MLS side, while also advancing to the Canadian Championship semifinals.
There were plenty of great individual performances by Cavalry on this night. Jordan Brown scored early with a clinical finish to set the table for the Cavs, captain Nik Ledgerwood held down the fort in midfield by recording five tackles and a team-high 55 touches (and setting up Brown's opener) and Dominick Zator scored off a powerful header in the 72nd minute to seal a historic win.
The Spring winners went on to lose to the Montreal Impact (the eventual Canadian champions) in the next round, but Cavalry struck a big blow for CPL pride in their win over the Whitecaps, and made a lot of soccer fans in the country stand up and take notice of the league.