HFX Wanderers FC net late equalizer to earn draw vs. York9 FC at Island Games
Late goals have become one of the major storylines of the 2020 CPL season.
Saturday produced more dramatics in the dying minutes, as Omar Kreim's free kick strike in injury time allowed HFX Wanderers FC to earn a 1-1 draw with York9 FC.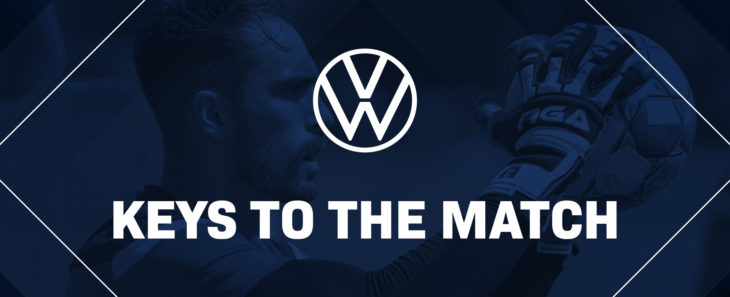 Kreim's equalizer was the 15th goals scored after the 85th minute in the 19 matches in the books at the Island Games.
Manny Aparicio scored a highlight-reel goal in the first half to give Y9 a 1-0 lead over HFX, who played a man down after João Morelli earned a red card in the 22nd minute.
With the draw, York has seven points and moves into a tie with Valour FC (both have played five times) for third place in the table, behind Forge FC (eight points, four games) and Cavalry FC (10 points from four games). HFX remains fifth (six points, five games).
With Y9 goalkeeper Nathan Ingham out injured (groin issue), 17-year-old backup Ezequiel Carrasco earned the start in his CPL debut on Saturday. York9 used emergency call-up Evan Couturier (from the University of Prince Edward Island) as their backup goalkeeper.
Luca Gasparotto's header off an early corner kick nearly gave Y9 a lead, but HFX's Akeem Garcia was on the post to make a goal-line clearance. Moments later, goalkeeper Christian Oxner made a smart save to deny York's Joseph Di Chiara.
York eventually took the lead mid-way through the first half when Aparicio delivered a gorgeous free kick from 22 yards out over HFX's defensive wall and into the top corner.
Shortly after play resumed, things went for bad to worse for HFX, as they were reduced to 1o men after Morelli elbowed Di Chiara in the throat during an off-the-ball incident.
"Massively out of order, and (Morelli) deserves a red card for it," York coach Jim Brennan told OneSoccer at halftime.
HFX didn't sit back in the second half, and instead aggressively went forward in numbers in search of an equalizer. They were rewarded when Kreim's injury-time free kick sailed into the back net, allowing the Wanderers to earn a share of the spoils.
York9 FC's next game is Tuesday vs. FC Edmonton (8:00 p.m. ET/9:00 p.m. AT). HFX Wanderers FC return to action on Wednesday vs. Valour FC (1:00 p.m. ET/2:00 p.m. AT).
---
RELATED READING: Hart commends HFX players on character vs. Y9: 'This team has that quality in spades' || York9 give away valuable points to HFX in otherwise comfortable Island Games affair
---
BOX SCORE
Goals
21'– Manny Aparicio (York9 FC)
90+1' – Omar Kreim (HFX Wanderers FC)
Discipline
22' – Red: João Morelli (HFX Wanderers FC)
35' – Yellow: Fugo Segawa (York9 FC)
57' – Yellow: Alex Marshall (HFX Wanderers FC)
61' – Yellow: Ryan Telfer (York9 FC)
64' – Yellow: Luca Gasparotto (York9 FC)
74' – Yellow: Peter Schaale (HFX Wanderers FC)
86' – Yellow: Joseph Di Chiara (York9 FC)
86' – Yellow: Andre Rampersad (HFX Wanderers FC)
---
TOP PERFORMER
Manny Aparicio (York9 FC)
The Y9 captain opened the scoring with a goal-of-the-season candidate midway through the first half. Beyond that, the diminutive midfielder was at the heart of the attack, and asked questions of HFX's defence with his dangerous runs.