2021 Canadian Championship announced: View format and schedule here
---
The Canadian Championship is back.
Canada Soccer revealed the format, schedule, and a new look for the domestic cup competition for its 2021 edition on Monday – giving Canadian Premier League clubs their path to the Voyageurs Cup in the process.
The preliminary round will kickoff in three weeks featuring seven CanPL teams in five ties: FC Edmonton v Cavalry FC (Saturday, August 15), HFX Wanderers v AS Blainville of PLSQ (Tuesday, Aug. 17), York United FC v Master's FA of League1 Ontario and Atletico Ottawa v Valour FC (Saturday, Aug. 21), and Pacific FC v Vancouver Whitecaps FC of MLS (Thursday, Aug. 26).
First-round matchups based on geography, such as the FC Edmonton-Cavalry "Al Classico" in Alberta or York United facing 2019 L1O winners Master's FA, are similar to plans drawn for the 2020 version of the tournament, which was eventually scuttled due to the COVID-19 pandemic.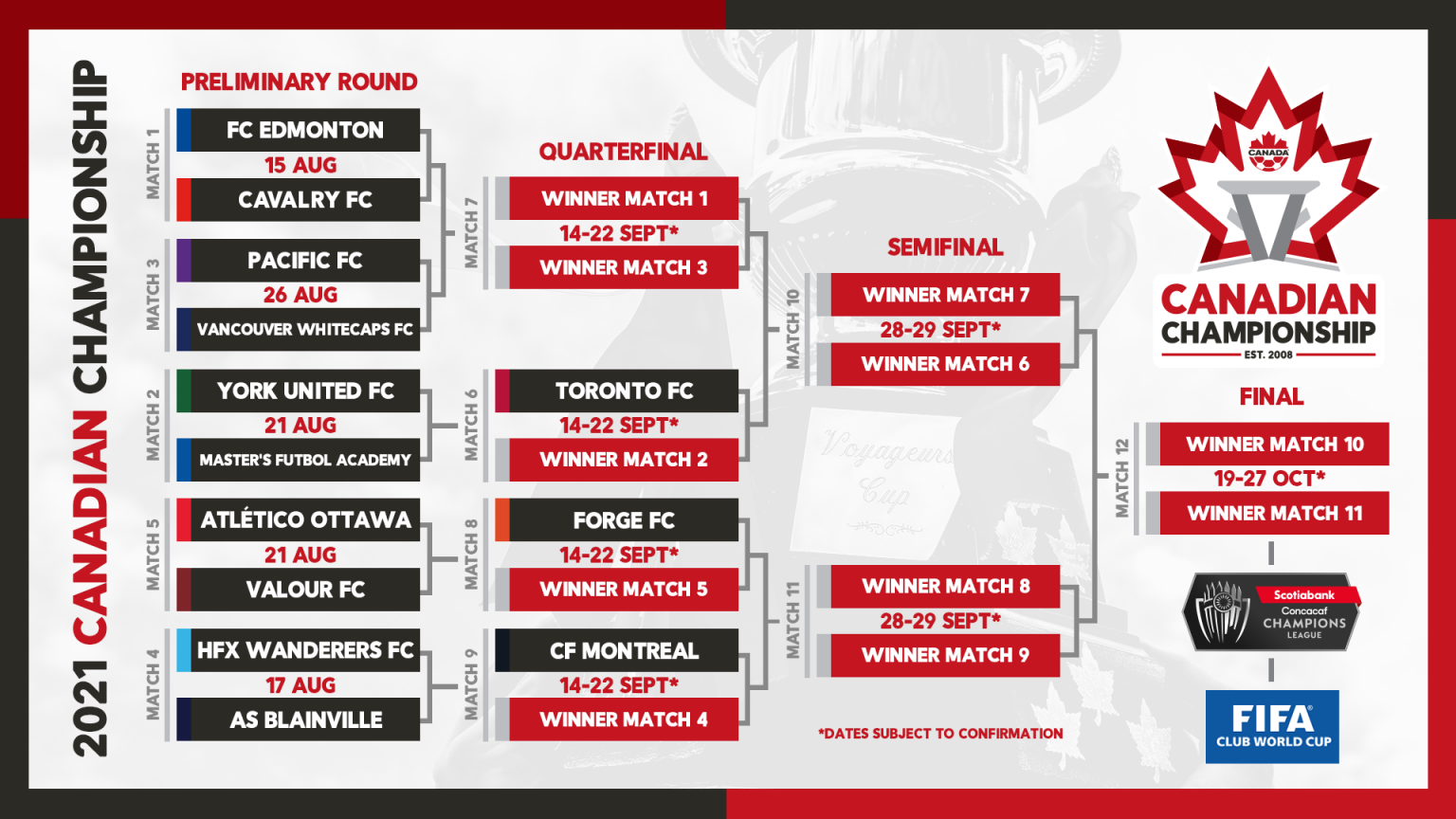 Forge FC, the eighth CanPL club, received a bye to the second round alongside 2019 finalist Toronto FC and winner CF Montreal of MLS. The Hamilton side, which is still set to play Toronto in a makeup 2020 CanChamp final at a later date, will play the winner of Atlético Ottawa vs
Valour FC in the quarter-finals, which are set to be played between Sept. 14-22.
Canada Soccer also revealed dates for the semi-finals later in September (Sept. 28-29) and the final, set to be played sometime between Oct. 19 and 27.
"We are excited to see the return of the Canadian Championship in 2021 with an updated brand identity and the return of the 13-team format that makes the competition truly and uniquely Canadian," said Canada Soccer President Dr. Nick Bontis in a release. "As we turn the corner on the COVID-19 pandemic, we look forward to returning to stadiums filled with fans cheering their clubs on in pursuit of a chance to play in the Concacaf Champions League and FIFA Club World Cup competitions."
Monday's announcement also brought a new logo for the 14-year-old competition, featuring its trophy – the Voyageurs Cup – prominently in the design.
The winner of the Canadian Championship will represent Canada in the 2022 Scotiabank Concacaf Champions League.
CF Montreal is the reigning champions after capturing the 2019 title over Toronto FC.
Canada Soccer announces 2021 Canadian Championship format and schedule. https://t.co/7KHQCjg61E #CanChamp pic.twitter.com/uo9SNw98i5

— Canada Soccer (@CanadaSoccerEN) July 19, 2021