A look at the 6 CPLers called up by the Canadian U-20 national team
---
When the Canadian Premier League launched in 2019, a big part of its mandate was to offer a development pathway for young Canadian players.
The announcement of Canada's roster for the 2022 Concacaf Men's U-20 Championship is further evidence that this mission is already being accomplished, as six players currently on Canadian Premier League rosters were called into the 20-man squad. A further two, Matteo Campagna and Keesean Ferdinand, spent time on loan last season with York United and Atlético Ottawa, respectively.
"In the past, we looked at these rosters and maybe they predominantly came from three places, and that never worked" said Forge coach Bobby Smyrniotis earlier in the week. "So now we have players who are playing as full professionals, they're being tested week in and week out, they play in the pressure of having to compete and having to get three points. I think that's the most important thing, that's how you bring the level of players up."
Canada opens the tournament against Cuba on Saturday, June 18. The tournament's four quarterfinal winners will qualify for the U-20 World Cup, while the two finalists will be going to the 2024 Summer Olympics as well.
Here is a look at those six players, what they bring to their respective CanPL sides, and their potential role for Canada in Honduras.
Lowell Wright – Forward, York United
With 42 pro games under his belt at just 18 years of age, Wright's experience will make him a key player within this group — as will his tactical flexibility. Wright can play anywhere across the front line and with the emergence of Osaze De Rosario for York this season he has largely been deployed as a wide attacker.
In this spot, he has become a key reference point for the York attack, as a player who can hold up the ball well anywhere on the pitch and then bring others into the play. Here is an example of him doing just that against Cavalry earlier in the season, using his strength to beat his man down the wing, before running into the open space and whipping in a clever ball across the face of goal, which De Rosario should have buried.

De Rosario and Wright did connect for a goal earlier in the month in the Canadian Championship that helped York to defeat Pacific FC and reach the competition's semi-finals.
"It is great for the club, and great for the league," said York United coach Martin Nash of Wrights's call-up. "There are a lot of players from the league that have been called into the U-20 national setup for this qualification cycle so I think it's great for the league, it's great for the future of Canadian soccer. It just shows the players that are being developed at young ages from the CPL."
Kwasi Poku – Fullback, Forge FC
Playing your first professional minutes as a footballer is always difficult in its own right, but doing so as a defender adds an extra layer of pressure.
The margins for error are smaller, and mistakes that for an attacking player would go unnoticed are more costly. Poku has had to adjust to this new reality under especially difficult circumstances as injuries have forced Forge to constantly switch up their backline, many times subbing in players in their non-natural positions. In fact, injuries forced Forge to call Poku back early from the U-20 pre-tournament camp in April.
Despite all that, Poku has thrived, with 10 appearances so far this season across a variety of competitions. He is defensively reliable, stays in his shape well, and offers a solid outlet in attack. He also has plenty of confidence for a young player, stepping up to take a penalty against Toronto FC in the 2020 Canadian Championship final. While he ultimately hit the crossbar, the willingness to step up in a big moment is a good sign.
One added benefit of having Poku on the roster is that he has Concacaf experience, perhaps THE premier Concacaf experience, after coming off the bench at the Estadio Azteca against Cruz Azul earlier this season in Champions League action. This incredible pass against FC Edmonton is a look at the sort of offensive ingenuity that Poku can bring to the table.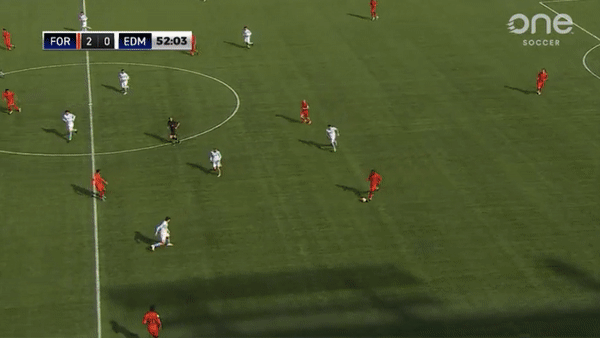 Matthew Catavolo – Midfielder, Valour FC
Catavolo joined Valour this offseason after departing the CF Montréal academy and has already shown himself to be an exciting and inventive young attacker. Primarily an attacking midfielder by trade, Catavolo has also played as a wide midfielder at times this season for Valour to good effect.
At 19, and with plenty of youth national team experience, Catavolo will be another key veteran on this Canadian side. He was part of Canada's pre-tournament camp in April and scored a late goal against Costa Rica in a 3-0 win.
Here is a solid assist from Catavolo against Edmonton, where he is able to find space in the box before curling a precise cross to William Akio.
Jean-Aniel Assi – Winger, Cavalry FC
For a side with as much experience and depth as Cavalry FC, Assi has made an impressive 10 appearances in all competitions.
Assi's on-the-ball ability is excellent, something that will probably be highlighted even more against his peers in the coming matches. With 23 duels won so far this season, he is also not afraid to get stuck-in defensively.
Assi previously suited up for Canada at the 2019 Concacaf U-15 Championship where he had a dominant tournament, scoring in a 2-0 win over Mexico in the quarterfinals of that competition.
He is also the youngest player to appear in a match for CF Montréal, making his debut against CD Olimpia in the Concacaf Champions League at just 16. But his loan to Cavalry came with no guarantees that he would get playing time; he had to put in the work.
"With Jean-Aniel, we're thankful that Montreal have trusted in us to give him his professional minutes, and he's had to earn [playing time]," said Cavalry FC coach Tommy Wheeldon Jr. "Jean-Aniel has been terrific in that; he's lightning quick, he's very, very competitive, and he's still got an upside to improve and that's why he's here."
Here is an assist he had in the club's home opener against Pacific, showing good speed and determination to take the ball off of Nathan Mavila, poking it free to Joe Mason.

Kamron Habibullah – Forward, Pacific FC
Kamron Habibullah is no stranger to the Canadian youth national teams, having represented Canada at the 2019 U-17 World Cup in Brazil. Both he and Catavolo scored in the quarterfinal penalty shootout against Costa Rica that qualified Canada for that tournament.
A loanee from the Vancouver Whitecaps, for whom he has made three appearances, Habibullah is a creative attacking player blessed with an excellent technical ability as well as elite-level playmaking.
Habibullah hasn't quite had the impact he would like in Canadian Premier League action so far this season, but plays like the one below show why he has been able to get minutes in one of the best attacking units in the league.
He takes a ball out of the air with an absolutely brilliant touch, only to be foiled by Cale Loughrey.
Dino Bontis – Goalkeeper, Forge FC
While the 17-year-old keeper has yet to make an appearance for Forge FC, he remains one of the top prospects in the country's goalkeeping pool.
Bontis has been training with Forge this year, while also playing with Sigma FC in League1 Ontario. Through six matches this year with Sigma he has allowed just seven goals.
"Dino is player who is in here every day and he is working hard," said Smyrniotis of his young goalkeeper. "He is playing week in and week out with Sigma in League1, getting in some very good performances."
He added that this is a critical opportunity for his young players to grow their game in a different environment.
"Most importantly they need to learn a lot from that experience, they are going to go down and play in these matches in Honduras and having played games in the Concacaf region I think that is all-important for players as they keep developing their games."
---
All clips courtesy of OneSoccer