Amer Didic wants to 'win everything' with hometown outfit FC Edmonton
---
Amer Didic spent much of this week on a road trip.
Literally hours after San Antonio FC announced that it and Edmonton-raised defender Amer Didic had come to a mutual agreement to part ways, Didic was on the midst of a three-day trek north headed for home. When CanPL.ca caught up with him earlier this week he was calling from a hotel in Montana. He appeared at FCE training on Thursday, so he finished the journey safe and sound.
As he was travelling, the Eddies announced that the former USL All-Star and Sporting Kansas City defender would be coming home for the 2019 Canadian Premier League season.
And while Didic was making a beeline home, the move represented a career coming full circle — Didic played for FCE coach Jeff Paulus in the team's academy.
"Amer still has strong ambition to play in MLS," Paulus said. "I believe he is an MLS player."
So, Paulus said FCE will work at developing the player over the next year, so he might get a second MLS shot. He was on Sporting Kansas City's roster over the 2017 and 2018 seasons and played in three CONCACAF Champions League matches for the club.
Paulus also believes that Didic belongs on the radar of Canadian men's national-team coach John Herdman, and a successful CPL season will only raise the defender's value to the program.
"For sure, getting back to MLS is the goal for me," Didic said. "But there are other goals within that goal. I want to come to Edmonton and win everything."
In 2016, Didic came out of Baker University, a small school by American athletic standards, and tried out for Swope Park Rangers, Sporting Kansas City's USL affiliate. Canadian coach Marc Dos Santos had just taken the reins at Rangers, and was immediately taken by the Edmonton kid's determination. Didic not only made the team, but soon earned a regular spot in the starting XI.
"This past year, from the first day of training camp to the last day of the season, his development was terrific," Dos Santos, now the coach of the Vancouver Whitecaps, said after that season. "Here was a kid who had gone to FC Edmonton's Academy and had moved on to Baker, a small college. He came to Kansas City on a trial. He goes on to play in a USL final and gets called up for three Champions League games. I think he has the tools to have an excellent future in this game."
"Marc started my career, to be honest," Didic said. "He really put down the foundation for me as a professional player. You'd run through a wall for Marc."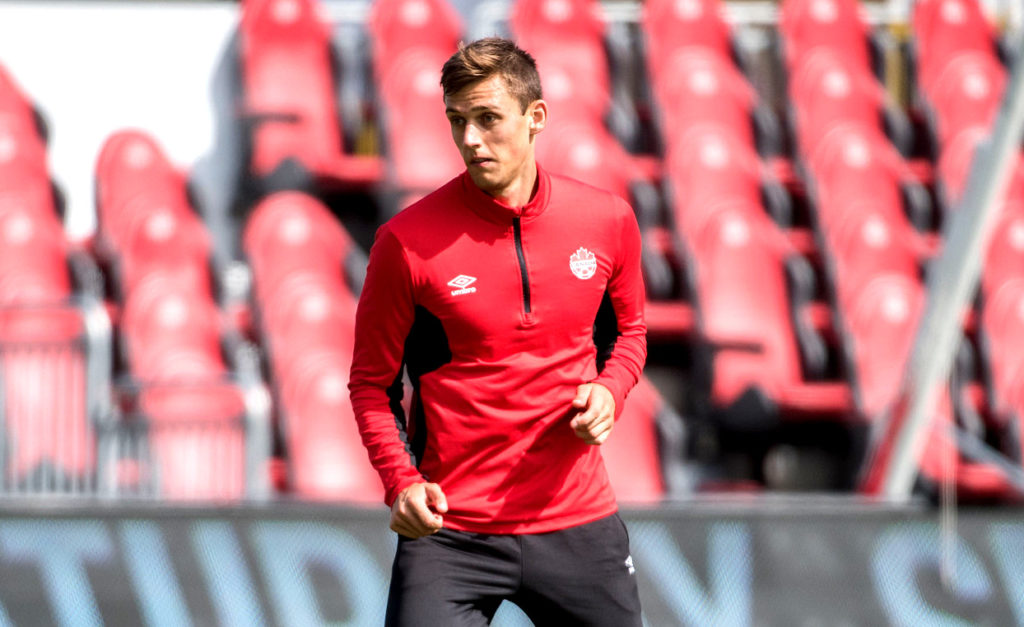 And Didic cherishes the memories of those CCL matches. When he was at Baker, he became a SKC fan; he'd go to home games and cheer the team on. So, it was surreal to him to actually wear the team's multiple shades of blue.
"The first game I ever played for Sporting Kansas City was in the Champions League. We were in Trinidad, I got called up, and so many of the players in the dressing room with me were players who I'd been cheering on from the stands. It all happened so fast."
And, on the drive home, he said he's been thinking about the opportunities FC Edmonton has to get a Canadian slot in the CCL — and he says that's a major motivator for the season.
Didic can look forward to getting a lot of minutes in the FCE backline. He's solid in the air, and is an imposing six-foot-four. He can score on set pieces. And, he'll pair with six-foot-two defender Mele Temguia, which will make the Eddies tough to convert crosses against.
"Amer is going to be a substantial piece of what we do on the pitch," said Paulus.
And, with that, look for Spanish veteran Ramon Soria to move into a holding midfield spot, with Haitian midfielder James Marcelin moving a bit further ahead. The two former NASL stalwarts will combine with the centre backs to give the Eddies a heck of a spine.
Didic admitted that it will be hard to join a team that's well into its training camp. But coming home really helps ease the transition. In fact, it might not be that much of a transition at all.
"I have played with a lot of guys on the team. I know so many of the guys, and I have fitness from being in the midst of the USL season. Really, the biggest thing will be needing to recuperate from this drive."
Didic spent many days in the sky, as he'd ride with his dad, who is a helicopter pilot. Now, he has a chance to soar once again — metaphorically, at least.