FC Edmonton adds Lars Hirschfeld to coaching staff, signs pair of goalkeepers
---
FC Edmonton announced Thursday the hiring of Lars Hirschfeld as goalkeeping coach, with the club also signing goalkeepers Dylon Powley and Connor James – both local talents – to first-team contracts. Hirschfeld joins assistant coach Sean Fleming as members of Jeff Paulus' first ream staff.
Hirschfeld was born in Edmonton, and recently retired following an extensive club and international career. The keeper earned 48 caps for Canada, and was named the Top Goalkeeper at the 2002 CONCACAF Gold Cup, helping Les Rouges to a third place finish. At the club level, Hirschfeld won league titles in Norway and Romania, and also has experience playing in the UEFA Champions League.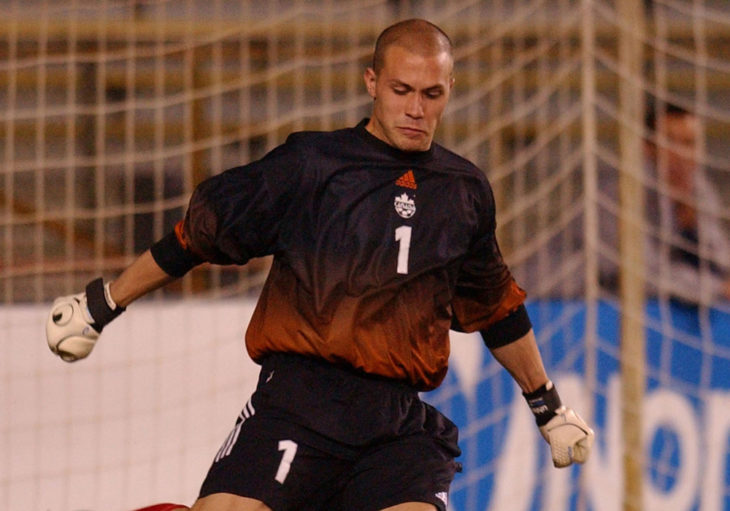 "I'm looking forward it," said Hirschfeld. "Throughout my career there were always murmurs and rumours of a Canadian league starting up again, and to be a part of that, especially in the town I grew up in, is very special."
"I am very excited to bring Lars into our first team staff," said FC Edmonton Head Coach and Director of Soccer Operations Jeff Paulus. "We have decided to go with two relatively young Edmonton keepers and I believe that Lars history, professionalism, and coaching credentials are exactly what these two young keepers need to reach their potential. I am also delighted to announce another Edmonton-born staff coach to continue the trend of providing opportunities to Canadian coaches."
Powley, 22, played for Edmonton Juventus and the Edmonton Drillers during his youth career, before joining the MacEwan University Griffins. Powley also spent time with Calgary Foothills FC and, most recently, FC Gute in Sweden. Powley represented FC Edmonton in the Fall Edition of the Al Classico exhibition series against Cavalry FC.
"It's hard to put into words what playing for my home town team feels like," Powley said. "It is a mix of surreal, excitement, and nerves all in one cluster of emotions, but it is something that I have dreamed about for a long time."
James, 22, was drafted 7th overall in the inaugural CPL-U SPORTS Draft in November, following a stellar five year career at the University of Alberta. The Southwest United youth product finished his time with the Golden Bears as the conference leader in a number of categories, including matches played, wins, and clean sheets. A National Champion in 2016, James was named a first team U SPORTS All-Canadian in 2018.
"To be able to play in front of my friends and family is exciting, but to be able to represent the community that's raised me is what's extremely special about playing for FC Edmonton," said James.
"FC Edmonton has been blessed with having very good keepers in our NASL history and I see both Dylon Powley and Connor James as having the ability to step right in and continue that trend," said Paulus. "Both Dylon and Connor possess explosive quickness and reaction speed, but most importantly for me, they can both play with their feet. Dylan and Connor also add two more local players to our roster as we continue to validate our belief that this city can develop footballers."