FM21 CPL guide: How to manage Valour FC
---
The Island Games were a success for Valour FC.
Rebounding from a less-than-ideal inaugural Canadian Premier League season, Rob Gale's side transformed into a defensively astute force at The Island Games and had plenty of bright spots before departing in the first round.
---
RELATED READING: 5 things to watch for in Football Manager 21's CPL database || More on Football Manager || 4 Canadian Premier League saves to try in Football Manager 2021
---
Football Manager 21, released this week, allows gamers to recreate the Island Games as any of the eight CPL clubs that descended on Prince Edward Island with fully-licensed teams, players, and more.
Think you can out-do Gale's big rebound performance? Pick up FM21 from Steam or Epic Games and give it a try.
Oh, and be sure to read this before you get started.
---
Focus build-up down the wings
Valour has incredible depth up the wings in FM21. On the left, Arnold Moutou lands in the top ten CPLers in the game and Brett Levis is one of the fastest. Up the right, Valour features the versatile Stefan Cebara (who isn't a bad centre-forward in-game, by the way) and Canadian national team winger Fraser Aird.
Put emphasis on overlaps and select your outside backs for "wingback" roles. This should allow wingers like Cebara and Levis to produce routine entrances to the final third, using their pace and attacking know-how to get in behind.
Select a 'defensive' tactic
Valour coach Rob Gale said it best at The Island Games: "If you defend well, you have a platform to go forward."
That should be your approach with the Winnipeggers in FM21. We found great success in a structured 4-2-3-1 formation with recent re-signee Raphael Ohin working as a tireless cover in front of Julian Dunn and Andrew Jean-Baptiste. A formation with advanced wingers and a no. 10 will allow Masta Kacher, who is quite an effective attacking force in the game, to play a greater playmaking role.
In fact, across five Island Games simulations, Valour never conceded more than 10 goals, landing in the top two in goals-against every time. Use that solidity to your advantage.
Plan for the future
Plan on taking Valour past The Island Games in FM21? Start looking for replacements for Julian Dunn and James Pantemis right away. Valour's real-life star loanees return to Toronto FC and Montreal Impact, respectively, after the season.
We'd recommend, under "Scouting," searching for CPLers with contracts expiring in six months. Forge FC goalkeeper and reigning Goalkeeper of the Year Triston Henry is available to be signed for the following year, and the same goes for Matthew Arnone. Solid additions for 2021.
Player to Watch: Stefan Cebara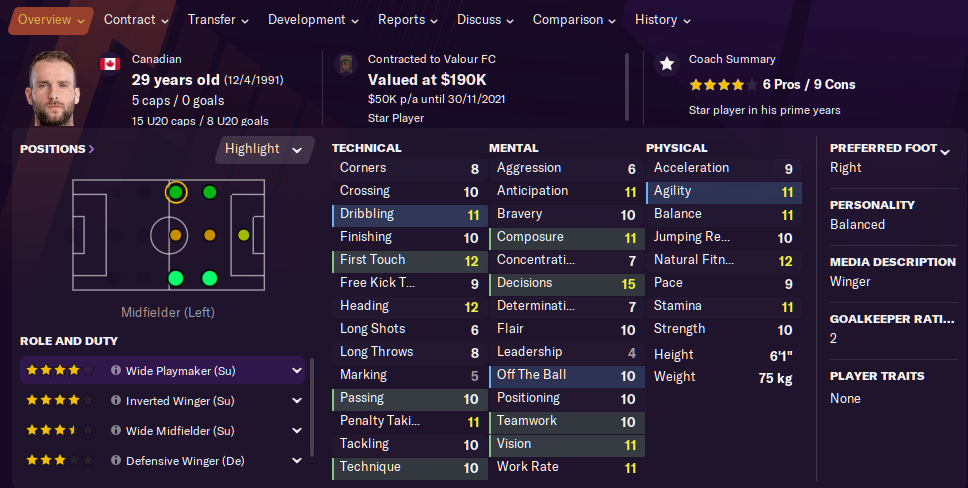 Versatile and effective, Valour FC's recent re-signee is in his prime and should be utilized as such when managing the Winnipeggers. An all-around wide playmaker, Cebara should be able to generate one or two quality chances per match, as long as defensive support is given behind him.