Why 'tempo-setter' Jérémy Gagnon-Laparé could be a key difference-maker for York United this season
---
There will be a lot of familiar faces donning the Nine Stripes this season. York United did a significant amount of its off-season recruitment close to home over the past few months, bringing in players from five other Canadian Premier League teams.
The idea, beyond just bringing in players of quality, is signing those who are proven concepts within the league — players who are familiar with the schedule, the travel and even most of the opposing players the league has on offer.
One of those signings, former Halifax Wanderers midfielder Jérémy Gagnon-Laparé, echoed the importance of that experience as he settled into the new side during the preseason.
"Obviously, being in the league for the past two years, it makes it easier because you sort of know guys who you're going to be with," he told CanPL.ca in a recent preseason interview. "Even though you haven't played with them you know them from just playing against them. There's a sort of respect that builds up through the years when you face the same opposition so many times as we do in the CPL."
If Gagnon-Laparé's new teammates have learned anything about playing against him, it is that they are going to really enjoy having him as a teammate. On top of his CPL experience — he played 47 matches for Halifax across all competitions — the 28-year-old will add some serious quality to York's midfield and a range of passing and defensive solidity that will make them much more complete at both ends of the field. Given his profile, he could be their most important signing of the off-season.
"He's a guy that we think can set the tempo, we think he can get Mo [Babouli] forward in good positions, we think he can play out of things as well with his passing range," said York United CEO & president Angus McNab earlier this off-season. "That's on-field; off the field you start to speak to people about Jérémy and everything you get back is that he is a first-class human, a great person and the kind of guy we want in our locker room as well."
That range of passing was perhaps underrated on a Halifax team that struggled to turn the opportunities he created into goals. The Wanderers scored just 14 times from open play last season and underperformed their expected goals by 9.82. Only Forge FC hit the woodwork more than Halifax's 11 strikes against the frame of the goal.
While he managed just a single assist offensively last season, Gagnon-Laparé had some impressive underlying numbers. He finished second in the league in expected assists with 4.35 and had 35 chances created, which was tied for third in the league. Here is a look at that playmaking ability in action from a sequence in a 2021 match against York United, in which Gagnon-Laparé creates several chances before ultimately setting up a goal in a matter of minutes.
But while his direct playmaking numbers suggest he will be a significant asset for York this season in that department, it is actually another area where he could prove even more critical. As McNab mentioned earlier, he is a player who is able to set the tempo in matches, something that York struggled to do at times last season.
York held just 48.21 per cent of the ball last season, sixth in the league in that metric. That is where Gagnon-Laparé can help, as he played more passes than any player currently on the York roster last season. But it is his ability to play progressive passes to teammates in good areas of the pitch that makes him such a quality signing. Here are some examples of his work from last season.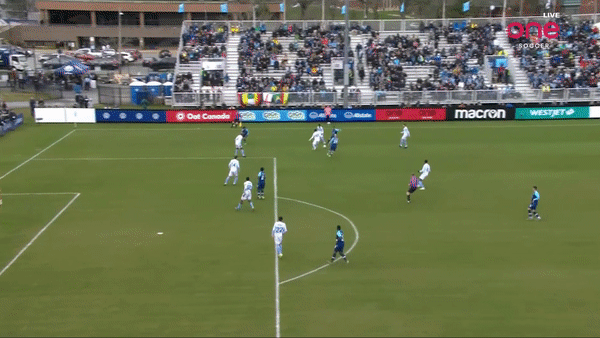 Now with York, Gagnon-Laparé will have the likes of CPL Golden Boot runner-up Osaze De Rosario, Players' Player of the Year finalist Babouli and several other attacking weapons to whom he will be able to distribute the ball.
"The more quality players that you have the easier it is to play," he said. "Then after that, it's just sort of finding those cues of what guys like, what they prefer, and then fine-tuning that."
There is one final key area in which Gagnon-Laparé is an important addition to York: his defensive ability. With the exception of the truncated 2020 P.E.I. bubble, York have ranked in the bottom three in the league in terms of goals against in each of the three other Canadian Premier League seasons. Last year, they also allowed the third-most expected goals (35.55), and third-most passes in their box.
He was seventh in the league last season with 36 tackles won and won 120 duels over the course of the 2022 season. Here is an example of him putting all of that together against Atlético Ottawa, winning the ball back before comfortably moving it up the field with his range of passing.
As for what brought Gagnon-Laparé to York, once again part of it was being familiar with the league and the players that they have signed, both this off-season and last year as well. Seeing their roster, and knowing the abilities of the players on it, he sees a quality side coming together for this upcoming season.
"I felt like I needed a fresh start," he said. "York from the group that they had and the players that they targeted, and the players that they were keeping, I just had a sense that it was going to be a competitive team and that's what attracted me."
Adding Gagnon-Laparé only increases the odds of a bounce-back season for the Nine Stripes, who will be looking to climb back into the upper half of the table in 2023.
---
All clips courtesy of OneSoccer