Match Analysis: Atlético Ottawa 0-4 Forge FC — CPL Match #68
---
Final Score: Atlético Ottawa 0-4 Forge FC
Goalscorers: Sissoko 27′, Campbell 35′, 52′, Jensen 76′
Game of the 2022 season: 68
CPL match: 318
---
Match in a minute or less
Forge FC remained in red-hot form on Sunday, as they picked up a dominant 4-0 away win over Atlético Ottawa, extending their win streak to five games, all while snapping Ottawa's five-game undefeated run in the process. 
Yet, it was that kind of night for Forge, who scored early and often in this game, first nabbing two first-half goals from Aboubacar Sissoko and Terran Campbell, before rounding off the scoring with second-half tallies from Campbell and Noah Jensen.
Through those goals, that then allowed Forge to cruise to what ended up being a very comfortable result, one that also vaulted them to the top of the league table, showing many why they've been the team to beat as of late in the CPL.
---
Three Observations
Forge avenges early-season Ottawa struggles with commanding road win:
For the most part, there haven't been many teams that have been able to slow down Forge this season. Entering this game with the best actual goal difference and expected goal difference in the entire league despite having played the fewest games, Forge has been dominant in most matches that they've played in 2022. 
Despite that, however, they had one team that had caused them problems – Ottawa. In fact, entering this game, Ottawa was the only team that Forge had failed to beat in CPL play in 2022, as the two previous meetings between these two teams had seen Ottawa snatch a 1-1 draw and a 1-0 win. 
Plus, even more uncharacteristically, those two results came at Forge's Tim Horton's Field, too, meaning that Forge had let them come to their house twice and failed to greet them with the sort of results that they typically tend to greet others with there. 
Therefore, as they got set to make the trip to Ottawa for this game, changing that was of the upmost priority for the two-time champions, who weren't going to let Ottawa catch them three times in a row. Especially considering that they'd never actually lost to Ottawa prior to this season, much less let in a goal, they were eager to get back to that sort of standard once again in this game. 
"We (thought we) had some points stolen from us from Ottawa in Hamilton," Forge's head coach, Bobby Smyrniotis, said afterwards. "And I think the guys had that in the back of their mind. It wasn't so much as revenge for the game, per se, but how we make sure that a dominant performance turns into three points, so we needed to be a little more forceful in the way that we attacked their goal."
Which, to give them credit, they did. Not only did they get off to a strong start in this game, but they did well to capitalize on a wave of early chances, too,  bursting out to a two-goal lead by half time. 
From there, they then repeated that feat in the second half, slowly chipping away at Ottawa before bursting open the dams once again, grabbing two more goals to finish the game 4-0. 
Despite playing a team that has mostly stifled all opponents this year, sitting where they do in the table due to their ability to snatch results, they found a way to breach those lines, doing so in flowing fashion. Doing well to move around Ottawa's usually tidy 4-1-4-1, they expertly exploited the space that many rarely see, much less find, allowing them to prosper as they did both in possession and in transition. 
Through that, Forge continued what has been a sneaky good 2022 for them, one that despite feeling a little less flashy than previous campaigns, still sees them atop the league thanks to this result.
Considering how good their goal difference has also been as well, that's a scary proposition for opponents, who might not have seen the best version of Forge yet, something they usually reserve for the biggest games, of which there are still many, many more to come. 
"I thought a lot of guys were very good all around the park," Smyrniotis said. "And just stuck with the ideas that we wanted to do in the game plan."
"And that's what it is, we try and give them all the guidance and the week, and then they come here and it's about execution, and today the execution was great."
Terran Campbell surge a reminder of Forge's attacking depth: 
Heading into this game, Forge's Woobens Pacius had been grabbing most of the headlines, as his four-game scoring streak had coincided with a four-game winning streak from Forge, making him a name to watch. 
Yet, despite that extra attention, he wouldn't be the young Canadian striker who'd end up stealing the headlines for Forge in this game, as his teammate, Terran Campbell, ended up nabbing a brace in this game. Along with an assist from the game's opening goal, it was a tidy performance from the 23-year-old, who showed why Forge's attack is hard to credit to just one name these days.  
In typical Campbell fashion, the all-time CPL top goalscorer did his damage in a myriad of ways, too, first setting up Aboubacar Sissoko with a crafty pass, before nabbing his first goal in style, and then grabbing a second with a calm header. 
He might not be the flashiest player by any means, but he can hurt teams in so many ways, be it with his feet or his head, and whether he's creating or finishing, making him a hard threat to defend. 
Which for opposing teams, isn't fun, as Campbell is far from the only threat that Forge has at their disposal. 
Of course, there's the dangerous Pacius and his nine goals, but how about Tristan Borges, who had another assist, his eighth goal contribution of the season for Forge? Or how about David Choinière, who after an assist in this game, now has three goals and four assists for the Hamilton-based side?
You add in contributions from Kyle Bekker, Noah Jensen, Emery Welshmen, and more – that depth all of a sudden helps explain Forge's offensive dominance this season. 
Instead of most teams, who typically have one main threat, Forge can rely on a given number of options depending on the occasion, with a whole number of players able to step up on any given night. 
On this one, it was Campbell, but otherwise, it can be someone else, something that Forge will look to keep up as they continue to push towards the playoffs.
"That's something I like in my teams," Smyrniotis said of his team's depth. "As we've built our teams every year, it's making sure that there's depth and that we can have the sources of goals coming from different areas."
Rare Ottawa off-night reminds them of growth still needed as playoff push continues:
Meanwhile, for Ottawa, it'll be interesting to see how they respond to this game, as while they didn't necessarily play badly, they just weren't good enough to beat Forge. 
Of course, that's also a credit to Forge, as despite narrowly winning the Expected Goals (xG) battle 1.56-0.54, they turned that into this 4-0 result, but for Ottawa, there's a lot they can learn from that. 
For whatever reason, despite coming into this game in good form, undefeated in five games, their levels dipped, and while they might've gotten away with that against most teams, Forge is unfortunately a team against whom you cannot do that. 
Of course, those nights are allowed in a season, but for Ottawa, that's something now that has become a bit of a theme, as while they don't often drop results, but when they do, it can compound. 
Be it a painful 6-1 loss to Valour earlier this season, or a 1-0 loss to Edmonton, which was Edmonton's first win of the season, when they lose, it tends to be big, something that this 4-0 loss is a great example of. 
"Yeah, I think it was it was evident," Ottawa's Carl Haworth said of his team's struggles in this game. "We came out a little flat and they were on the front foot. They pressed well, made it difficult for us to get out, and from the start they just wanted it more, so we need to be better as we can learn from that."
The good news? Ottawa has also not made a habit of dwelling on such results, as they've often found a way to respond to most losses with positive results, but at the same time, they would like to avoid those sorts of demoralizing losses if possible. 
Good teams find a way to win when they're at their best, but great teams find a way to pick up results and limit opposing damage when they're not at their best, and while Ottawa has found a way to grow in that regard, when it rains, it pours. 
Ahead of the playoffs, where the margins will be so fine, avoiding that will be key, as you can get away with results like this in the regular season, but not so much in the playoffs, where allowing an extra goal can be the difference between advancing or going home early. 
"Yeah, I think it is a result that we have to grow our game from," Ottawa boss, Carlos González, said afterwards. 
"Our mentality is healthy. There is a good mood in the locker room, and the only thing that we know is that we have to keep on working we have to improve on certain details, and we have to continue thinking with the mentality that has given us the opportunity to play these type of matches."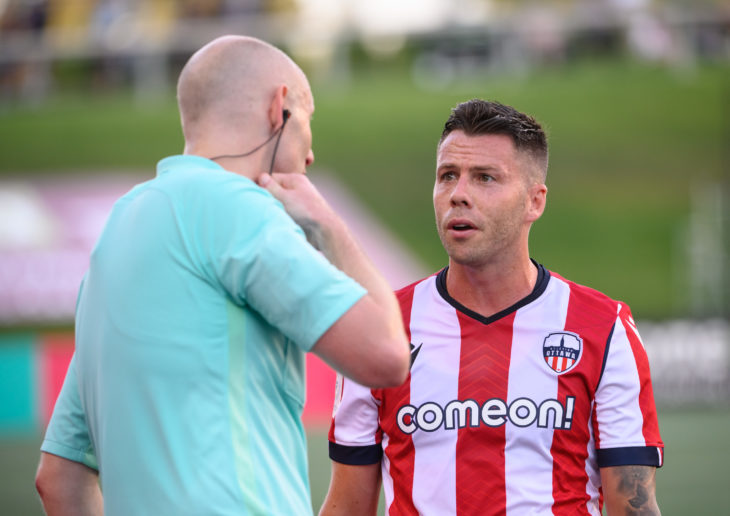 ---
CanPL.ca Player of the Match
Terran Campbell, Forge FC
Everything Campbell touched in this game seemed to turn into gold, as he finished with two goals and one assist, capping a very deserved player of the match performance. Be it through his goal contributions, or his play elsewhere on the pitch, which saw him nab two shots, create two chances and complete two dribbles, he was a thorn in Ottawa's side all night long, playing a big role in Forge's eventual win.
---
What's next?
Ottawa will stay right where they are for the time being, as a home date with FC Edmonton awaits them at TD Place on Sunday, August 7th (12:00 p.m. MT/2:00 p.m. ET). Meanwhile, Forge will head back to Hamilton, as they have a home date with the Halifax Wanderers on Saturday, August 6th at Tim Hortons Field (4:00 p.m. ET/5:00 p.m. AT).
Watch all matches live on OneSoccer. In addition to its website and app, OneSoccer is now available on TELUS channel 980 and on Fubo TV. Call your local cable provider to ask for OneSoccer today.