Match Analysis: Cavalry FC 0-0 HFX Wanderers FC
---
Final Score: Cavalry FC 0-0 HFX Wanderers FC
Goalscorers: None
Game of the 2021 season: 95
CPL match: 231
---
Match in a minute or less
The second game of Sunday's CPL doubleheader was a thrilling back-and-forth affair, but not exactly a clinic in finishing as Cavalry FC and HFX Wanderers FC played out a 0-0 draw at ATCO Field. Despite a slate of excellent second-half chances — including a penalty kick in the final minute of stoppage time, saved by Halifax native Kieran Baskett — Cavalry were unable to find the net on the afternoon as the sides were forced to settle for a stalemate.
Three Observations
Cavalry come to life after adjustments, let down by finishing
Somewhat uncharacteristically for the Cavs, they were not able to establish possession in the first half — sitting around 41% in the opening 45 minutes. They weren't particularly threatened, but nonetheless they didn't get forward as much as they would've hoped. They defended extremely well in that period, though; Karifa Yao was immense in the centre of the back three, marking Akeem Garcia quite tightly and using his strength in the box to steer away most of the Wanderers' attempt to cross the ball or play into dangerous areas.
Without head coach Tommy Wheeldon Jr. on the sidelines to dictate adjustments, assistant coach Martin Nash did well to find ways his side could adapt to being pinned back in the early stages. He explained after the match that they'd made some adjustments midway through the opening frame, and then some more drastic changes to their shape at halftime, which would explain the Cavs' far greater share of possession (53.6%) in the second 45.
"We weren't sticking to our shape and we got pinned back by them, they did an excellent job moving the ball quick," Nash explained. "We had a couple of early turnovers, but other than that I think they really controlled the first half and at about the 25 minute mark we thought about perhaps changing our shape. We did that and we were a little bit more effective, able to get out of our half and control the ball; we weren't really holding it up well, we were getting it into their half but we weren't keeping it so they'd just keep coming back at us.
"The second half our shape helped, we did a better job of holding the ball and bringing players into the game, we got numbers forward and created a ton of chances. Another day we might've scored three, but I think the good thing when we did create chances is we had our defensive shape to protect against the counter which is very good. If you're not going to win, don't lose, so I'm proud of the effort the guys gave today."
Cavalry had 14 shots in the game, but 11 of them came in the second half. After bringing Mo Farsi, Joe Mason, and Sergio Camargo into the game, they seemed to find another gear going forward and threw wave after wave of attacking pressure at the Wanderers, but not one of their glorious chances found the back of the net.
Nash suggested that there might've been an element of overthinking things behind his players' inability to finish their chances, but he added that tired legs were certainly a factor as well, especially for players like Camargo and Ben Fisk who put in hard shifts on Thursday.
Wanderers hold firm but exposed in second half
If Cavalry started slow but turned things around, then the other side of that coin is the Wanderers starting strong then fading as things went on. The two halves of this game were definitely very different, with HFX really putting pressure on the Cavs in the opening stages (although the dangerous chances perhaps weren't there), and then getting exposed at the back a few times in the second half.
The opening stages were much more controlled for the Wanderers, who were wary of getting into an end-to-end battle with the Cavs while playing away from home. However, they didn't manage to make good use of their control in the first half before Cavalry took over; the final 30 minutes were exactly the back-and-forth tempo that Hart's team likely would've preferred to avoid.
The game opened up in the late stages, and Stefan Karajovanovic had a few excellent moments in transition, but he couldn't find teammates to link up with in the box despite some good movement out on the left wing. HFX, like the Cavs, had more shots in the second half than the first half (four compared to six), but they definitely didn't break through the lines nearly as well as their opponents. They also struggled to deal with the pace and quick passing of freshly-deployed substitutes like Farsi, Mason, and Camargo.
"We sort of kept the ball away from them in the first half, allowed us a little more control of the game especially away from home," Hart said. "But in the second half for some reason I thought we didn't move the ball with enough ball speed, and we didn't play into our attacking players quick enough. As a consequence, I mean if you look at the last three minutes of the game, we got the ball into some wide areas and we didn't get a single cross into the box, and then they come down and get the penalty."
The good news, of course, is that they didn't concede — although the Wanderers will not likely be thrilled with the chances they gave up. On another day, they likely would have conceded at least one or two of those open-play chances. Still, it seemed Sunday was destined to be goalless, with Kieran Baskett playing the last-minute hero saving a penalty and preserving what could be an extremely valuable point away from home for HFX, who remain in a playoff spot after this weekend.
Klomp, Apostol, Farsi dominate along right flank
With Mo Farsi still not fully fit, 22-year-old Nic Apostol got a chance to start at right wingback in this game — his first start since signing for Cavalry at the end of August. Patrolling the touchline aggressively, Apostol made excellent use of his opportunity, demonstrating his excellent pace and determination just about every time he received the ball. It seemed the plan, in the first half at least, was to attack along the right through the relatively unknown Apostol, who did very well drawing in defenders and beating them with speed.
"He got us up the pitch a few times in the first half, he was dynamic," Cavs assistant coach Martin Nash said postmatch. "When we adjusted we played him kind of out of position, more played him as a winger when he's more of a wingback or fullback, but he drove by guys, he got a few fouls deep in their end which were great for us in some dangerous set-piece areas. His attitude is great, his application is great, and it was great to see as he's not had a lot of chances."
Apostol won eight duels (out of 12) — more than anybody else in the game — and he drew five fouls as well, with opposing players typically unable to slow him down in any other way. With Daan Klomp patrolling the space just behind him, the Cavs were extremely dangerous down the right side, as Klomp frequently pushed forward with the ball as well in to try and drag HFX out of position and create new spaces for Cavalry's attackers to run into.
It's not often that a centre-back leads his team in passes into the attacking half, but that was the case on Sunday with Klomp — by a margin of 10 ahead of the next closest player. The Dutchman is well established as one of the more mobile central defenders in the CPL, and that was on full display in this game as he covered all kinds of ground, from the centre of midfield to well out on the right touchline.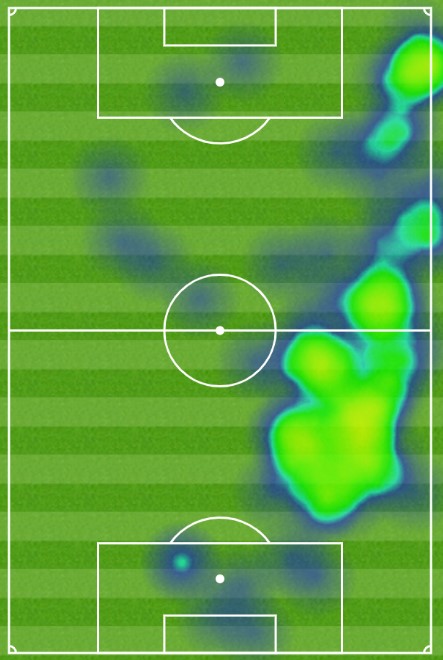 Opening up the second half, Apostol played as a right winger with Klomp playing right-back in a back four, which got him a little further up the pitch, but he didn't necessarily have much of a chance to make an impact in that position as he left the game shortly after.
Apostol came off just before the hour mark as Farsi came in for the final 30 minutes, but Cavalry's dominance on the right side did not change. With the Wanderers players on that side already exhausted from tracking Apostol all afternoon, the energetic Farsi was a handful for fullback Alejandro Portal. Farsi managed to get around the defender on the dribble a handful of times and created some of the Cavs' best chances of the afternoon, as his dynamism gave the home side new life in the closing stages.
CanPL.ca Player of the Match
Daan Klomp, Cavalry FC
Klomp had quite an adventurous game, lining up on the right side of a back three for most of the match but likely covering more ground than anyone else on the pitch. He was resolute in defence with four tackles and two clearances, and he led his side in touches (80) and successful passes (52). Honourable mention to HFX's Kieran Baskett for standing strong in the face of Joe Mason's penalty kick.
What's next?
Cavalry's homestand will continue this Thursday, October 21, when they play host to Pacific FC (9 pm ET/7 pm MT). The Wanderers will also be at home next, as they host Forge FC on Saturday, October 23 (2 pm ET/3 pm AT). Watch all matches live on OneSoccer.