MATCH ANALYSIS: Cavalry take big step toward regular season title as they hold on for a win in Halifax
---
Final Score: Halifax Wanderers 1-2 Cavalry FC
Goalscorers: Nimick 78′ (Pen.); M.Henry 27′, Klomp 54′
Game of the 2023 season: 94
CPL match: 461
---
Match in a minute or less
Cavalry FC held on during a tense finish at the Wanderers Grounds for a 2-1 victory that now sees them seven points clear at the top of the Canadian Premier League table.
The Cavs struck first in the 27th minute through 19-year-old Maël Henry before the visitors added to their lead in the second half through a Daan Klomp header off a corner kick. The Wanderers, however, nearly came back through Daniel Nimick, who scored a penalty before having a second goal controversially disallowed.
Instead, they lose their game in hand in the CPL playoff race over sixth place York United, and have now won just once in their past five. Cavalry, by contrast, have won four of their past five matches and officially secured a playoff spot with the win.
---
Three Observations
Cavalry's press and perseverance lead to a victorious end to a hugely successful road trip
Cavalry FC certainly consolidated their place at the top of the Canadian Premier League during an incredibly impressive East Coast road trip. They picked up a first-ever win in the nation's capital, drew against rivals Forge in Hamilton and turned around quickly to defeat the team that they share the league lead with for home victories, the Halifax Wanderers.
Especially considering they had just three road victories in 10 matches heading into this trip, Cavalry backed up the kind of performances they have been putting in all season at ATCO Field on the road over the past few weeks.
"This has been a really tough road trip but it was going to be pivotal in what we wanted to get out of this season, and we've got a lot of points against some very good teams," said Cavalry FC manager Tommy Wheeldon Jr.
They have done so in different ways, and after grinding out a 0-0 draw in Hamilton by holding onto the ball they held just 38.4 per cent possession on Tuesday night, but created chances and goals largely through their work off the ball. The lethal Cavalry press won the ball nine times during the match, leading to chances, fouls, corner kicks and ultimately a pair of goals from those set-piece situations.
This took place both during open play and also on restarts for Halifax, as they looked to try to break Cavalry's initial press by playing short goal kicks. Attuned to this strategy, the Cavs did an excellent job of organizing and mobilizing to force bad passes out of the back and create threatening opportunities. The chart below shows the defensive actions of Cavalry FC (recoveries, interceptions, tackles won plus fouls won) showing how effective their press was on Tuesday.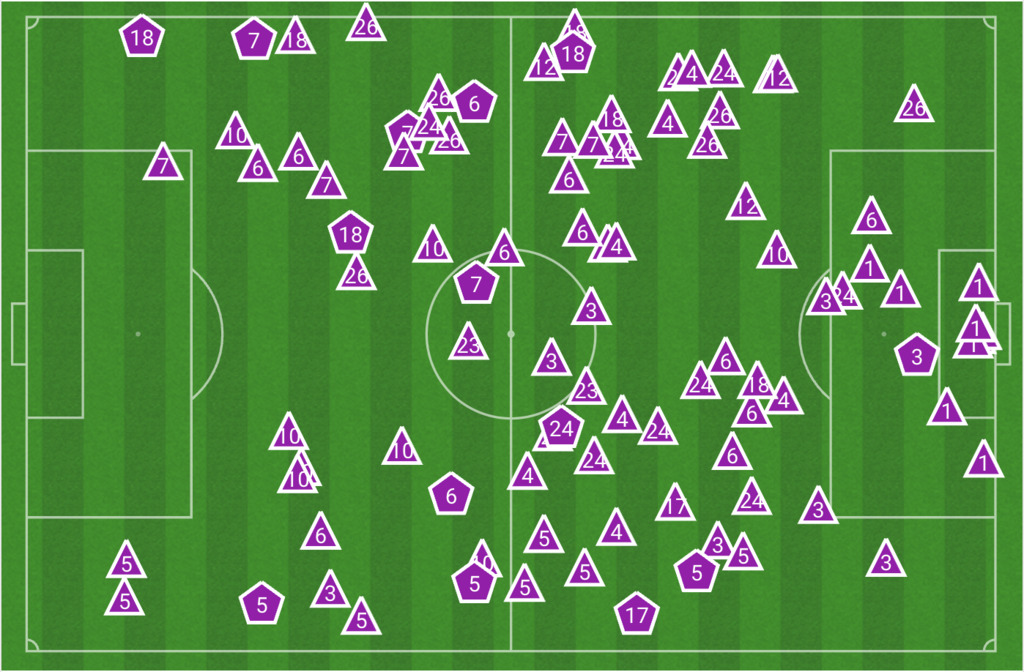 ---
"Really good, I've got really intelligent players," said Tommy Wheeldon Jr. of his side's press, " and Maël Henry, he's a player that is really coming on fine, we are high on him and hence why we traded for him in season. He gives us that intelligence. Sergio Camargo is one of the most intelligent players on the pitch that I've seen, his reading and reacting is different class and he's got that stickiness to turn and go, and young Gareth Smith-Doyle worked his socks off out there…it was a really good press."
Camargo alone won possession three times in the final third, and if wasn't for some uncharacteristically poor execution in the final third he might have easily joined in on the scoring action.
Once they had the lead, Cavalry were able to successfully suffer through an on-slot of Halifax chances late in the match — and perhaps get a little fortunate on a foul in the box that denied Daniel Nimick a late equalizer. Having dropped a league-leading 15 points from winning positions this season, they have now only done so once in their past 16 matches.
Cavalry FC will return home to face Vancouver FC this weekend, the first of three of their remaining four matches that come at home. For a club that has lost just once all year at ATCO Field all season, this east coast road trip has allowed them to take a massive lead in the regular season title race.
Maël Henry scores first CPL goal as Cavalry show flexibility and depth in midfield
Coming into this match, Cavalry FC knew that they would be forced to change their midfield setup at least slightly, with Jesse Daley serving a two-match suspension for yellow card accumulation.
The Australian, who has become a key part of Cavarly's success this season, left large boots to fill on Tuesday night, but they were impressively stepped into by 19-year-old Maël Henry. Having largely spent time as an inside forward or wide attacker, since he joined Cavalry, Henry did an outstanding job of providing the energy and work rate that Daley usually provides in midfield.
"Personally I felt really good," said Henry. "Since I arrived I've been playing a little bit of everywhere. Sometimes on the wing, sometimes the pocket, obviously this time it was a bit lower but I just want to do anything for the team you know."
The highlight of his performance, evidently, was his first Canadian Premier League goal on an outstanding ball played into the box that fooled everyone including Halifax goalkeeper Yann Fillion. However, he also completed two dribbles and contested 16 duels during an all-action performance.
The changes in the middle of the park did not end there, however, as Charlie Trafford, who was exceptional in the opening half, was forced off through injury at halftime. Wheeldon Jr. brought on Tom Field as a right central defender, and pushed Kobza into the midfield. He then shifted again in the 60th minute by bringing on Fraser Aird and pushing Shamit Shome centrally.
This second move, in particular, was critical to Cavalry seeing out the result, as Shome provided some key solidity through the centre of the park. Wheeldon Jr. even went so far as to say perhaps the fact that Shome spent the first part of the season on the sidelines through injury.
"You can plug and play Sham wherever you want, he could play centre forward if you asked him to," said Wheeldon Jr. "He's that intelligent, that he knows the role within seconds and reads the game situations. He has been a terrific player for us this back half of the season."
It was yet further proof of why Cavalry are where they are in the CPL table. Without arguably their two most important midfielders on the pitch in the second half, they were able to hold on for their 12th victory of the 2023 season.
"This year I think there is really something special in the group," said Henry. "A guy gets injured, someone else takes his place. We have a really deep squad and I think that is our strength, in every part of the field."
Dueling back threes make for an intriguing tactical battle
The back-three revolution continues to take hold in the Canadian Premier League and Tuesday night's contest saw both sides play with three central defenders for most of the match.
Cavalry FC looks to be getting comfortable in a back three that includes Daan Klomp, Callum Montgomery and Eryk Kobza, which was again brilliant in possession and decisive defensively without it.
Halifax, meanwhile, finally deployed an exciting backline that included Doneil Henry, Daniel Nimick and Cale Loughrey. In the early part of the match especially, this allowed them to double up on Cavalry's dangerous wide threats which was key on a few occasions as Cavalry looked to attack through the dynamic Ali Musse and Sergio Camargo.
As a result, Cavalry shifted and looked to have Musse and Camargo play more centrally and exploit the gaps in between the Halifax back three centrally. Where they caused the Wanderers back three the biggest issues, however, as aforementioned, is through their press as the Halifax group took a little bit to develop some chemistry.
As the match wore on, Halifax were able to build out of the back with a little bit more assuredness and this was key in what was nearly an outstanding second-half comeback.
"There's so much emotions at the beginning of the game, right," said Halifax head coach Patrice Gheisar. "I think they have trained a lot together and they have done well together but it was definitely rocky to start. Again they are a team that makes it hard to play so fair play to that, but it was challenging. As the game went on they started to open up and we started to grab it and play the way we wanted to."
That second half especially showed enough reason to believe that this might be a setup that is worth deploying again for Halifax. Even when they did give away the ball in bad areas, Halifax did incredibly well to make up for their mistakes with some defensive strong interventions.
Halifax came painfully close to getting something out of this match, as a late penalty goal from Nimick, his fifth of the season, got them to within one. However, they were denied what would have been an equalizer moments later by what is sure to be a controversial decision to call a foul in the box on an incoming corner kick.
"I thought we were resilient, to go down 2-0 and fight to the very end really it was really good from the guys, just frustrating being at home and losing," said Halifax attacker Aidan Daniels. "We talked about using this game in hand to propel us forward and now it feels like we basically lost that game in hand. It is frustrating, but I think we just need to buckle down on the set pieces and the minor details and I think that will help us get the win, but it is frustrating for sure."
---
CanPL.ca Player of the Match
Ali Musse, Cavalry FC 
Against one of the league's best backlines, Ali Musse did a tremendous job of finding pockets of space to create chances. He set up Daan Klomp's winner from a quality corner kick delivery, and created five other chances, had nine crosses, won seven of ten duels and was fouled three times.
What's next?
Cavalry FC are finally back at ATCO Field this weekend after a long road trip out east, where they host Vancouver FC on Saturday, September 16 (3:00 p.m. MT/ 5:00 p.m. ET). Halifax are also back in action on Saturday, as they host Atlético Ottawa in another crucial fixture (3:00 p.m. AT/2:00 p.m. ET).
Watch all CPL matches live on OneSoccer. In addition to its website and app, OneSoccer is now available on TELUS channel 980 and on Fubo TV. Call your local cable provider to ask for OneSoccer today.