MISSIO: Taking in Forge FC through the eyes of an 8-year-old 'Hype Merchant'
---
Allan Gorman is the leader of the Barton St. Battalion. You've probably read about him before. Having lived in Hamilton since he moved to Canada 10 years ago, Gorman has been heavily involved in each step of Forge FC's march to the inaugural Canadian Premier League's launch date.
But this article isn't about Allan. It's about his 8-year-old son, James.
Though his father's passion is an obvious influence, make no mistake – this kid has written a unique supporter's narrative all on his very own. He might be Forge FC's biggest fan, even if he is the smallest one singing in the supporter's section.
I had the enlightening opportunity to chat with James for the full 90 minutes during Forge FC's inaugural match against York9 FC on Saturday; his honest, straightforward answers to my questions were a reflection of his position as a true supporter, even if he doesn't quite realize it yet.
When I asked what his favourite soccer team is, James' father Allan instinctively replied "Toronto FC" on his behalf … but, without hesitation, James interjected – "Forge FC!"
Sometimes, dads don't know everything.
When asked about the match, James' bright eyes and genuine passion bled through the cold and windy day: "It's a lot of fun and I love it," he told me, in the matter-of-fact way that can only come from an 8-year-old. "This is my team …  and I got to bang the drum!"
The drum, a symbol for any supporters group, is what James embraced most during the match. The metronomic heartbeat of each song? James was the one to regulate and lead its beat, and did so perfectly in sync with the chants around him.
When I asked Allan what his son's official title within Barton St. Battalion was, he answered immediately: "Hype Merchant."
That's an understatement.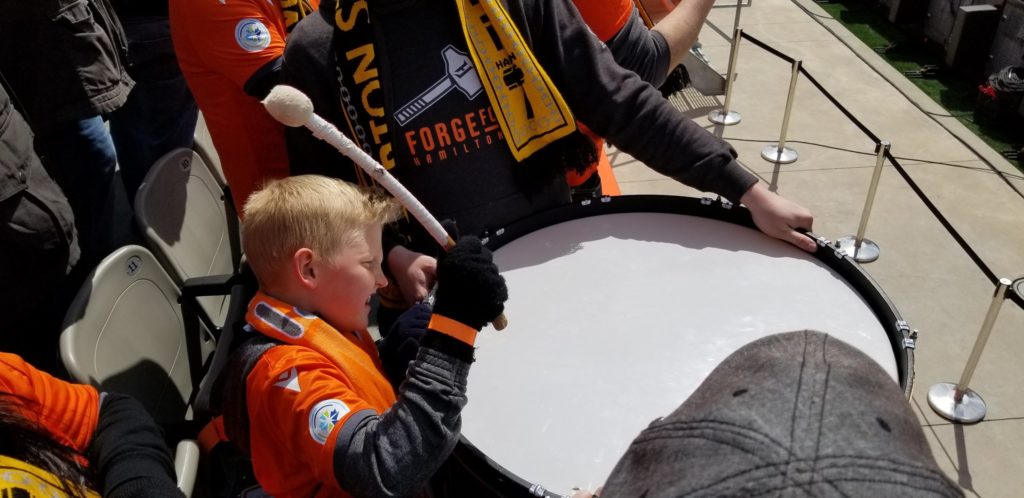 Like his father, James has also been there for Forge FC since day one. His passion, the sort normally seen only in adults, means he is able to talk football like a true analyst, too. We swapped notes on the players, and agreed that Chris Nanco was having a great match. When Kadell Thomas scored in the 78th minute, James started looking for another goal right away.
As an eight year old, James isn't thinking of his fan narrative, or how he fits as a piece into a single wider picture. He's just thinking of his team and how they did today.
"They played great! It was so much fun!" he exclaimed at the final whistle.
Therein lies the beauty of the CPL – it's no longer an idea printed on a document, tucked away in a desk somewhere, but a living, breathing movement, made for the present and for the future. And for a kid like James. That's all that matters, now.
Months earlier, on his eighth birthday, James was the one who helped reveal Forge FC to the City of Hamilton. To him, it was an overwhelming moment of pride, but in retrospect, it was a metaphor for the future.
This young supporter, not yet jaded by history or by politics in sport or by past drama or from his father's tales of yesteryear, now begins his own journey into the world of soccer.
This is his team. His league.
To see the start of the CPL through an 8-year-old's eyes was truly something special.
Through Forge FC, James will bear witness to new moments of history and drama, moan about new superstitions and curses, heartache over new failures, and revel in new triumphs and trophies.
For the 8-year-old Hype Merchant of the Barton St. Battalion, this is only the beginning.
What a weekend.

That was insane, it still hasnt sunk in…

…and I'm off to Halifax on Thursday. pic.twitter.com/GQG5rfplXc

— Allan (@offsidetwice) April 29, 2019