O'CONNOR-CLARKE: Enjoy the ride as Canada joins the world's greatest star-making stage
"Take the adventure, heed the call, now ere the irrevocable moment passes! 'Tis but a banging of the door behind you, a blithesome step forward, and you are out of the old life and into the new!

"Then some day, some day long hence, jog home here if you will, when the cup has been drained and the play has been played, and sit down by your quiet river with a store of goodly memories for company." — Kenneth Grahame, The Wind in the Willows
---
No other sporting event has quite the myth-making capacity of the World Cup.
This is the stage that deified Pelé and Maradona. It's the stage that vilified Luis Suárez, and the stage that, arguably, introduced Kylian Mbappé.
This is the stage upon which Canada will play this week.
Over the past year and a half, many of us here in Canada — particularly those who would read this site — have heard the individual stories that make up this remarkable team. We know of Alphonso Davies' journey from refugee camp to Bayern Munich; of Milan Borjan's escape from war-torn Yugoslavia to Hamilton; of Atiba Hutchinson's quiet, unassuming rise through the ranks to become this country's all-time men's caps leader.
Now, the rest of the world will hear them. Broadcasters across the globe will discuss the Canadian national team in Dutch, Spanish, Japanese, and Arabic. They'll talk about Stephen Eustáquio's merits as a box-to-box midfielder, and what big club Jonathan David might sign for in the near future. Millions of fans will soon join the rest of us in wondering what John Herdman is listening to in those AirPods.
All this is to say: It's real now. We're at the party. This is the biggest show on Earth, and Canada is part of it.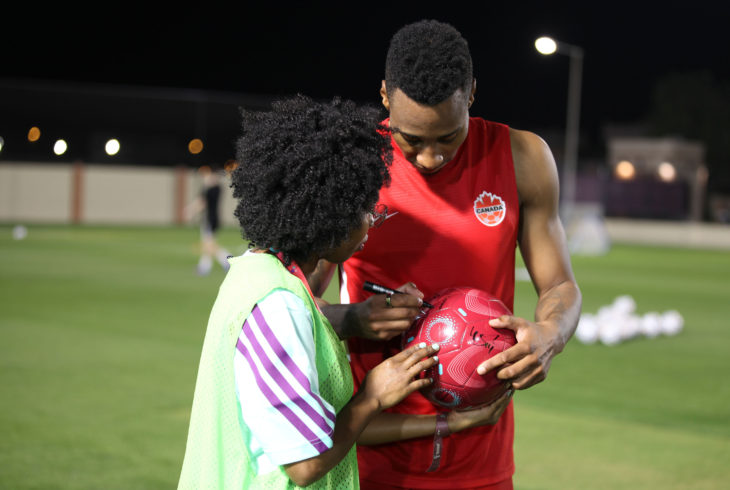 Of course, the mood in the Canada camp is not one of mere gratitude; it's never been enough for these players just to be invited to the dance. They're squarely focused on taking as many points as possible from Belgium, Croatia, and Morocco.
Many years from now, each of Canada's 26 players will look back on their time in Qatar and reminisce on the experience of playing at their first World Cup — on sharing a pitch with names like De Bruyne and Modric and Ziyech. For many of those players, this won't be their last World Cup, and for a few, they might one day be the names that make young opposing players starstruck.
Over the following days — or if things go really well, weeks — many Canadians will learn what it's like to watch their country in a men's World Cup.
Already we've seen viral moments and emergent storylines: Enner Valencia dazzling at age 33; Jude Bellingham doing likewise at age 19; semi-automated VAR triangulating a rogue offside limb. There's the dark cloud that hangs over this particular World Cup in Qatar as well, obviously — which will continue to be documented and explained by those far more qualified and suitable than me — and that's not irrelevant to Canada's involvement either.
But from a purely footballing perspective, it will continue to be surreal that the eyes of the entire world will be on Canada when they play. Fans worldwide might be enamoured by GIFs of Milan Borjan. They might commiserate with us over a refereeing decision. Maybe someone will get sent off, and that'll be the day's biggest storyline. Maybe Davies will score a Panama-esque goal, and that will be the day's biggest storyline.
National media in almost every country in the world has discussed John Herdman and his Canadian team over the past few weeks. The press in Belgium, Croatia and Morocco has zeroed in on all the news and storylines out of Canada's training centre. Never has a brighter spotlight been shone on this team.
By the end of the group stage, a lot more people will know who Alistair Johnston is. Richie Laryea might be a cult hero by then. Perhaps Tajon Buchanan will be the next young phenom to introduce himself to the world and become a headline-grabber in the January transfer window.
Every World Cup has its unlikely heroes and players that burst into the world's spotlight. It's happened to James Rodriguez and Keylor Navas and Cafu. With a squad as full of young players as Canada's, most of the men in that camp will be hoping it can be he who captures the world's attention and earns his big club move.
This tournament (both the men's and women's versions) is the greatest creator of stars and driver of narratives in the sport.
Canada's role in it may be brief. In fact, it probably will be. No matter what, though, our country will have played a part. Years from now, when Canada are (hopefully) a regular fixture in the 48-team World Cup, we'll remember 2022.
It'll always be special to watch Canada at a World Cup, but it might never again be quite this special.
So, wherever you are on Wednesday — at home, in a pub, or in Qatar — find time to enjoy it now that it all feels real. Soak in the build-up, the national anthems. If Canada scores a goal, go nuts. If they win, go double nuts. If they concede or they lose, well, that heartbreak is just as much a part (if not more) of the World Cup experience as the joy.
It's these things, these moments — these emotions — that make a World Cup special. Men's soccer in Canada will never be the same after this, and that's a good thing.
In the words of Hunter S. Thompson: "Buy the ticket, take the ride."
Buckle in, Canada. We're about to play at the World Cup.