PREVIEW: CanMNT looking to regain regional road warrior status in critical Nations League match vs. Jamaica
---
In a now-famous anecdote from Canada's road to the 2022 Qatar World Cup, during a team meeting prior to the final round of qualifying, the staff and players were setting goals for the upcoming matches.
The discussion turned to Canada's seven away matches, with the coaching staff asking which of those the players should be expected to win. That's when an important figure spoke up and let his opinion be known. So the story goes, it was Alphonso Davies who said: "All of them."
It's a clear example of the sort of swagger and belief that set Canada and its now-famous 'brotherhood' apart from the rest of the region during World Cup qualifying. Canada would go undefeated in their first five road matches of the round, including highly impressive draws at the Azteca against Mexico and in the United States, as well as a cathartic 2-0 win in San Pedro Sula, Honduras.
That momentum has since stalled significantly. Canada have lost five of their last six matches against Concacaf opponents in true away matches (i.e played in their opponent's country), with their lone win a 2-0 result over Curaçao on March 25 during the last edition of the Nations League. The belief that this team is able to handle business against anyone, anywhere, in this region is quickly dissipating.
For many reasons, that makes Saturday morning's away match against Jamaica (10:30 a.m. ET/7:30 a.m. PT) on OneSoccer) an integral one for the Canadian men's national team. The match, which was originally scheduled to be played on Friday night, was moved due to inclement weather.
Beyond the fact that winning the upcoming two-legged series against the Reggae Boyz would mean qualifying for the 2024 Copa América, and Concacaf Nations League final four, it is a crucial chance for Canada to rebuild the belief that they are still capable of winning when it matters.
Kingston, Jamaica maybe doesn't hold the same phobia-inducing reaction as say San Pedro Sula or the Estadio Azteca among Canadian fans. But perhaps it should, because trips to Jamaica have not been kind to Canada over the years. Prior to a 0-0 draw in their most recent away match against the Reggae Boyz during World Cup qualifying, Canada had lost four straight in Jamaica. Their lone win in the country came on April 5, 1988, 4-0 courtesy of a hat trick from John Catliff.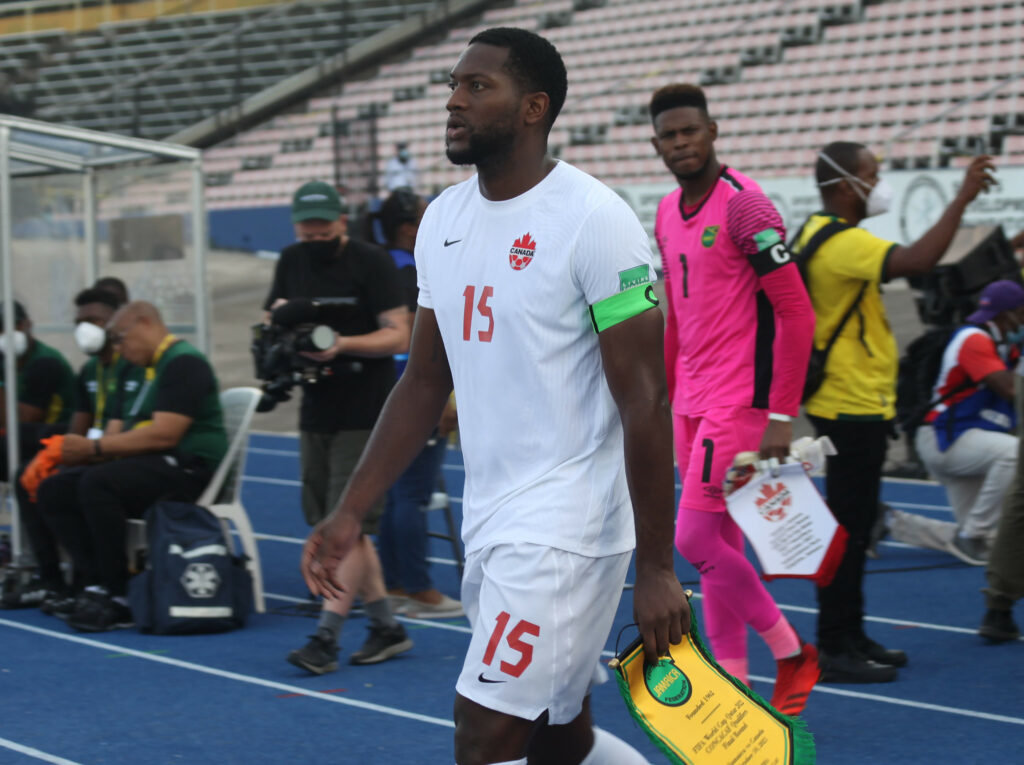 ---
"We know that this is going to be a difficult place to play in, we haven't won there in 35 years," said Canada's interim head coach Mauro Biello in a media call on Thursday. "So for us, it's understanding that contextually, that we are going to be facing a difficult opponent, but at the same time we know what we're capable of doing, we have shown it in the past and I think that's what we're going to focus in on when we have to dig deep in those moments in qualifying."
In Concacaf away fixtures, digging deep often means adapting to difficult circumstances, be that opposing fans or conditions given the region's size and different climates (see Iceteca, Edmonton). Canada have already seen the first leg delayed due to poor weather conditions on Friday night, when it was originally supposed to be played, and the conditions are sure to be less than ideal when they do finally step out onto the pitch on Saturday morning.
Perhaps luckily, one of their final lead-up training sessions took place in torrential rain in Fort Lauderdale, Florida. One can only hope from a Canadian perspective this leads to more Max Crépeau celebratory slip and slides on Saturday.
"I have to prepare the team, not only tactically but I have to prepare their mindset to be ready for that, and I think that will be crucial," said Biello. "Players have to understand that they may have to go out of the norm in these types of games just because that is what the game has given us in those moments whether it is the conditions or the moment in the game."
Canada hasn't always adapted well to these circumstances in the recent past. One perhaps similar example was an at-times comical Nations League match they played in Honduras on June 13, 2022 on a waterlogged Olimpico Metropolitano pitch. Canada tried to play possession-based football, but the conditions basically demanded a more direct approach and they ended up losing 2-1.
Making matters even more tricky for Canada on Saturday morning is the fact that they face a Jamaica significantly improved from the one they matched up against during their last trip to Kingston. In particular, Jamaica have recruited and Michail Antonio (West Ham), Leon Bailey (Aston Villa), Demarai Gray (former Everton, Leicester City) and Bobby De Cordova-Reid (Fulham).
The chemistry between this group only grew during the past two international windows, wherein they played four matches during the Nations League group stage. Gray, in particular, seems to be rounding into form internationally with three goals during those four matches. Canada only played one match during that time, a humbling 4-1 loss to Japan in October.
With this in mind, Biello named a Canada squad that is largely made up of players, whether in top form or not, who played during that World Cup qualifying cycle. The idea is that over the two legs that experience, especially in understanding the unique rigours of Concacaf road matches, will be a difference maker.
---
If Canada do take care of business down in Kingston, they will have a significant advantage heading home. Canada are undefeated against Jamaica on home soil, famously including a 4-0 victory on March 27, 2022 that secured their spot at the World Cup.
Saturday's match is about getting that continental confidence back for the Canadian men's national team. Just a year or so ago it felt like Canada were untouchable against any team within the region, including the traditional giants of Concacaf. It's time to provide a reminder as to why the King of Concacaf title wasn't quite as hyperbolic as it now seems.