The Island Games: Pacific FC 2020 CPL season preview
---
2019 CPL Record (W-D-L): 8-7-13 (5th overall)
Goals scored: 35
Goals against: 46
Goal Difference: -11
Top scorer: Terran Campbell (11)
---
Pacific FC made some of the biggest splashes of the CPL off-season, bringing in an impressive slate of new, high-profile players to try and improve on their fifth-place finish from 2019. They've bolstered pretty much every position on the field, and they've kept their young core from last season mostly intact.
The Vancouver Island-based club has been hard at work out in Langford the past few months, signing plenty of reinforcements. Their 20-man squad has 10 players returning from the inaugural roster, with another 10 newcomers — although, incoming players such as Marco Bustos, Jordan Haynes, and Josh Heard all have plenty of familiarity with their teammates and coaches.
With coach Pa-Modou Kah likely to institute a new tactical plan for the club, the way Pacific lines up on Day 1 will be extremely interesting.
So with that, let's break down just how exactly the Tridents could look when they hit the pitch for their first game of 2020.
---
RELATED READING: 2020 CPL regular season: The Island Games
---
GOALKEEPER
Callum Irving
The former Ottawa Fury starter has a huge wealth of professional experience from the past three years, plus significant familiarity with a number of Pacific teammates (both from Ottawa and the Whitecaps Residency program). Irving will compete with local native Nolan Wirth for the starting job, with the latter having won the number one spot in 2019.
However, with Pacific looking to contend in 2020, they'll probably turn to the more experienced hand to start most games between the sticks.
DEFENDERS
Marcel de Jong, Lukas MacNaughton, Thomas Meilleur-Giguère, Kadin Chung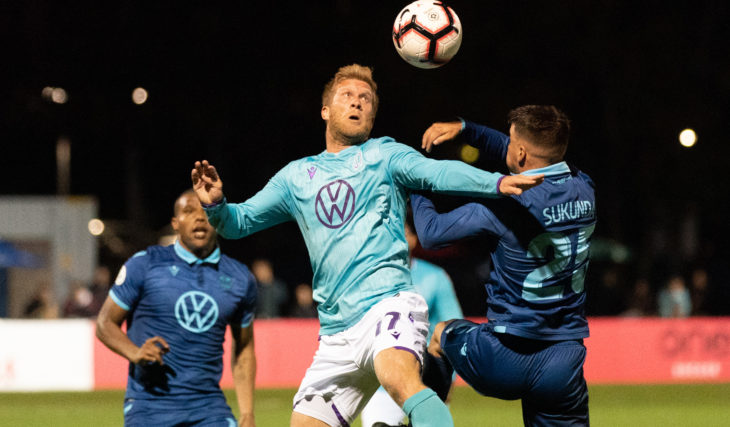 This will be one of the more experienced and fully-Canadian backlines in the CPL. Marcel de Jong barely saw the pitch in 2019 as he recovered from a pre-season Achilles injury, so it'll be great to see a full campaign from him at left back. At 33 years old, he'll likely captain the squad, too.
Experienced centre back MacNaughton, who played 22 times for Pacific last season, will now be joined by Thomas Meilleur-Giguère, an up-and-coming defender with 82 USL appearances already under his belt by age 22. Meilleur-Giguère fits PFC's philosophy of trusting the kids, despite not being a local product; indeed, this duo could make up the youngest regular centre back pairing in the CPL.
Finally, at right back is the reliable Kadin Chung, who played a solid 24 CPL games in 2019. He's a slightly more attacking player than some traditional fullbacks, but he should have cover from the quick Meilleur-Giguère should he choose to venture upfield.
MIDFIELDERS
Noah Verhoeven, Jamar Dixon; Victor Blasco, Marco Bustos
It's hard to tell how exactly coach Pa-Modou Kah will arrange his remaining six players; this is but one example. He could, instead, put Bustos into a front three with Blasco dropping into an attacking midfield role (or the other way around). Or, Josh Heard could come in to take either of those positions.
Nonetheless, Verhoeven and Dixon should be pulling the strings in the middle. Verhoeven is a solid box-to-box man in the centre, and Dixon is an extremely hard-working, experienced player who will look to win the ball for the Tridents. Alessandro Hojabrpour will definitely be an option here as well, especially if Verhoeven looks more like he did in late 2019 than at the beginning.
Blasco and Bustos would be an incredibly dangerous wing pairing, should Kah choose to opt for that. Bustos, the club's marquee signing for 2020, was one of the CPL's most electric players last year, with the ability to play either on the wing or in the number 10 role. They'd probably work best on the edges of a front three, but Pacific has two centre-forwards who just cannot be left out of a lineup.
FORWARDS
Terran Campbell, Alejandro Díaz
In Campbell, Pacific has the leading scorer of 2019 CPLers who remained in the league for this season. His 11 goals as a rookie turned him into a household name across the league. Campbell, with his stocky frame and deft touch on the ball, was an unstoppable force in the box. He should be the target man tasked with holding up play; in fact, he might actually bag more assists this season with a new supporting cast.
Díaz might be the most exciting newcomer to the CPL, with his Club América pedigree. He's just 24, and he's played for some very good sides in Mexico. With his talent, it surely makes the most sense for Pacific to go with two forwards (something that not many CPL clubs opted for in 2019). One of them could drift a little further back to fill the gap in between the wingers, too.
It's certainly possible that the two play in more of a platoon system, with Bustos and Blasco helping make up a front three — with short turnaround between matches at The Island Games, squad rotation will be key.
BENCH
Nolan Wirth, Emil Gazdov, Jordan Haynes, Abdou Samake, Zachary Verhoven, Matthew Baldisimo, Alessandro Hojabrpour, Sean Young, Josh Heard
Pacific has a ton of young depth available off the bench, which will surely help them last deep into matches. The returning 2019 core of Verhoven, Baldisimo, and Hojabrpour could all fill in anywhere in midfield, and they've been bolstered by some incoming local talent, in the experienced Josh Heard and rookie professional Sean Young. In goal, Wirth is one of the ablest backups in the league, having proven himself at the CPL level last year.
COACH
Pa-Modou Kah
Pacific is one of two clubs entering 2020 with a coach who hasn't yet managed in the CPL (the other, obviously, being Atlético Ottawa). Pa-Modou Kah has come in to replace Michael Silberbauer, and he's brought with him a brand-new mentality.
Everything that's come out of the club this off-season has been extremely positive, with players all hailing Kah's approach to coaching: he's a player's coach, but not afraid to demand more. Still, it's never easy for a new manager to step in and be immediately successful, especially given how short the 2020 season will be. Fortunately for Kah, he's already familiar with a lot of his players, whether from his time at the Vancouver Whitecaps or just from around the B.C. area.
There's no room for error, so Pacific will be hoping that Kah's drilling over the past couple of months will succeed in making them a more disciplined, tighter squad.