PREVIEW: HFX Wanderers FC vs. Toronto FC — 2022 Canadian Championship
---
2022 Canadian Championship — Quarterfinals
HFX Wanderers FC vs. Toronto FC
May 24, 2022 at 6 p.m. ET/7 p.m. AT
Wanderers Grounds in Halifax, Nova Scotia
Watch Live: OneSoccer.ca // Tickets available here
In addition to its website and app, OneSoccer is now available on TELUS channel 980 and on Fubo TV. Call your local cable provider to ask for OneSoccer today.
---
For the second time in their history, HFX Wanderers FC will welcome a Major League Soccer opponent to a sold-out Wanderers Grounds this week, as they host Toronto FC in the quarterfinal of this year's Canadian Championship.
Last year, HFX hosted CF Montréal and played a very competitive match with the MLS side. They were minutes from a penalty shootout with the score tied at 1-1 in the 89th minute, when Ballou Tabla (now of Atlético Ottawa) took matters into his own hands and scored twice to win it for the visitors.
This time around, however, the Wanderers are looking for more. They needed no additional motivation for a cup tie like this, of course, but they enter the quarterfinal at a particularly fiery moment for the club. They lost 4-0 to Forge FC on Friday night — the worst loss HFX have ever suffered at home — so they're a team that's extremely eager to set things right and redeem themselves in front of their fans.
"That game's not coming back, so the only thing you can do is to learn some lessons, take something out of it, and try to ensure you don't have such bad moments of concentration," head coach Stephen Hart said Monday. "I've watched the game four times, we really didn't do as badly as I thought, especially in the first half — if you watch it again, in the first 10 minutes we could've easily been up 2-0… For me it's one of those games you'll never forget, but you have to just get on with the next game and move on."
In league play, the Wanderers sit in a five-way tie for third in the table with eight points, having two wins, two draws, and three losses. They've proven to be very difficult to beat this year, but they'll be hoping to find some extra spark in attack for this game.
Toronto, meanwhile, have designs on winning the Voyageurs' Cup for an eighth time in their history. They haven't lifted the trophy since 2018, but they're nonetheless the most successful club in this competition, and reclaiming the silverware will be a serious priority for them.
This year, under new head coach Bob Bradley, the Reds have struggled out of the gate somewhat. They enter Tuesday's game sitting 13th in the MLS Eastern Conference, with three wins, three draws, and seven losses, having played to a 2-2 draw with D.C. United on Saturday afternoon.
TFC nonetheless boast a squad full of talented players, including Canadian international Jonathan Osorio and Spanish stars Alejandro Pozuelo and Jesús Jiménez. This match could also be a special one for Halifax-born Jacob Shaffelburg, although he's missed the club's last five games due to injury — it's unclear whether or not he'll be available on Tuesday, but if he is able to play, it'll be his first match in his hometown since representing the Wanderers' Atlantic Selects side back in 2018 in a friendly against Fortuna Düsseldorf.
"I know Halifax, with their little stadium and the people there, it's gonna be a big day," Bradley told reporters recently. "Jacob's been talking about it for a while."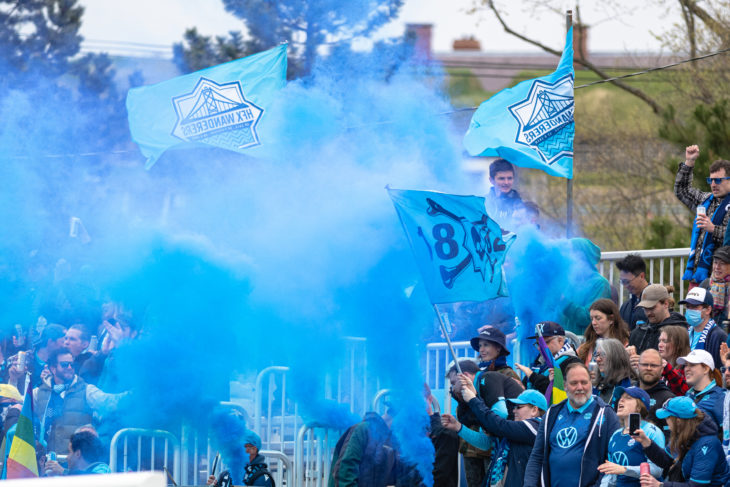 The TFC coach went on to say that he's fairly familiar with the Canadian Premier League — of course, it was he who signed Lukas MacNaughton and Kadin Chung prior to this season after their excellent 2021 campaign with Pacific FC. Plus, Bradley will have some help from assistant coach Paul Stalteri, who worked as an assistant at York United last year.
"I followed (the CPL) a fair amount last year, and obviously when I took the job there were different players that I was immediately asking Paul (Stalteri) about, asking some of the other people at the club about," Bradley said. "I have an idea of some of the teams, some of the styles, I've spoken to a couple of the coaches at different times. I love to see a league come up where players get opportunities; in a country where the game has grown so quickly, you've got clubs that now start the process of finding players, scouting, building teams, developing identities."
Tuesday's game is, of course, the first ever meeting between the Wanderers and TFC — although not the first time Bob Bradley and Stephen Hart have coached against each other. They crossed paths when the two were head coaches of the United States and Canadian men's national teams, respectively — including in the semifinal of the 2007 Gold Cup.
It'll be Toronto's third time playing against CPL opposition, having defeated both York United and Pacific FC at BMO Field last year. HFX, meanwhile, will hope to flip the script after their defeat to CF Montréal in 2021.
Either way, a place in the semifinals awaits. The winner of this tie will play either CF Montréal or Forge FC, who will square off in Québec on Wednesday.
---
3 THINGS TO WATCH:
Wanderers need bounce-back home performance: Halifax boss Stephen Hart called Friday's loss to Forge in CPL play "embarrassing," feeling the need to apologize to Wanderers fans in the wake of the club's worst-ever home defeat. A cup tie against an MLS team is far from the easiest fixture that could come next, but Tuesday's game does represent an opportunity for the club to make it up to the droves of fans at Wanderers Grounds. The Halifax stadium has historically been an extremely difficult place for visiting teams to go, with its raucous atmosphere and grass pitch, but the club is looking for a truly marquee moment at home — which a win on Tuesday would obviously provide. The Wanderers were torn apart by Forge just a few days ago, but they'll be eager to prove that was an anomaly and not indicative of the side's actual level.
Shorthanded TFC still dangerous: Recently in MLS play, Toronto FC have struggled mightily with their squad, having missed several important players the past couple of games because of how quickly the injury bug spread through the team. Jonathan Osorio came off the bench (and scored) for the club against D.C. United on Saturday — an encouraging sign, no doubt — but they were without designated player Alejandro Pozuelo, as well as several other key pieces. Whether those key players are available or not, though, TFC have plenty of quality that can trouble the Wanderers. Young Canadians like Jayden Nelson and Ralph Priso are worth keeping an eye on, as are the likes of attackers Deandre Kerr and Ayo Akinola. "They're a young team. They have their moments, and they have some attacking players that can cause a lot of problems," Stephen Hart said of Tuesday's opponent. "Of course they have the skipper in midfield Bradley who can move the ball very effectively. They have a number of weapons, and we have to be much better on the ball."
Midfield battle may tip scales: Tuesday night's match is going to be a difficult and competitive one all across the pitch, but nowhere more so than in the middle. Halifax have one of the strongest midfields in the Canadian Premier League with captain Andre Rampersad alongside left-footed talisman Jérémy Gagnon-Laparé and likely Aidan Daniels (a former Toronto FC academy player) a little further forward. TFC have used several different midfielders this year, but expect Michael Bradley and Jonathan Osorio to be key for them. Bradley has a well-earned reputation for his strength and composure at the base of midfield, and Osorio is a talented creative player who will be doing his best to unlock the Wanderers' backline. Rampersad in particular will be key to limiting Osorio's ability to create and play through the middle; if Halifax are able to break things up and congest the centre of the pitch, forcing TFC wide, they'll fancy their chances.
---
ALL-TIME SERIES
First meeting between these sides.
---
KEY QUOTES
"I don't think I have to talk (to the players) much about this game. As a matter of fact I think this game was on their minds more than any other game. It's massive for the club; we had Montréal here last year, it was big, now we have Toronto FC. Any player who doesn't have the passion for this game, or isn't willing to test his skills and abilities against a team from MLS, is in the wrong profession." — HFX Wanderers FC head coach Stephen Hart
"Canadian Championships are an important part of the history of this club, so we take it seriously. We already talked briefly after (the D.C. United game) about how important the Canadian Championship is and what it means even as far as, if we can win it, getting into the Champions League. The players know that, I don't have to tell them. They've done it before." — Toronto FC head coach Bob Bradley