3 things we learned from 2019's edition of Al Classico
---
Along with the Canadian Premier League's regular-season shutting up shop, Saturday also brought the end of Al Classico's first yearly installment.
Of course, Cavalry FC still has two massive matches left to be played against Forge FC in the Canadian Premier League Finals – starting next Saturday in Hamilton (3:30 p.m. ET, on OneSoccer), with the second leg a week later in Calgary (3:30 p.m. ET, on OneSoccer). FC Edmonton closed their season on Saturday with that 3-1 loss to their Albertan rival at ATCO Field in Spruce Meadows.
The Cavs had already claimed the season series and, in turn, the first awarding of the Wildrose Cup. A dead-rubber in terms of Albertan soccer bragging rights, the match still lived up to Al Classico expectations; four goals, fun celebrations and a great fan atmosphere.
All five Al Classicos have been close, hard-fought and, honestly, pretty exciting.
Here's what we learned from Al Classico 2019.
---
Every game's closer in Alberta
These games have been close. Really close.
Let's go back to Al Classico #1 in the Canadian Premier League. May 18, 2019 on a wet and cold day in Calgary.
The Cavs took that first match thanks to a deflecting toe-poke from Jordan Brown. Intentional or not, it was the lone breakthrough in a match that had little to split between the Albertan rivals. At the other end, 17-year-old Marcus Velado Tsegaye was just a few centimetres away from finding an equalizer.
And, look, the 2019 Al Classico scores haven't exactly flattered the Eddies, who only scored their first goal against Cavalry on Saturday. But the inches matter.
What if, on Saturday, that bar-down shot from Brown is called no-goal? Or that penalty isn't called? Back in August, FCE could have put three past Cavalry in that nil-nil at Spruce Meadows if not for Niko Giantsopoulos.
Heck, remember Tomi Ameobi's breakaway in the penultimate Al Classico? Giantsopoulos again.
Cavalry and their supporters don't want to admit that these were all close games, one way or another, and their Wildrose Cup win wasn't exactly a cakewalk…
Cavalry's clinical nature flourished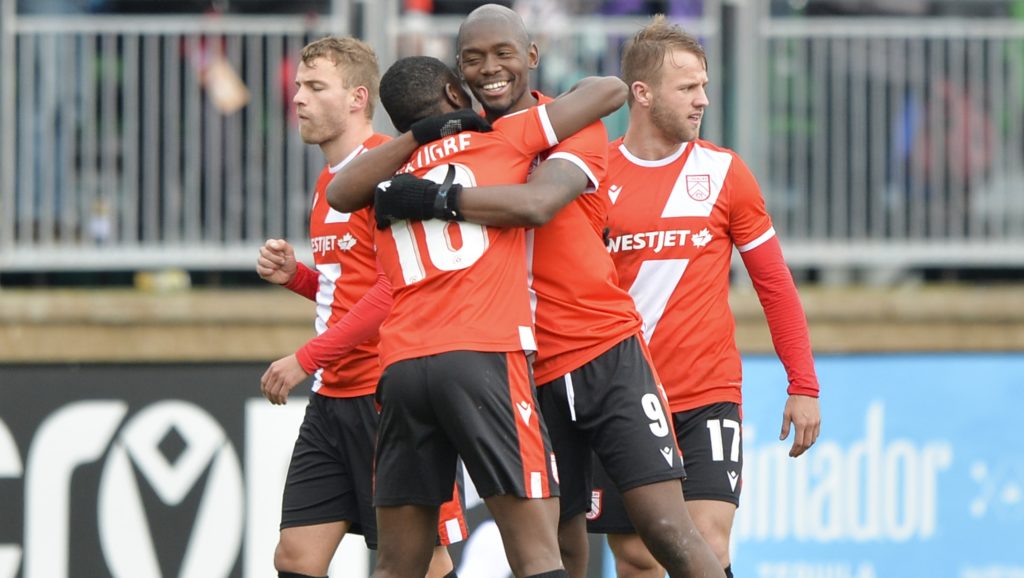 Going 4-0-1 against the Eddies on the season, Cavalry routinely punished their rivals with that "they just find ways to win" narrative we've seen said about the Cavs all season.
Looking back at that damp Al Classico opener, we can clearly see a trend. They punished FCE with three goals in 10 minutes later in June to grab a Spring title-threatening sixth match won in a row. Those goals didn't come until late. The Eddies were in it.
Even on Saturday – a 3-1 win at Spruce Meadows – the Cavs didn't open the scoring until the 76th minute. You could argue the Eddies were the better side for most of the first hour, too.
Cavalry's magic touch, especially late in matches, punished pretty much every team in the CPL, and some outside of it, in 2019. Al Classico was just the canary in the coalmine.
Wildrose Cup & Al Classico: A marriage of Albertan soccer
Saturday saw the inaugural awarding of the Wildrose Cup – a trophy years in the making.
Supporters from both sides have this wonderful story of coming together to make Al Classico's crowning jewel one that hit a crescendo with Cavalry being the first of the first two lift it.
Players from the @CPLCavalryFC celebrating with the @footsoldierssg #Section200 #CanPL #wildrosecup pic.twitter.com/QB2yKX7JgM

— Moses Woldu (@MosesWoldu) October 19, 2019
To think, this type of trophy celebration, this moment, wouldn't have happened without Dallas Walker and Sean Clarke, from River Valley Vanguard and Foothills, respectively, coming together to form a sort of camaraderie-slash-rivalry.
Where does the Wildrose Cup go from here? Well, it goes to Calgary. Next year, red will present the trophy on the final Al Classico matchday.
Will it stay red, or turn blue? We'll see in 2020.