Valour FC camp report: Who is Winnipeg's no. 1 goalkeeper?
---
There is a mix of experience and promise, size and strength on the Valour FC goalkeeping depth chart. Still, there are also questions as Winnipeg's Canadian Premier League opens its third training camp this week at IG Field this week. The biggest, of course, is this:
Who will be the no. 1 stopper when the CPL's 2021 season opens in late June/early July?
Will it be veteran Matt Silva, who returns after backing up James Pantemis – now in the MLS with CF Montreal – for all seven matches at the Island Games? Or will it be Jonathan Sirois, like Pantemis another CF Montreal loanee with a bright future?
And where may prospects like Rayane Yesli – Valour's first pick in the CPL U Sports draft – and Svyatik Artemenko fit into the equation?
"We've got a good mix in goal," coach Rob Gale said in conversation with CanPL.ca. "We've got the experience with Matt, the loanee in Joe, we've got Rayane who is our U Sports pick and a great prospect and a local product in Svyet. So, across the board we feel we've got a real good blend amongst those top keepers for the short, the medium and the long-term."
---
RELATED READING: Valour FC opens camp Monday: Gale 'still looking' for reinforcements with notable trialists
---
Pantemis helped solidify the position during last year's short run at the Island Games, finishing among the league leaders in saves while posting two clean sheets in the seven matches.
But for the third season in a row – after Tyson Farago and Matthias Janssens shared the goalkeeping starts in 2019 – Valour will have a different face in goal this year.
"I agree with the statement that right now the position is still a question," began Sirois, who doesn't turn 20 until next month. "The position is up for grabs. I have certain qualities I bring to the table. Matt, on his side, has others and for sure has more experience as a pro than I have. At the end, it's us competing on the field to earn our spot week-to-week. That's the main goal here.
"In Montreal, it was difficult for me. James (Pantemis) was in front of me and battling with (Clément) Diop, so I knew my chances were slim to start the season and coming here offered me more chances to get more minutes in. It was a no brainer."
Silva, meanwhile, is now 30. Yet, after playing in 68 matches over 2016-18 with Bodens and Osterlens in Sweden, he's appeared in just one match since – with York9 in 2019.
"I have the same mindset as last year when James came in and in 2019 with York9 after my injury when Nate (Ingham) came in," said Silva. "Nothing for me changes in the approach to my training. I just put my head down and get to working to win the spot.
"All I'm looking to is an equal opportunity and if I can get that I can prove my quality to start in the CPL. That's all I've been asking for over the last three years now.
"If you ask anybody – players, coaches – they know I put in the extra hard work. I'm just looking to act on that and have it come together."
Silva is currently in return-to-play protocol after recently having his knee scoped but should be back on the pitch within the next week. At that time it will be game on in the race for No. 1, with every training session part of the audition and the unlikelihood of any exhibition matches.
"Every touch of the ball matters," said Silva. "Every time you decide to go to bed an hour earlier or you make your food choices, it matters. It's all fun to be a professional athlete and we're very lucky to do it, however it doesn't come without many sacrifices. Some are big, some are small, but they're all important at the time. It's something I enjoy. I like the drive, I like the fight."
"I'm really a day-to-day guy," added Sirois. "Every training session is different and I've got to bring my best to each training, especially now that I'm at a new club. The coaches know a bit about me, but they don't know everything and exactly how I'm going to play or react. So, I have to do well in every session because there's eyes on me all the time always analyzing what I'm trying to do."
---
Meet the Valour FC keepers
---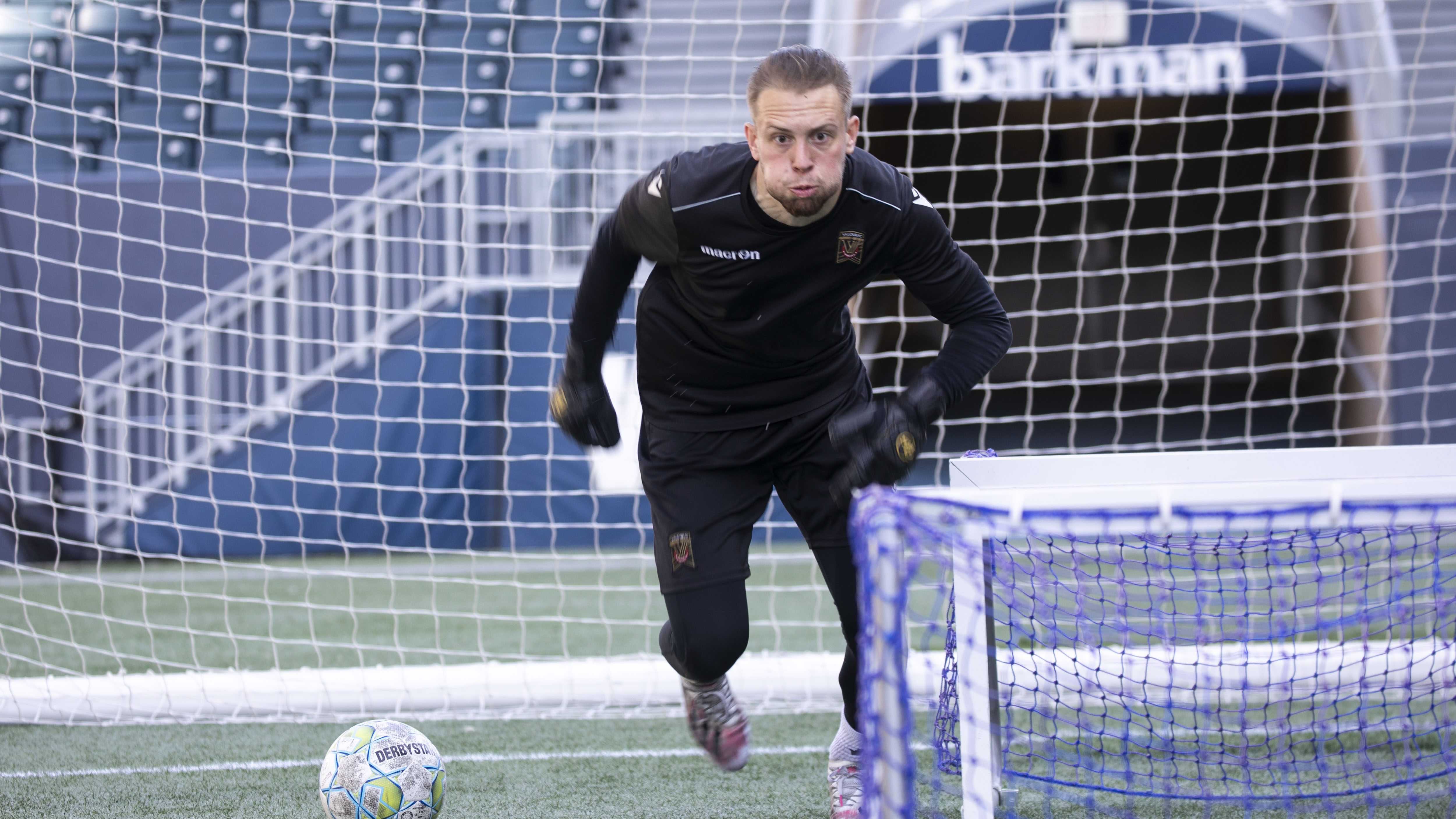 Jonathan Sirois
Ht: 6-0. Born: 6/27/2001
Nationality: Canadian
Rob Gale on Sirois:
"He's another character. A goalie needs a presence and he's got that. He's a young lad, but he's mature. He's got great shot-stopping qualities, he's good with his feet… he's very similar to James Pantemis at this stage of his career. He needs minutes. We've liked what we've seen of him so far. He'll be a good last line of defence for us."
Matt Silva
Ht: 6-1. Born: 3/28/91
Nationality: Canadian
Rob Gale on Silva:
"We're delighted to have Matt Silva back with us this year and he's going to be competing for that No. 1 spot for sure. Matt proved to us last year that he's a leader in the room. He's got character, he's experienced, he's been a No. 1 overseas in Europe, in Sweden and at York9 (in 2019) he was anticipating being the starting goalie but got injured right at the start of that first season and then Nathan Ingham took the opportunity to overtake him in the pecking order.
"The challenge to any goalie, especially one as experienced as Matt, was to come in as an understudy to James Pantemis last year. Obviously it worked fantastic for James and he's playing in the MLS and getting regular minutes. Matt proved he can do all of those jobs. He proved he can be a good guy in the room, he can be a leader even when he wasn't playing and he was a great back-up. a great first-choice goalie. He has all the right qualities we value in a person and as a player.
Rayane Yesli
Ht: 6-7; Born: 3/16/2000
Nationality: Canadian
Rob Gale on Yesli:
"I think I might have to nickname him 'Groot' because he's got arms like branches. He nearly smacked one of the lads… he was doing a warmup yesterday and his arm came completely over Austin Ricci's head. It was unbelievable. Rayane is an intriguing character. (On Monday) we finished with some 6 vs 6 and he made a couple of unbelievable stops. He's got great reach, obviously, with strong arms and hands. He's very fit as a goalie and is out-running some of our outfield players, so we'll have to address that with our outfield players.
"He's a good addition and we're delighted to have him in camp."
Svyatik Artemenko
Ht: 6-2;  Born: 2/11/2000
Nationality: Canadian
Rob Gale on Artemenko:
"It's important to have him here. It's good to have some of the local lads in with us. He was under contract with us when Tyson and Matthias took turns getting injured in the first year.
"He's a good goalie. He's got good, positive energy about him and has an excitement in everything he does. He's a great shot stopper.
"If he doesn't make the squad this year maybe we can get him out into an environment in the Caribbean or overseas because he's got a European passport where he can get some first-team minutes and help him as a stepping stone for Valour in the future."