GANGUE-RUZIC: Wheeldon Jr., Smyrniotis reflect on rise of Canada's soccer pyramid
No matter the context, each meeting between Cavalry FC of Calgary and Forge FC of Hamilton has a little something extra to it.
Right from day one in the Canadian Premier League, any time Forge meets Cavalry, fireworks tend to spark, with this rivalry producing most of the league's historic firsts and finest memories.
From their fiery 2019 Canadian Championship meeting, to their appearance in the first-ever CPL Finals later that year, and countless other intense clashes in-between and since, these two organizations have helped set the standard in the Canadian Premier League, playing key roles in helping the upstart competition get to where it is today.
Led by their respective head coaches Tommy Wheeldon Jr. of Cavalry FC and Forge FC's Bobby Smyrniotis, the two cities have seen the fruit of the work that two of the sharpest minds in Canadian soccer have put into building the sport in this country – crucial pillars supporting Canada's all-around rise in soccer over recent years.
As both sides get set to meet for the 15th time in CPL history this week, this rivalry provides an excellent backdrop to what has been a whirlwind period of renewed hope, growth, and promise for Canadian soccer.
With one eye on the inaugural League 1 Canada Women's Inter-Provincial Championship kicking off on Friday, and with even more Canada Men's and Women's National Team action in upcoming World Cup play to look forward to, the two tacticians took time from their busy schedules to offer updated views on the Canadian soccer economy, five years into the CPL's ideation.
"The whole league has gotten better"
It was always going to be interesting to see how the CPL would push forward as it entered its fourth campaign as a league, especially considering the obstacles it had to endure to get to this moment.
Having had to follow up a very respectable inaugural 2019 with two pandemic-altered seasons – of which 2020, in particular, was severely shortened – the league is now enjoying a return to 'normal' in terms of competitive balance.
Teams were given a full pre-season slate, leading into a typical April start, before leading into a much more balanced and much less hectic schedule than the compacted one of 2021. As such, this was seen as a year for clubs to really settle and grow, instead of being forced to deal with games and travel in quick succession.
There's more emphasis on training, allowing managers to really stamp out their identity, while offering a chance to their players to stay fresh and express the best version of themselves.
This, in turn, has led to a significant increase in quality across the board, as each club takes full advantage of that much-needed breathing room.
Even beyond the usual suspects in Forge and Cavalry, as well as 2021 champions Pacific FC of Vancouver Island, the likes of Atlético Ottawa and Valour FC of Winnipeg have been a great example of the tactical evolution within the competition, as teams push the limits of their game. Wheeldon Jr. and Smyrniotis admit it's been a nice change of pace, too.
"Right now, we're sitting in year four, and all of the teams have gotten better," Smyrniotis told OneSoccer this week. "I think the quality across the board is very good, the players in the league are competitive, and tactically things have shifted nicely year-to-year."
"The whole league has gotten better," Wheeldon Jr. echoed on his end. "You're not only just seeing teams that are maybe good in possession and that's it; you're now seeing teams that also like to play a low block, press high, are building out of the back in a three, use a fullback scenario to create overloads, etc.
"I think that's all phenomenal for the Canadian game, especially the Under-21 pool who are getting the opportunity to play as many games as they can in a very good league."
Global attention marks latest evolution
That tactical improvement is a reflection of the overall growth that the league is seeing in a lot of areas. Take, for example, the improvement of its player pool.
The league has arguably seen its biggest growth in talent acquisition and player development, a trend the rest of the global market has noticed, too.
This season, CPL clubs have fielded a significant increase in eyeballs and exposure, leading to something of a gold rush in player sales out of the league, as teams around the world realize the talent that's on offer in the CPL.
It's led to landmark sales such as that of Cavalry's Aribim Pepple to Championship side Luton Town, or York United's Diyaeddine Abzi to Ligue 2's Pau FC.
Teams in Major League Soccer have also finally budged, with the likes of Lukas MacNaughton and Kadin Chung earning moves to Toronto FC, while other stars like Mo Farsi, Kwame Awuah, Easton Ongaro and Lowell Wright have integrated into MLS NEXT sides, before earning senior team considerations.
There's no doubt that Canada's credibility is growing in the international game right now, and that's having a significant impact on the CPL, who have been identified as a key part of the current Canadian soccer ecosystem.
"The biggest measure (of success) you always have is to look at where you are in the global game," Smyrniotis said. "There, we've now got a domestic league, we've got a men's national team that's World Cup-bound for the next six years going forward into 2026, and I think that opens the world's eyes to what's going on here.
"We're starting to see more Canadian players being transferred into bigger leagues. And the (development of) youth is the biggest example because I've been part of his game for a long time and working with youth for many years before this, and you know, a 17-year-old Cyle Larin, if he's out there today, he's not going to college anymore, he'd be going straight to Europe.
"That's the biggest change. We've seen these players now have an opportunity to play as professionals in the CPL, all these young guys, and from there it's up to them to take the opportunity.
"We're creating an industry that I think is going to take advantage of all the successes that are happening at the highest level."
Growing reputations and building connections
In 2019, league MVP Tristan Borges was one of very few players to make the switch out from the CPL, heading to the Belgian second division. It was seen as a unicorn deal at the time, but those sorts of transfers aren't happening in isolation anymore.
"I always say, football goes in cycles, and I think this is a golden era for Canadian football on the men's side," Wheeldon Jr. offered. "I say that because the women have always carried the torch, especially as now-Olympic champions, and we've got to support their journey as that developed into the professional game as well here in this country.
"But (with the men's success), what we're seeing now is my phone is ringing, so when an Aribim Pepple gets up and starts scoring goals, there are several calls and inquiries, because they know that Canada is a really good well to fish in."
That attention hasn't gone unnoticed, either.
"That's one thing that's evident to me from the first year in 2019, is that our global network is constantly watching what's going on here at Forge, and we know that they're watching the league as a whole," Smyrniotis said.
"The players are always going to have that opportunity and that's the beautiful part of this game. Unlike any other sport in the world, you can keep on rising to the top, as there are so many different layers of the food chain (in soccer), which when you look at other sports, doesn't really exist."
Beyond the player pool, CPL teams are also constantly improving their overall facilities, such as stadiums, training fields and more. Investments in growth across these sectors, and in league expansion, fuel further attention.
When Atlético de Madrid came in as owners of an Ottawa-based expansion team, they brought with them global reputation … and curiosity.
As a result, when people from outside of the league get a peek in, they're seeing infrastructure that reflects the quality and ambition of the league, which is an important and underrated aspect of the CPL's growth, as it also helps project their image in the eye of those outside of it.
Wheeldon Jr. said: "Now, you'll go into stadiums, whether it be at Halifax and the 5,000, 6,000 fans that they average, or to our's stadium and the 4000 that we average, all of that on grass, and then you go to the CFL stadiums of Forge, Ottawa and Valour, where it's big and on turf but they've created good environments within it, and you look at the product, it's a quality product.
"It's a well-delivered one, too, so now when heads of recruitment are watching it, they're able to see this body of work that these young players are producing and actually say, hey, that's a good standard, they're worth taking a risk on, because the more they're seeing of this league, the more they're seeing that it's actually a very good level."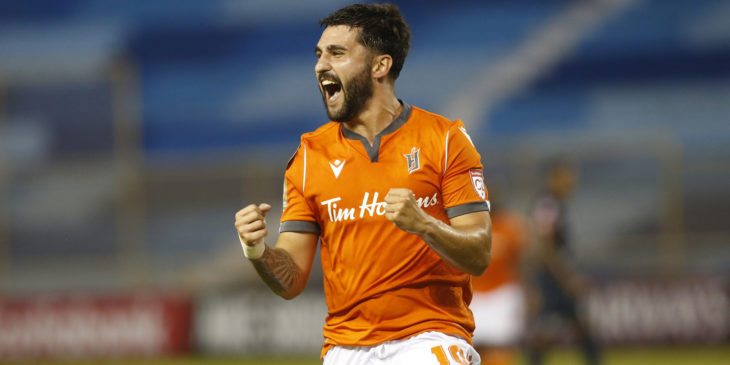 Replacing lost talent the next challenge
Unmitigated growth doesn't come without its own risks, though.
Take the recent sale of Pacific FC's Alejandro Díaz, as an example. Having just been sold to the Norweigan second division for a fee that is reportedly the second-highest in league history, there's no doubt that this particular deal was a shrewd piece of business for Pacific FC, who capitalized on a player they brought in for free just a few years ago.
At the same time, considering he's the team's all-time and 2022 leading goalscorer, the Tridents must now also find a way to replace his production on short notice, which could hamper their ability to win silverware this season.
That's the risk of becoming a selling league. It's great to be able to bring in money through these sorts of monumental sales, but it can often come at the cost of success today, making it a tricky balance to navigate.
But Smyrniotis believes there are bigger advantages at play, too.
"For the club, these sales are a chance to get out to the global market, which is important," he offered. "But you have to be careful and make sure that when players are being transferred from clubs, that we're also setting the right value, because that's going to be important. It doesn't have to be huge to begin with, but each incremental increase is always going to help to bring more funds into the infrastructure of the league.
"There's a two-pronged approach when we're looking at outgoing players; one is a great opportunity for the player, but the other is that the club's stature grows in the global market. As for funds, you don't want to accept an offer that's too low, and you can't be too high either, so it's about finding the right way to maneuver through this transfer market."
Navigating a sale is hard enough; replacing that sold player can be an even taller task … but not an impossible one. Just ask Forge and Cavalry.
Despite moving on a whole host of players in the last few years, from Joel Waterman to CF Montreal to the recent sales of Victor Loturi and Pepple on Cavalry's side, to Borges and Awuah from Forge, both teams have been able to roll through those blows, finding ways to replenish lost talent.
The secret? Looking at avenues previously unexplored in Canada.
The rising tide lifts all boats
There's no doubt now that Canadian talent has been underutilized in the past.
But the advent of the Canadian Premier League has also helped legitimize another area of the sport; namely, the semi-pro and college level, through League 1 Canada and U SPORTS.
Both of these circuits have yielded talent that eventually filled the rosters of both the CanMNT and CanWNT. But there were still plenty of talented players falling through the cracks, something that teams like Forge and Cavalry have now learned to capitalize on.
From successful acquisitions out of the CPL-U SPORTS Draft, to Forge's partnership with League 1 Ontario's Sigma FC, who Smyrniotis co-founded along with his brother Constantine, to Cavalry's scouring of Quebec's PLSQ, along with league-wide scouting of League 1 Ontario and the new League 1 BC, it seems each CPL team is now fully aware that talent can be found across the country.
"This part of it is great," Wheeldon Jr. said of League 1 Canada. "I'm a big believer in the development pathway and the reason I'm sitting in this chair right now is that I wanted to be one of the ones that dug a shovel in the ground and say alright, let's help build it.
"I now know that a kid coming out of Blainville, he'll be decent, you know? If a kid's coming out of Vaughan, they're going to be decent. This is an important part of the landscape. We've now got to connect it coast to coast."
Smyrniotis added: "If we look at the birth of Forge, you know the majority of the club has come through the League 1 Ontario pipeline going back in 2018.
"These were players predominantly from the Sigma Academy, many of whom never played on youth national teams or were part of any other type of system.
"These were the players that set the trends in the CPL for winning championships and for playing in Concacaf. They showed the depth of talent that exists in these leagues.
"It's not just Sigma, too, but it's League 1 Ontario, it's PLSQ, and I think we'll see the same with the new League 1 BC, because we have a wealth of talent in this country. We just haven't had the opportunity to put them at the pro level. Even today, there are probably very good players playing in League 1 Canada that deserve CPL, but we've got eight teams with a certain amount of roster spots. So I think as the league grows, I think we'll see more of these players."
Forge and Cavalry rivalry burns on into year 4 of CPL
For all of the talk of the future of the league, we must eventually turn our attentions to the present.
Take a look at the league table, and you'll be greeted with a familiar sight: Forge sits first atop the pile and first in goal difference, while Cavalry sits just four points behind them in fourth, second in goal difference, surrounding Pacific FC and Atletico Ottawa, and with Valour FC not too far behind the playoff line.
We're entering the final stretch of the 2022 season, and still, everything is up for grabs.
If you haven't been watching, tonight's Cavalry vs. Forge game represents a perfect jumping-on point.
Cavalry's 10-plus game undefeated run from this summer, to Forge's recent six-game winning streak, means both teams enter this rivalry in good spirits and in sharp form.
This season has also provided an unusually frequent quantity of jaw-dropping goals. They've been dubbed "CANPL. BANGERS. ONLY." and, well… there's a new one every week, it seems.
Although Cavalry and Forge might not be each other's closest geographical rivals (Forge has York United of north Toronto, while Cavalry has Albertan opposites FC Edmonton), the sheer level of competitiveness between these two has created a rivalry far better than either of those regional battles, one that has gripped the league since they first met back in 2019.
"We are two organizations that like to win," Smyrniotis said of this rivalry. "I think when it comes to Cavalry, they play some of their best football, their most energetic football, when they step on the field with Forge and that's what we expect all the time."
Added Wheeldon Jr.: "They're the two-time champions, so they've got our respect when they turn up on the pitch. They've had the big game experience that we would love to have, but we've got to earn that, and we earn it by beating the best. If you want to be the best, you've got to beat them and right now they're the best team, the league table never lies, that's where they are, so it's a perfect time to play them."
It's that competitive fire that has largely inspired these teams to accomplish what they have so far in the league.
Led by two key builders in Smyrniotis and Wheeldon Jr, Forge and Cavalry have set the standard for Canadian clubs locally and in Concacaf, with their passion for development and coaching being a big reason for their successes.
While the two might not be sharing dinners at each other's houses any time soon, there is a respect there for what the other has done, knowing how important they have been for the overall growth of the game in this country.
"It's very respectful, but we don't send Christmas cards to each other, that's for sure!" Wheeldon Jr. joked, of their relationship. "But when Forge come in, Bobby knows we're gonna give them everything, and that they're gonna have to earn any points they earn, and vice versa with us versus them. He knows that we give them everything we've got, so I think we test and stretch each other."
Smyrniotis offered: "The biggest thing as a coach is that you want to see your team developing an identity, a way of wanting to do things.
"When we look at Cavalry, it's clear they've done a good job of building their own distinct way of playing, which poses its challenges … challenges I always look forward to taking."
---
Cavalry FC takes on Forge FC on Friday evening beginning with OneSoccer's Come On! Match of the Week Pre-Game Show at 8:30PM ET / 5:30PM PT –– SUBSCRIBE HERE.