HFX Wanderers punch ticket to round 2 with win, Atlético Ottawa eliminated
---
Pour lire en français, cliquez ici.
---
HFX Wanderers FC are going to the second round of The Island Games
The Wanderers booked their spot in the top four on Sunday in their final first-round match by earning a 2-0 win over league newcomers Atlético Ottawa.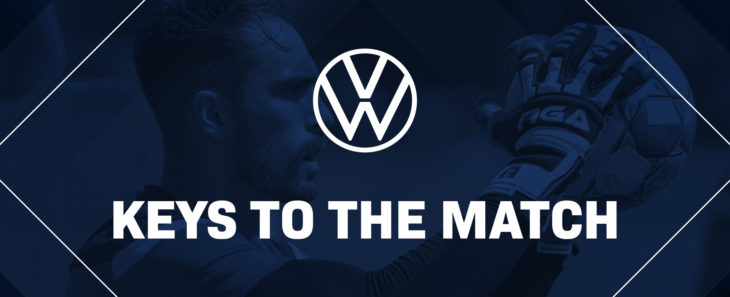 As a result, HFX moved up to 12 points and leapfrogged Forge FC into second place in the table (thanks to a slight advantage in goal differential), just behind Cavalry FC (13 points). With the loss, Ottawa (eight points, seventh place) was eliminated from contention.
The Wanderers hit the ground running against Ottawa, coming out of the blocks with newfound energy in a deciding game they couldn't afford to lose.
They opened the match with three straight Akeem Garcia shots in the first 15 minutes, the third of which found the net for the opening goal. Alex Marshall fed Garcia with a perfect long pass and the Trinidadian attacker's finish only just beat Ottawa goalkeeper Nacho Zabal.
The sides traded chances in the first half, with shots and possession all pretty much even and the two teams both trying to attack down the right wing. Strong saves from goalkeepers at both ends kept it 1-0 through the first half, though.
The Wanderers pulled farther ahead at the hour mark. For the second game in a row HFX punished the opponent for an error in the defensive third – Alessandro Riggi picked off an errant back pass, and he chipped it coolly over Zabal.
HFX now looks ahead to Wednesday, when their Island Games campaign continues in the second round. Ottawa will be going home after a plucky beginning to the club's existence.
---
RELATED READING: Mista: Atlético Ottawa no longer CPL's 'question mark' || HFX exceeds expectations with 2nd-place finish after 1st round
---
BOX SCORE
Goals
15′ – Akeem Garcia (HFX Wanderers FC)
60′ – Alessandro Riggi (HFX Wanderers FC)
Discipline
45+1′ – Yellow: Ben McKendry (Atlético Ottawa)
81′ – Yellow: Louis Béland-Goyette (HFX Wanderers FC)
---
TOP PERFORMER
Akeem Garcia (HFX Wanderers FC)
The striker set the tone early for HFX, opening the game with a flurry of attacking moves and ultimately getting rewarded for it. Garcia and Alex Marshall's partnership continued to be very dangerous in this game, as the pair repeatedly caused problems for Ottawa's backline.