How a 'rag-tag' team of Canadian footballers almost took home $1 million at TST
---
Daniel Chamale faked to his left and then cut right, as the defender in front of him dove in and missed his tackle. As another Zala FFF defender came out of the box to challenge him, he calmly slid the ball through the two of them and into the path of Raheem Rose in front of goal.
Rose took a couple of quick touches to set himself and then struck the ball past the keeper and into the back of the net. As he wheeled away in celebration, Rose peeled off his shirt before disappearing into a crowd of teammates and cell phone cameras.
"It's pandemonium here in Cary, North Carolina," exclaimed the commentator, "and Raheem Rose is the hero, for all of Canada!"
Rose had just scored the winner to send SLC FC to the final of the inaugural edition of TST (or 'The Soccer Tournament'), a 32-team 7-a-side competition hosted in North Carolina between June 1-4, notably with a $1 million prize on the line. The tournament featured unique rules, including each game being ended with 'target score time' after two 20-minute halves, wherein the winner would be declared by whoever reached the 'target score' first — one more goal than the team who was leading after regulation.
TST also featured celebrities and footballing legends including Cesc Fabregas, Steve Nash, Dwayne De Rosario, Heather O'Reilly, Noah Beck and Mia Hamm as coaches and players — receiving international coverage and attention.
How then, did a group made up of League1 Ontario, U SPORTS and former Canadian Premier League players reach the final of a tournament featuring teams from seven different countries representing the likes of Borussia Dortmund, Wolves, West Ham United, Wrexham and the U.S. women's national team?
Here is the incredible story of Sports Leagues Canada FC.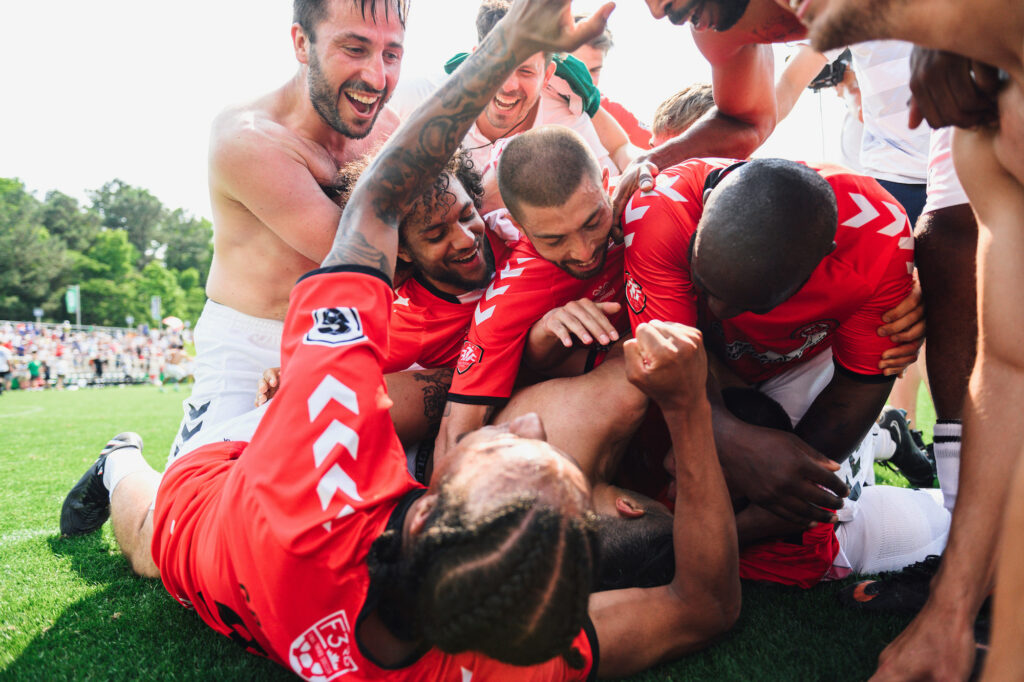 ---
Like many of the greatest ideas in our modern world, the idea behind SLC FC was born in one of the many soccer group chats of which Mario Kovacevic is a member.
The 32-year-old works as an anesthesia resident, and was on a break at work one day in October when he saw an ESPN article about the TST tournament. A former University of Toronto and Vaughan Azzurri player who currently plays for Nautsa'mawt FC in League1 B.C., Kovacevic had been playing in soccer money tournaments in the Toronto area for the last 10-12 years — albeit with slightly less lucrative prizes than the $1 million on offer.
Attached to the article was a link with a general registration form for the tournament. On a whim, Kovacevic filled it out, detailing how he would be bringing a team from Canada made up of players from Vaughan Azzurri, who had gone undefeated for two years in League1 Ontario and members of the Canadian national futsal team. To his surprise, he received a reply an hour later.
"At this point, it was like the first team that enters, if you just pay the money you're in," Kovacevic tells CanPL.ca. "They didn't know how much interest they were going to have."
Shortly thereafter, he received another email saying that they had been granted a spot in the tournament — conditional upon paying the tournament entry fee of around $21,000 CAD. That amount was fairly substantial for Kovacevic, who is still paying off medical school, so he began reaching out to potential sponsors for the team. In stepped Josh Kohn of Sports Leagues Canada, a company that runs several sports leagues in the Toronto area. Kohn, himself a former collegiate player with the Ryerson Rams, knowing the tournament was sure to fill up, quickly made his way to the bank the next morning and paid the fee.
It is a good thing he did because shortly after they had paid and officially locked in their spot came another message: The tournament was freezing entrants due to high demand. From there, it became more of a popularity contest, as 497 clubs were rejected, on top of the 32 that ultimately competed in the tournament. That is when clubs like West Ham, Dortmund, Hashtag United and Wrexham entered the picture.
"From then on it was like 'Okay, now we're $21,000 deep into this, now we've got to put a team together," said Kovacevic.
Here they ran into another roadblock. They had initially recruited then-Vaughan Azzurri head coach Patrice Gheisar, whom Kovacevic knew well from his time playing for the club, to put together and coach the team. However, Gheisar then got a job as the head coach of the Halifax Wanderers, removing not only himself from consideration but also Massimo Ferrin, Kosi Nwafornso and Riley Ferrazzo, who were all supposed to be part of the team.
That meant that every day while Kovacevic was walking his dog, he went into recruitment mode, calling Kohn, York University coach Carmine Isacco, or University of Toronto coach Ilya Orlov about potential players. Kohn then hosted a tryout where they were able to find some further players.
After Gheisar had to pull out, they brought in Lorenzo Redwood, a national futsal coach. With how thick and fast the games would come over the weekend, the goal then became to build a team with a lot of youthful energy that could play both sides of the ball.
The final group consisted of Kovacevic, former CPL players Daniel Gogarty, Emmanuel Zambazis and Jarred Phillips; Vaughan players Raheem Rose, Sammy Ssebaduka, Filip Zendelek and Omar Marzouk; Unity FC defender Mihai Hodut; national Futsal team members Daniel Chamale and Damion Graham; currently and former, respectively, Toronto Metropolitan University players Kai Martin and Abdallah El-Chanti; and former FC Edmonton goalkeeper John Smits in goal.
---
"We figured if we can get a team basically of wingbacks, wingbacks are naturally very good defensively; a good wingback is going to be fast, and they are going to be good in transition," said Kovacevic.
"We figured we're going into the tournament, we're going to be playing against ex-pros, we're going to sit in a bit of a bunker and we were just going to defend," he added. "Then when we nick a ball off of Stephen Ireland we were just going to go, counter, quickly score, and then get back in our shell. That was the plan."
When it came to the tournament itself, the plan was just to go, get some exposure for Kohn's company, and enjoy a once-in-a-lifetime chance to brush shoulders with pros and celebrities. On the Monday before the tournament, the team piled into a pair of vans at 6 a.m. as they began the journey to North Carolina. They made a stop in Pittsburgh for what can only be described as a disastrous training session, during which three players got injured.
"We had no gear, guys were just wearing random street clothes, guys are wearing Ryerson gear, Toronto gear, some guys are just wearing random shirts, different colour socks," said Kovacevic. "It literally looked like that scene out of The Mighty Ducks when they put a rag-tag team together."
That feeling only deepened when they arrived at their hotel and saw the other teams and celebrities start to file in. Kovacevic went down to go get a snack the first night he was there and ran into former NFL player Chad Ochocinco.
"The haircuts, the tattoos, the backpacks, the tracksuits, not to mention the résumés, you look around it is like a who's-who," Kovacevic said. "You can picture our rag-tag bunch just sitting in the hotel lobby and these full-on pros just walk in, and we were like 'Oh my god, what's going to happen tomorrow?'"
That feeling of being the outsiders only deepened when — short a few electrical cables — they were one of the few teams who did not have power in the trailer that served as their dressing room. All the other teams got laundry done between matches, but when the tournament organizers were short on time they were the team that didn't. "So we were kind of going into it with that a bit of a chip on our shoulder," said Kovacevic.
That showed the moment the team stepped on the pitch. In their opening match, they stunned a team representing Liga MX side Club Necaxa 4-3 on a goal scored by former York United defender Gogarty.
"Then everyone knew, 'Okay, we just beat this big team, this is possible'. I think that's when it kicked in for everyone, that we could do some damage here," said Kovacevic.
CANADA WINS

SLC FC turns around a 3-2 deficit against Club Necaxa to win 4-3, with former York United defender Daniel Gogarty smashing home the winner.

Sammy Ssebaduka with the equalizer before that.

Canada faces Virginia Dream at 7:15pm ET tonight.

— Ben Steiner (@BenSteiner00) June 1, 2023
SLC FC rounded out the group stage with a 2-0 win over Virginia Dream, a result that saw them qualify for the knockout stage — before falling to Israeli pro side Hapoel Tel Aviv 4-2 in the final group stage match which at that point was just for seeding in the next round.
"Honestly, the next two days were just a blur, it was just like [being] in dreamland," said Kovacevic. "The further we got, the more cameras were on us. By the end, like I was signing autographs. A week ago I was working in an operating room, no one knew me. Now I'm in North Carolina signing autographs for people.
"I made this comment to this kid, the kid was like eight, he was asking me for an autograph and I ask him 'Oh, so you want to a be a professional soccer player some day,' and he's like 'Yeah', and I'm like 'So do I.' The parents started laughing, not realizing that we were all amateurs too."
They beat Culture by Mo Ali FC, a team captained by celebrity content creator Mohammad-Ali Heydarpour (who once played for the University of Guelph) and also featured former Valour defender Stefan Cebara 4-3 in the round of 16. The next day, they pulled off a major upset in the quarter-finals beating one of the tournament favourites, Blade & Grass FC who featured former Premier League winner Danny Drinkwater, former Aston Villa player Stephen Ireland and USMNT alumni Brek Shea and Geoff Cameron.
"I wished Stephen Ireland a safe flight home after we beat them, never thought I'd do that in my career," said Kovacevic.
After winning their semifinal on Saturday, when the team returned to the hotel, Kovacevic and his teammates were given a rousing ovation.
"The tables had totally turned, all these ex-pros are now looking at us like 'How the hell did all these kids who look like street ballers make it and beat out all these pros?'"
In Sunday's final, unfortunately, they finally met their match: Newtown Pride FC, an American amateur club founded over two decades ago. Playing an established team with proper training and tactics, they desperately tried to hold on but were ultimately overmatched, losing 2-0 — falling just short of the million-dollar prize. It capped off an incredible weekend, one where SLC FC not only stunned the entire TST event but also themselves.
With that came little time to celebrate their accomplishment. "Guys had to leave [the night of the final] at 1 a.m.," said Kovacevic, "because we had to return the car, because we didn't think we were going to be staying there until Sunday night."
Some of the players had training the day after they got back with various League1 teams, while almost all of them had to return to their jobs. "It's like nothing happened," Kovacevic says with a laugh.
But what did happen was another demonstration of just how much footballing talent is present across the country.  "It just goes to show our country is just filled with potential, so many hidden gems," said Kovacevic.
---
He says there is still work to be done on establishing a system and pyramid that allows those players to rise quickly to the top, however. For example, Kovacevic was good friends with Niko Sigur back in Vancouver, helping him to join the York University team. While at York, Sigur was able to secure a contract with Croatian top-division side Hajduk Split, where he became a first-team player. He was recently announced as a member of the Croatian team for the U-21 Euros.
"We need to stop waiting for Niko Sigur to go to Croatia, and the Croatians to tell us he's a good player," said Kovacevic.
While building the sporting infrastructure within this country is a work in progress, more than ever, when given the chance, Canadians are proving their quality on the world stage. "
This tournament gave a unique opportunity for some young kids from Toronto to go match up against some legends of the game and say for themselves, 'Yeah, I am good enough'," said Kovecevic.
Planning has already started for next year, with the hope that the team gets invited back. First on the list: finding more permanent sponsorship. Going into this year's TST, SLC FC couldn't even find a shirt sponsor, with Kovacevic ultimately putting his medical app on the front of the jerseys. But as this tournament, and tournaments like this, continue to grow in popularity and exposure, he believes his team might have got in at the ground floor.
"I think we might have gotten in and had a run in the right place, at the right time," he said.
"If we can kind of grow this SLC FC thing that we started, we might be in for a fun ride as this thing grows."