'I want to do well for this country': Canadian CP football team gearing up for 2023 Parapan American Games
---
A year after matching their best-ever result with a ninth-place finish at the IFCPF Men's World Cup, the Canadian Para national team will hit the pitch for another major competition next week, the cerebral palsy football event at the 2023 Parapan American Games.
Hosted in Santiago, Chile, eight years after their last appearance in the quadrennial multi-sport games at home in Toronto in 2015, Canada is looking for a second-ever Parapan Am medal in the sport, in their third appearance. After winning a bronze medal at the 2007 Games in Rio de Janeiro, Brazil, Canada finished fourth on home soil eight years later. There was no event at the 1999, 2003, or 2011 Parapan Am Games, and Canada didn't qualify for the most recent edition in Lima, Peru in 2019.
Also known as 7-a-side football, CP football is an adaptation of the sport for athletes with cerebral palsy, brain injuries, or other disorders that affect motor skills like running, kicking a ball, and the athlete's coordination. There are two thirty-minute halves, no offside rule, and the pitch is smaller than a standard FIFA pitch — at 75 metres by 55 metres.
Coaching the Canadian squad is former men's national team player, and recent inductee into the British Columbia Soccer Hall of Fame, Drew Ferguson.
"It's always exciting to go to big international matches," said Ferguson in an interview with CanPL.ca this week. "It's gonna be a difficult event for us, so we'll have to be at our very best. Hopefully, we can upset one or two and at least try to get into a medal game. That's our goal, it won't be easy but it'll be a great experience.
"We're taking a few young guys and some experienced guys, it's always fun to get together and see where we're at."
Fourteen players in total will don the red Canadian kit in Santiago, three of whom played in 2015 — captain Samuel Charron, Nicholas Heffernan and Dustin Hodgson. Hodgson was also part of the bronze medal-winning 2007 team.
Dante Del Cul, Christopher Fawcett, Diego Gilbert, Heffernan, Duncan McDonald, Isaiah Smeaton-Katzenberg, and Ryan Watson return from the team that represented Canada at the World Cup last year, while Silviu Butnaru, Sam Denton, Cuauhtemoc Flores, Raji Kamoun, and Daniel White make up the rest of the Parapan Am Games squad.
Before anyone takes the pitch in Santiago, however, they need to have their disability classified. Classification is the process of determining how much an athlete's impairment affects their on-field abilities, and in CP football, athletes are broken into three categories — FT1, FT2, and FT3, depending on how much their football ability is affected. Each team must have at least one FT1 player on the pitch at all times, and cannot have more than one FT3 player on the pitch.
Seven of Canada's fourteen players need to be classified before the tournament kicks off, which can be challenging for Ferguson, as he doesn't know yet who may or may not be eligible to play in Canada's matches, or who he can have on the pitch in certain scenarios.
"Some have been classified once but they have to be classified twice, and we've got a couple that are being classified for this time," Ferguson explained. "If you were to ask me right now who was going to be starting and who's gonna be playing I wouldn't be able to tell you, and I won't know until two to three days before our first game"
---
The six-team competition will see Canada play the hosts, Chile, as well as Argentina, Brazil, the United States, and Venezuela. Brazil, who have won gold in every edition of the tournament, are ranked second in the world by the IFCPF, with the USA ranked fifth, Argentina seventh, and Canada ninth. Venezuela and Chile are ranked 16th and 21st, respectively. Argentina have won all of the Parapan Am Games silver medals, with Canada, Venezuela and the United States each winning a bronze medal.
"I'm super excited, it's been eight years since we went to a Parapan Am Games," Canadian captain Charron said to CanPL.ca. "Just going off of the experience that we had in 2015, it was great to see it on home soil. Obviously we won't get the home soil advantage this time, but it'll be fun to see different sports and we're hoping to cause a couple upsets as well."
Last year at the World Cup in Spain, they pulled off one of those upsets with a 1-0 win over the Netherlands in the group stage, on an impressive solo goal from Charron himself.
"Sammy just went by two people and the next thing you know he is one on one with the goalkeeper and he puts it away" 💥 #CanPara 🍁 pic.twitter.com/F0eIHxahuU https://t.co/2PsBbPJEu5

— Canada Soccer (@CanadaSoccerEN) May 5, 2022
Considered Canada's greatest ever player in Para soccer, and still only 25 years old, Charron has had a prolific career thus far with the national team, and is one of the best players in the world. Since making his debut in 2010, he has made 51 appearances (50 of them starts) for Canada, scoring 43 goals and adding 14 assists.
He won the Canadian Para Soccer Player of the Year in 2022 for the third time in his career (also winning in 2016 and 2019), and was named MVP of both the 2019 and 2022 World Cups. The 2022 tournament, and that match against the Netherlands in particular, is serving as extra motivation for the team as they look to get onto the podium again.
"I think the big takeaway from that tournament was beating Netherlands, it was a big character game for us, so I think using those games will prove that we're able to do it," Charron said. "It's not just a shot in the dark, we did it last year. So we'll be looking to replicate one of those results in this tournament coming up.
"I feel great, I've been keeping up with training, keeping touches on the ball, going to the gym," he added. "I feel good, I feel excited, and I feel good about the team as well — they've been putting the work in, we've been keeping track. We're all over the country, so it's kind of hard to train together, but we've been giving ourselves little updates here and there, which is good. I feel good about it."
Despite being young still, Charron's experience on the national team has seen him grow into a leadership role, and he now wears the captain's armband. He has become a mentor for younger players like 16-year-old Isaiah Smeaton-Katzenberg, and a leader for the entire squad.
"It's crazy how year-on-year, you have these tournaments, and then you think you're still new to the game, but it turns out you become one of the old guys," Charron said with a smile. "I'm only 25, so I've seen it evolve around me and I've also seen myself evolve as a person thanks to this team… this team made me who I am today. I have them to thank, and also how I evolved is kind of at the same time as the team.
"We're still a team, we still have players with disabilities, we're still fighting and representing this team, and that's never gonna change for me until this program doesn't exist anymore, or we don't have a chance to represent the country anymore. It'll stay the same at its core."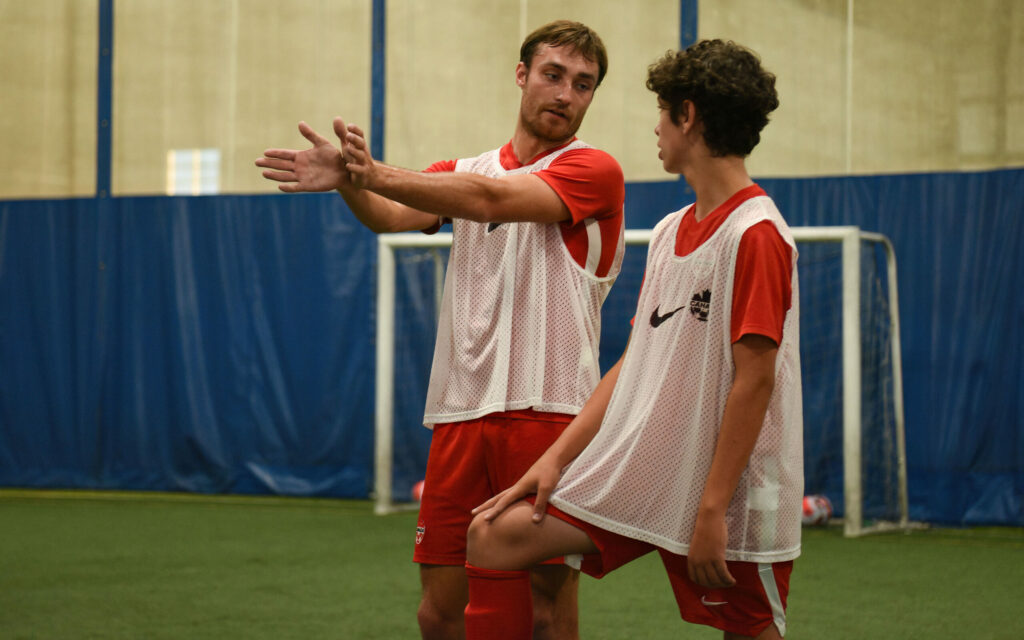 ---
Off the pitch, the team will also have leadership and mentorship available to them in the form of Canada's chef de missions for the Santiago 2023 Parapan Am Games — Karolina Wisniewska and Josh Vander Vies. Both were Paralympic medalists during their athletic careers — Vander Vies picked up a bronze medal at London 2012 in doubles boccia, while Wisniewska won four silvers and four bronzes in alpine skiing across three appearances at the Paralympics — and in this role one of their responsibilities is to pass on some of that experience to the Canadian athletes.
Wisniewska in particular has a connection to the CP football team, as she herself has cerebral palsy. In an interview with CanPL.ca she said that while she's of course excited to watch every sport, this is one she's keeping a close eye on.
"Cerebral palsy is a really particular disability in that there's a wide spectrum of how a person is affected and what parts of their body are affected," she said. "I'm absolutely keen to go and watch CP football because I know how hard it is to run with CP and be coordinated with CP.
"I played lots of soccer as a kid and I was horrible," she added with a laugh. "I really want to see this sport, because I know firsthand how hard it would be to do, and also, I'm of European extraction and as any good European I have a love of alpine skiing and a love of tennis and a love of football."
---
Having competed at the 1998, 2002, and 2010 Winter Paralympics, Wisniewska brings a lot of experience in multi-sport Games environments. With 1,943 athletes competing across 423 events in Santiago, being around a big environment like that can potentially be intimidating for some athletes.
Wisniewska's advice for athletes is to try and enjoy it as much as possible, while also remaining focused on the business they need to take of on the pitch, in the pool, or on the track.
"It's really different," she said. "There is nothing like a Paralympic Games, it's so much bigger. Parapan Ams are at a different level, but I'm still expecting a certain level of excitement and certainly of South American warmth and fun. There's something special about the Paralympic Games or a multi-sport games, you're seeing people from other countries that you might not normally see, but specifically from other sports that you wouldn't see. You can learn from other people and see how they're coping with things and how they train and what they do.
"I'm just really looking forward to watching some great Canadian sport, and I really hope that people back home follow along as well. I know these athletes have been training for years, for lifetimes, so it's going to be exciting, and I'm just thrilled to be part of the team."
As one of the players on this Canada CP football team who has Parapan Am Games experience, Charron's advice for his teammates is similar.
"I think everybody's got to embrace it, maybe it's a different tournament but still, use the tournament experience that they've had," he said. "I'm pretty sure everyone's had tournament experience, whether it's national team or not — use that experience to enjoy it and use that nervous energy. Use that excitement to your advantage, don't shy away because you think you're nervous and you think it's by yourself and you're not the only one that's nervous. Everybody's nervous from the coaching staff, to the players, to the fans, to the people at home — everybody's a bit nervous, because they all care and they want the team to do good.
"Also enjoy it, talk to other athletes, use that experience that they also have, not just in our CP world, but you get a chance to tap in to the CP world and the Paralympics world in general. Use that, go for it, talk to other athletes, talk to other sports, talk to your chef de mission, talk to all these people to use what they've been through and use it for yourself as well."
---
CP football isn't currently part of the Paralympic programme; it was from 1984 to 2016, but was dropped for Tokyo 2020 and not re-instated for Paris 2024 due to the International Paralympic Committee (IPC)'s desire to make the Paralympics gender-balanced. At the moment, CP football is primarily played on the international stage by men, and the IPC wants to see further development of the sport for women before it is re-included in the Paralympics someday.
Charron and Ferguson both share the view that the world's most popular sport should be included in the Paralympics.
"The fact is that right now, we're not in the Paralympic programme, so we do have to concentrate on World Championships and World Cups," said Ferguson. "There's been issues they've gone to court over, they've been fighting for years, and to this date it hasn't looked too positive. It'd be nice to do that before I retire one of these days, so I'm hoping that actually moves on. We were hoping [Los Angeles] (where the 2028 Summer Paralympics will be held) was going to be a huge opportunity for us, with how powerful they are in the soccer world that might work, but I'm not sure about that one yet."
"I think the Paralympics are the goal," added Charron.  "Obviously, we have our four year cycle on ourselves, with our federation, but I think the big one is, has always been, the Paralympics. It's an experience on top of the Parapan Ams, it's not just the Pan American countries, it's the whole world, so that's even on a bigger stage."
No matter the competition, any chance to wear the maple leaf is an opportunity that Charron doesn't take lightly.
"It means everything, the question keeps coming but the answer is always going to be the same," Charron started. "It's an honour to represent your country, it's just the excitement of representing something bigger than just yourself. We do it with the sport at club level as well, but at a certain point the national level is a step higher, to represent your country.
"I've been doing this for a while now, and every time it's the same, it's always the same excitement, always the same butterflies, always a bit nervous — but that's because I care. Nervous energy is going to be there, but it's because I want to do good, and I want to do well for this country and get results going forward."
Ferguson, who made 10 appearances for Canadian men's national team in the 1980s and 1990s, says there is no greater sporting honour than pulling on that red kit for an international match.
"It doesn't matter what sport you're playing, but if you're playing a sport representing Canada — putting that shirt on, your bathing suit, or swimsuit, or whatever you're putting on — it should be the biggest privilege you've had in your life. I was just inducted into the BC Soccer Hall of Fame, and I made it very clear that all the nice things I've done in British Columbia is tremendous, but the day you put on your Canada jersey, as far as the sporting world goes, should be the most important day."