'I'm even more motivated': Bassett, Ingham reflect on training stint with Atlético de San Luis
Like many Canadian residents during the cold months of this country's often frigid winter, Atlético Ottawa's Ollie Bassett and Nate Ingham took a trip down south. The objective, however, was not to escape the snow and spend time relaxing on a beach. Instead, the pair spent their winter break in Mexico as part of a four-week training stint with Liga MX side Atlético de San Luis.
San Luis is another member of the Atlético Madrid family, and after Bassett and Ingham's success the past season in Ottawa they were given the opportunity to showcase themselves at the next level. Bassett won the CPL Player of the Year award as well as the newly introduced Players' Player of the Year — meaning he was voted best in the league by his peers. Ingham was a finalist for CPL Goalkeeper of the Year. Ottawa, meanwhile, were the league's regular season champions and CPL playoff finalists.
"I think I kind of look back to where I was two or three years ago, to have an opportunity like that to go there and test yourself in a league that's ranked as the best in North and South America [was a highlight]," Bassett said to CanPL.ca. "I think for sure just going and training with these types of players and just seeing what it takes to make that next step was very insightful."
Ingham echoed that sentiment, saying that he went into San Luis training with the mindset of learning more about how his game translates to the next level.
"Just comparing against higher level, seeing where I stack up against goalkeepers that have played in the first division, in Liga MX," said Ingham. "Seeing where I fit in and how I fit in — if I was able to raise the level or if I was going to drop the level of training. I had a lot to find out."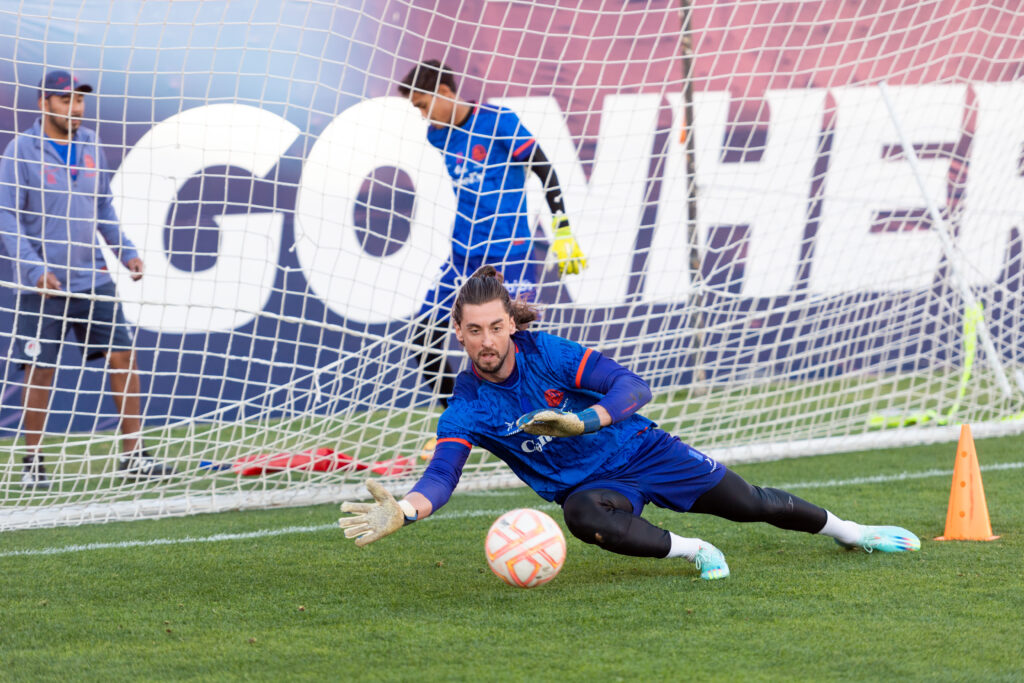 Ingham particularly relished the opportunity to train alongside San Luis starting keeper Marcelo Barovero. The 38-year-old Argentine has had an incredible career, including playing 167 times for storied club River Plate in his native country. He won the Copa Libertadores in 2015 with River Plate, as well as the 2019 Concacaf Champions League with Monterrey.
They also got to see Atlético de San Luis play in Liga MX action. It is the kind of opportunity that has made Atlético Madrid such a positive ownership group to have in Ottawa, making good on a promise to invest in and help develop the players in the nation's capital.
"I think they've proven if you do well at this level, or if you help them win and succeed in Canada then there are going to be opportunities there to go on trial or to move you up to a higher league," said Bassett. "So I think it's huge for us as players knowing that if we do our job on the pitch then these kinds of opportunities will present themselves."
That is looking to be more and more true of Canadian Premier League players in general, and multiple joined Bassett and Ingham this offseason out on trial and training stints all around the world. Ingham says the success of the men's national team has resulted in clubs around the world discovering how much untapped potential exists in this country.
"It has never been a better time to be a Canadian in football, it's amazing," Ingham told CanPL.ca, adding: "The players are good enough to play in a lot of these leagues."
While the trip to San Luis Potosi provided an opportunity on the field for Ingham, it did so off the field as well. The goalkeeper started learning Spanish this past season in order to communicate with teammates on the pitch, many of whom, especially those who had newly joined on loan from the parent club in Madrid, had limited English. So, he got the chance to test his linguistic levels as well.
"It's one of those things where you can learn substantially faster because you're just forced to use it," said Ingham. "It leads to miscommunications and some silly mistakes but it was great, I have been working on it for probably six months now and will continue."
For both players, the trip was a confidence and motivational boost ahead of what is a big season both for the club collectively and them individually.
"Just going there and seeing the level of the training and what it takes to make that next step and then even feeling like you can genuinely make that next step, I think — I was motivated before to come back and build on what I had achieved last season but I think after this last three or four weeks, I'm even more motivated to come back to Canada and just get my head down and not talk too much and just work hard and hopefully my performances on the pitch will speak for themselves," said Bassett. "And then yeah, hopefully if I do well enough these opportunities will come around again."
Ingham, meanwhile, is entering a contract year, and knows that at his age, 29, another standout season would make a strong case for him to create further opportunities for himself.
"It is the first time where I've honestly felt like I could step into a higher level, whether that's in Mexico or in MLS and immediately help a team," said Ingham. "I think for a long time I maybe could have been a backup or a third-string but you need to get games under your belt, you need to learn a lot, you need to go through the ups and downs of being a starter."
Before any business gets done, however, he has plenty that is unfinished in the nation's capital.
"At the moment I'm really happy in Ottawa," said Ingham. "We're growing a lot as a club in this league and I think we have some things that we need to accomplish this year. And if we can do that then I can deal with the rest later, but for the time being, we have something missing for the trophy case from last year that we are keen on getting."