'Invested in the group': Ben Fisk embraces Pacific leadership role
---
VANCOUVER ISLAND – It is such a small thing, an armband. A few inches of fabric worn over the sleeve. Something transient enough to be passed between players during substitutions; switched out between games, depending on a coach's whims. And yet, how significant it can be.
Ben Fisk was not the presumptive captain entering Pacific FC's season. That role belonged to Marcus Haber, the towering 30-year-old striker whose resume boasted 27 caps for the Canadian men's national team and career stops with the Vancouver Whitecaps, West Bromwich Albion, and Dundee FC. Even Haber was likely a second choice – worthy though he was – after veteran fullback and marquee signing Marcel de Jong ruptured his Achilles tendon during the preseason.
There are plans, and then there is reality.
Sixteen matches and two Canadian Championship legs into Pacific's inaugural season, as his club nears the end of a three-game road trip in Toronto (Saturday, August 17 at 3:30 p.m. ET, 12:30 p.m. PT, on OneSoccer) Fisk is adjusting to his newest reality: veteran presence on a club whose identity has been built on its youth. One step removed from being considered a young player himself, the 26-year-old East Vancouver native is finding his voice as a leader for a squad whose Starting XI boasts as many as seven U-21 players at times, and rarely fewer than five.
"I wish I had been thrown into a role like this earlier in my career," Fisk told CanPL.ca. "A lot of my career, I've spent as a young player just trying to make it and get a new contract, find a new team. Now, I feel with a bit more maturity and this new role, I feel very invested in the group and in our success as a team, as a club, as an organization."
Added Haber: "He brings a lot of leadership and a lot of composure. Wherever he's played, I think he's a player than can make something happen out of nothing … he's the type of player we need to keep healthy through the season."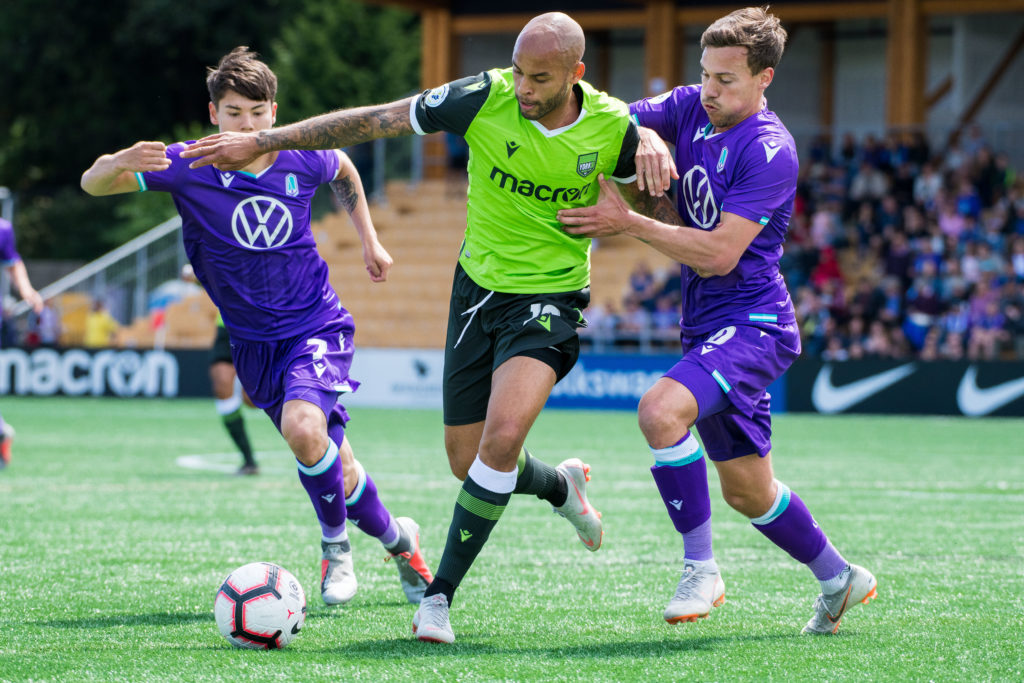 Health – rare as November sunshine on the West Coast – has been key for Fisk. In a season of injuries and uncertainty, the former Derry City winger has been a rare constant for head coach Michael Silberbauer: the lone player to appear in every single match for Pacific.
Fisk has rewarded his coach's confidence: the former Whitecaps FC Academy product leads his club in assists (four) and chances created per 90 minutes (1.64), and is tied with Terran Campbell for most shots on target (13). Entering next Saturday's match at York Lions Stadium, Fisk is riding a two-game goal-scoring streak and has three goals in his last six matches.
For a kid from British Columbia, the chance to do it all representing his home province has proven even more special.
FISK RESPONDS

? @Pacificfccpl equalize within 2 minutes off the set piece! @benfisk with the pinpointed header!

? FCE 1 – 1 PFC ?#CanPLxOneSoccer | https://t.co/hishXepRT3 | #CanPL pic.twitter.com/tz1tlQlm18

— OneSoccer (@onesoccer) August 10, 2019
"There's a lot to be said for going around the world and living in different places, and I've really enjoyed doing that," said Fisk, whose career has led to stops in Spain and Northern Ireland, "but I think if you look at my career trajectory, I'm always a guy who's been looking for a home, and looking for a club where I'm going to feel like I'm part of the family, and invest my time and energy into creating something big. That's how I feel about this club here in Victoria."
It is one of the qualities that Silberbauer admires most.
"I liked that a lot: that he was coming back here to do even more," the 38-year-old Danish coach told CanPL.ca.
It has been an up-and-down season for Fisk – as it has for most of Pacific, really. Despite the numbers, he has at times found himself outside of Silberbauer's Starting XI, relegated to a substitute role. In PFC's last win, a 3-1 victory over HFX Wanderers FC, he played just 35 minutes; on Canada Day, in Pacific's 3-1 victory over Cavalry FC, he played just 23.
"It's kind of cliche, but I'm always trying to put the team ahead of myself," said Fisk. "I trust that (Silberbauer's) setting us up for success, and I really have bought into his playing model and the way he wants to set us up as a team."
Added Silberbauer: "We have some aspects of the team we're trying to see if we can get better, (and) he's well aware of them, and he's working hard."
With his starting role as captain against FC Edmonton on August 10, Fisk is now tied with Marcus Haber for most appearances in the leadership role, with seven. Haber's return – 28 minutes against the Eddies – eases the load. Last place in the Fall Canadian Premier League table with four points, Pacific could stand to benefit from all of its veteran assets and then some.
Fisk, though, is resolute in his team's capabilities.
"I think we have a whole team capable of stepping up to the plate," the 26-year-old winger told CanPL.ca.
If Pacific is to emerge as a Fall contender yet, those expectations will need to come true.