Match Analysis: FC Edmonton 1-2 HFX Wanderers — CPL Match #39
---
Final Score: FC Edmonton 1-2 HFX Wanderers
Goalscorers: Timoteo 9′ ; Salter 53′, 59′
Game of the 2022 season: 39
CPL match: 290
---
Match in a minute or less
For the first time in a while, the HFX Wanderers are back into the top four of the Canadian Premier League standings, as they rode a second-half Samuel Salter brace to a big 2-1 comeback win over FC Edmonton at Clarke Stadium on Tuesday night. 
Despite a bright start from the hosts, who stormed out to an early lead through Wesley Timoteo, the Salter show eventually stole the headlines on the night, as a pair of goals less than 10 minutes apart in the second half then allowed the Wanderers to grab all three points. 
Thanks to that, that also saw them push their way right up the CPL standings, continuing an interesting couple of weeks for the table, which is starting to look as interesting as ever as most teams start to crest the double-digit mark in games in this 2022 campaign. 
---
Three Observations
Wanderers find key road win as Edmonton struggles to close out another game:
So far this season, heartbreak has become a typical theme for the Wanderers when it comes to playing away from home, as entering this game, they had picked up just four points in their five road games this season, winning one, drawing one and losing three others.
Even more painfully, each of those three losses were decided by just one goal, too showing how close the Wanderers are to having success on the road, even if they just haven't been getting things over the line. 
Meanwhile, for Edmonton, heartbreak has just been a constant theme as of late, period, with late goals and opposing comebacks becoming a bit of a familiar pain for them recently. 
Because of that, while Edmonton were happy to score early in this game, it opened up an interesting double question – could they finally hold onto that lead and see out a victory? Or would the Wanderers turn things around, making up for some of that road heartbreak with a strong comeback?
Interestingly, the answer ended up being the latter, as despite that early blow, and having to watch Edmonton get so close to adding their lead on several occasions, the Wanderers managed to get the job done in the end.
It wasn't pretty, as the shots were actually 12 to seven for Edmonton, including four shots on target to HFX's two, but the Wanderers were dangerous when it counted, as reflected by the Expected Goals (xG), which was 1.56 to 1.07 in their favour. 
On a night where they were away from home, fresh off of a tough loss to Cavalry just days earlier, playing in some wet conditions, the Wanderers could've easily folded, choosing to regroup ahead of their next game this weekend. 
Instead, they kept at it, and they were well rewarded for their efforts, picking up a win that has all of a sudden made the CPL standings very intriguing, with just four points separating first and fifth right now. 
"Yeah, it was difficult," Wanderers head coach, Stephen Hart, noted when reflecting on this result. 
"The first half, we got scored on early and it rattled us a bit. I thought we weren't cautious on the ball, we weren't accepting our responsibility to keep the ball, and we were really struggling in the first half. I think we were a little bit fortunate to come off one-nil, but it was much, much better in the second half, much, much better."
Meanwhile, for Edmonton, things don't look as rosy right now, however. Through 11 games of CPL play, that first win remains elusive, even despite seemingly getting closer and closer to it each week. 
The good news in all of that is that they're playing quite well, with their overall play in this game reflecting that, but they continue to be let down by certain moments, be it defensively, or by adding to their lead in the moments where they find themselves in front. 
So as they reach the midway point of the season, finding a way to put that all together is a big goal, because it certainly feels like big things are coming – they're just not quite falling into place at the moment. 
"I think tonight's result is the most frustrating one of all of them so far," Edmonton's head coach, Alan Koch, admitted. "That's because you could see some very, very good moments in the first 45 minutes. If we capitalize on those, this is a different game altogether, but you can see the progression."
Samuel Salter maintains strong form in unique wide forward role:
It hasn't been an easy season for the Wanderers' attack, who heading into this game, sat second-last in the league with eight goals in nine games. 
No doubt, part of that comes down to the absence of 2021 CPL MVP and Golden Boot winner, João Morelli, who remains out for the season with a knee injury, but even despite that, it felt like the Wanderers have just been missing a gear offensively. 
The talent is most certainly there, leading to good flashes, but it just hasn't always come together, leading to more frustration than joy offensively. 
But when it comes together – watch out, and there's no better example of that than Samuel Salter's burst of magic in this game. 
With his team struggling in the first half, left to watch as Edmonton scored early before nearly adding to that lead on several occasions, Salter then wrestled control back of the game in the second half, scoring two goals in a 10-minute span to grab his team the win. 
Not only that, but they were two very well-taken goals, too, as the first was the result of some patient running and good striking instincts, while the second was just a top-quality finish, showing Salter's ability as a striker.
Yet, while he's got the build of a striker, and is nominally a striker, that hasn't been the role that Salter has played for the Wanderers this year. 
Instead, he's been deployed by Wanderers manager Stephen Hart in a different role, one that has slowly become more and more popular in global soccer recently – the inside forward role. 
Not quite an out-and-out striker role, but not quite wide enough to be a winger, it's become a popular position for big strikers who have the intelligence and versatility to be deployed elsewhere, as it creates beneficial matchups for those who are able to find them.
Instead of putting them up against the other team's centre backs, creating a drawn-out physical duel, it allows them to drift closer towards the full backs, who are typically less physical, giving them less to worry about there. Plus, if they can find that space, that also allows them to drift into the channel between both of those positions, which is an especially dangerous spot to be on wide balls.
Because of that, it makes them very tough to defend, as you can't tell where they're going to end up when the ball goes wide, especially if they find those right pockets. And that's something that Salter has made a habit of doing this season. 
Thrust into this different role as the Wanderers tried to find replacements for Morelli, he has thrived in that new position, now sitting in third in the CPL in goals with four, finding himself as one of the hottest attackers in the league right now.
He's enjoying his soccer right now, and that's paying off for the Wanderers, who with this win, now sit tied with Forge for the fourth and final playoff spot, showing the fruits of their recent form. 
"Yeah, I've enjoyed it a lot," Salter said afterwards. "It's allowed me to get into different positions than when playing up top, so yeah, I've been enjoying it. The team has been good, so no complaints for me."
But as Hart noted post-game, full credit has to be given to Salter for embracing this role. It's not one that many big strikers are able to do, but through his willingness to learn, and his hard work, he's made the most of it, and it's allowing him to become a player to watch in the CPL right now. 
On a night where he finished with two goals on two shots, all on 1.21 xG, he only showed as much, showing why his star continues to only burn brighter. 
"Yeah, he's adapted to the position well," Hart said. "His arrival in the box, the timing of his arrival in the penalty area, it's getting better and better all the time."
"And as he becomes more and more comfortable, he's going to be able to bring other players into the game, so I'm pleased with his performance."
Mamadi Camara continues to be crucial focal point for improving Edmonton attack:
Four games ago, FC Edmonton head coach, Alan Koch, tried something new for a clash against Atlético Ottawa.
Dealing with some injuries, and a struggling attack, he shifted his regular defensive midfielder, Mamadi Camara, into a striker role, pairing him with the dangerous Tobias Warschewski in a front two. 
It was a bold move for a team who had been shut out in three of their previous five league games before that Ottawa game, but it was the exact sort of risk that Edmonton needed to try, as they tried to get their attack going. 
But to their credit, it has ended up working masterfully for them, as they've now scored in four consecutive games after this clash, scoring six goals over that span, a big improvement from the four goals they scored in their first seven games of the campaign.
Yes, part of that improvement has been just the overall progress that Edmonton has made as a team, as they've continued to get better each game, but this Camara adjustment was a big reason for why things have all come together as of late, and that was on full example in this Wanderers clash. 
A big body, Camara certainly has the frame to cause defenders problems, but most surprisingly, he looks comfortable in using his body in this role, showing a deft touch and strong attacking instincts, especially for a midfielder. 
As a result, it's given Edmonton a focal point to play off of up front, as he does a good job of holding up play like a number nine, creating time and space for his teammates whenever he gets on the ball, while also combining that with relentless work off the ball, making good runs and pressing high. 
Through that, it has unlocked the dangerous options that Edmonton has at its disposal, yet maybe hasn't really seen come to life consistently in games. 
Just take this clash, for example. 
Through Camara's hold-up play and running, that allowed Wesley Timoteo to score their goal, one where he took full advantage of the space that his striker allowed him in the box, one of many instances where Camara did that for his teammates. And that was just one example of what Camara brought to the table in this game. 
In fact, there was hardly an Edmonton attack that didn't see Camara get involved in some form or another, be it through the space that he created through a run, or by getting a touch on a ball in the build-up. 
Because of that, he finished this game with an impressive three shots, two big chances, one chance created and one key pass, all on just 29 touches, as he found a way to make the most of his opportunities on the night.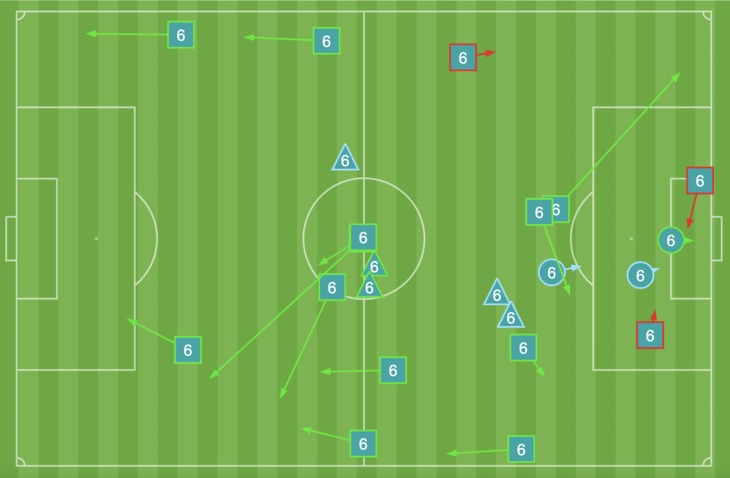 Yet, that's been a theme for Camara ever since he's entered that new role. 
As was mentioned by Koch and Timoteo post-game, through the hard work that he brings, and his ability to read the game, he's been a revelation up front, giving a new look to the Edmonton attack. 
"(Camara) has been incredible," Timoteo noted. "In front, he just brings a lot of energy. He's a reat player defensively, which helps a lot in pressing, and then he just creates a lot of chances for himself and for his teammates, the guys behind him and on the wing."
"His work rate is sublime," Koch added. "It's through the roof. The guy has the ability to run from one to 90-plus and he just doesn't slow down."
"So credit to him for the work that he puts in, and that's what allows him to create opportunities for himself, but also allows him to create opportunities for other players, and he's a big part of why we've created more chances in the last few games."
Therefore, while that first win remains elusive for Edmonton, that sort of offensive growth is a huge positive, something that they'll look to take forward as they continue that quest to get that over the line. 
As mentioned earlier, good things are coming, and there's no better example than their recent offensive growth, leading to that belief that first win is coming very soon for them. 
---
CanPL.ca Player of the Match
Samuel Salter, HFX Wanderers
Despite battling through a bit of an illness over this past week, Salter stepped up big time with his team shorthanded, putting in a valiant 88-minute shift, one that he capped off with his two goals. You add in his 23/35 completed passes, two dribbles, one tackle and five out of nine duels won on top of that, and it was overall a pretty well-rounded night for the Wanderers forward, who is now up into the top three in league scoring after this game.
---
What's next?
FC Edmonton will be back in action at home again this upcoming weekend, when they'll host Atlético Ottawa on Sunday, June 19th at Clarke Stadium (3:00 p.m. MT/5:00 p.m. ET). Meanwhile, the HFX Wanderers will also host a game earlier on that same Sunday, when they welcome Forge FC to Wanderers Ground (2:00 p.m. ET/3:00 p.m. AT).
Watch all matches live on OneSoccer. In addition to its website and app, OneSoccer is now available on TELUS channel 980 and on Fubo TV. Call your local cable provider to ask for OneSoccer today.