MATCH ANALYSIS: Pacific FC rides strong 2nd half to 2-0 QF win over resilient TSS Rovers
---
Final Score: Pacific FC 2-0 TSS Rovers
Goalscorers: Heard 66′ (pen.), Reid 87′
2023 Canadian Championship
Quarter-final
---
Match in a minute or less
In the last matchup of the quarter-final round of the Canadian Championship, Pacific FC hosted TSS Rovers in an all-B.C. derby at Starlight Stadium.
The first-ever League1 Canada team to eliminate a professional team from this competition, the Rovers entered this game eager to repeat that feat, while Pacific was looking to maintain a perfect record in all-B.C. derbies, as well as book a spot in the semifinals for the second-ever time.
In the end, despite a strong Rovers push, Pacific would do just that, as well, picking up a comfortable 2-0 win.
After a tightly-contested first half where the Rovers were arguably the better side, Pacific came in flying during the second stanza.
As a result, they were rewarded for their efforts in the 66th minute, as captain Josh Heard won a penalty, one he'd coolly step up to convert. From there, they seemed to have wings, grabbing an insurance marker through Adonijah Reid to make it 2-0 in the end, setting up a Ferryside Derby at home against the Vancouver Whitecaps in the semifinals.
---
Three Observations
Pacific uses depth to overcome early scare:
Early in this game, it felt like a cupset was brewing.
Much as they were against Valour, the Rovers were certainly up for the fight through the first 45 minutes, in which they were arguably the more dangerous team in the game. Pacific was holding most of the ball, as would be expected of them, but the Rovers were holding strong defensively, and had the best look of the game up to that point.
As favourites, it was a worry to see from Pacific, who looked like they might not be able to match the energy levels of the Rovers on the game.
Despite that, Pacific remained cool, calm and collected, seemingly unbothered by the pressure of being the favourites. Instead of potentially rushing things, as many would expect them to, they were confident that they'd be able to break the game open.
A big reason for that? Their depth.
Slowly, Pacific quietly turned to their bench to help them out, as they first made one change at half time to bring in Kekuta Manneh, and then a pair of changes at the 63rd mark to insert Georges Mukumbilwa and Adonijah Reid, all in an attempt to bring fresh legs into the game.
There, it'd pay off for them in a big way. As the Rovers continued to defend, it was clear that their energy levels were starting to drop a bit, while Pacific's seemed to only increase, especially with the fresh legs.
Then, thanks to that, Pacific were able to catch the Rovers in a key moment, as their concentration dropped. Pacific pounced, winning that penalty through Heard, and then from there, once that ball hit the back of the net, it felt like they were completely rejuvenated.
From there, it'd be all Pacific the rest of the way, as they then made a further change in the 80th minute to keep things fresh.
Ultimately, they found a way to outlast the Rovers, and that allowed them to grab the victory in the end.
Yet, that's a testament to Pacific's depth. Despite having played in Ottawa on the weekend, they were able to still deploy a strong squad in this match, with several key names eager and ready to come off the bench.
After two games that could've easily stretched them thin, they can now exit this stretch with two wins under their belt, while still remaining fresh and hungry for their next match, a home clash with York this upcoming weekend.
That's why they brought in all sorts of depth this offseason, especially in the frontline, something they've been rewarded with through their early games.
Going forward, that's going to pay big dividends for them, too, as the schedule's only going to get busier from here, especially now that they're onto the next round. Safe to say, they're quite comfortable with that idea and are excited by what's to come, having gotten the job done in this game.
"Yeah, I think we trust the quality that we have in the team with our depth, we see it in training," Pacific head coach, James Merriman said. "We know these guys want minutes, and they want to show that, and not to anybody else, but to themselves and everyone in our locker room. Guys want to start, and that competition is healthy, as that's what drives good teams."
Resilient Rovers end magical cup run with heads held high:
It's not the fairytale ending that they hoped for, but the Rovers can still be very proud of how they went out in the end.
Against one of the top teams in the CPL, in one of the toughest venues to play, the Rovers pushed right until the very end, despite the circumstances.
Not only that, but they went out swinging, too, instead of sitting back and just trying to let luck do its thing.
In particular, they were excellent defensively, as they put in a defensive shift that most professional outfits would be proud of tactically.
Organized in a rigid 4-4-2 off the ball, they were very aggressive in their midfield pressure, doing well to limit space for Pacific in that area of the pitch. In particular, Kyle Jones and Ali Zohar put in a shift off the ball in that regard.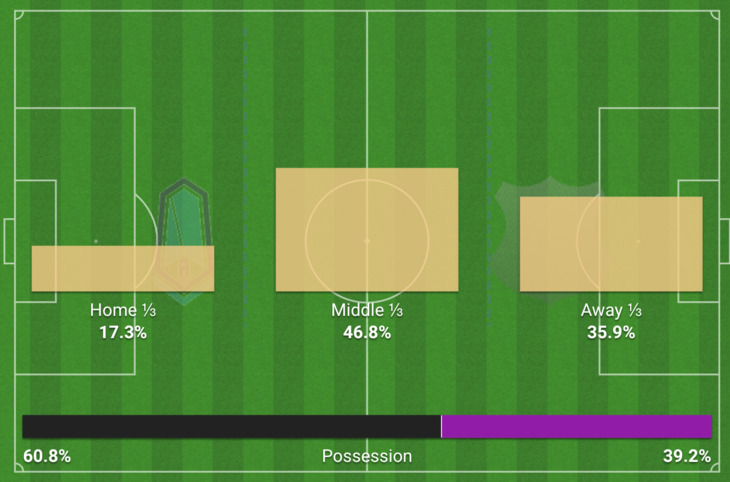 Plus, they managed to keep their defensive line quite high up the pitch, instead of sagging back as a team might do, with centre backs Danylo Smychenko and Nicolas Burret standing out in those efforts.
Against a Pacific side that held most of the ball, that's no small feat, making it especially impressive that the Rovers held Pacific to just 10 shots (two shots on target), one of them being the penalty.
Offensively, they struggled a bit more, generating just three shots (one on target), but that's only reasonable given Pacific's position as one of the best defensive teams in the CPL. As they usually are, Pacific's centre back pairing of Amer Đidić and Thomas Meilleur-Giguère were dominant in the air, while Pacific's midfielders did well to win a lot of second balls.
For a Rovers team that lacks aerial presence, and prefers to break in transition, Pacific's defence did well to limit the sort of dangerous moments that they thrive in, something that Valour wasn't able to do, for example.
At the same time, there were bright flashes from the Rovers on the ball, as they played through Pacific's press on several occasions, and did have some good spells of possession in the final third. They didn't turn enough of them into shots, but they got into the right areas.
Therefore, while they eventually fell in the end, they can be proud of their approach. In both games, they went out swinging, fearless in front of the occasion.
Through that, they showed that semi-professional teams can hang with professional ones, and that there's quality to be mined from these leagues.
For them, that was always the big goal, helping them in their quest to move players onto that next level, something that performances like this will certainly aid with.
"Yeah, listen, when we came into this competition, we hoped to not embarrass our club," Rovers' head coach, Will Cromack, joked. "We wanted to make something about it, and we got to this round. Then, in this game, we got to halftime comfortably, we knew what we had to do, there was suffering, but we handled the adversity pretty well, and gave very few chances against."
"I'm extremely proud of the guys and what our club accomplished in this competition, it represents what our club stands for and the boys put their best foot forward. In games like this, it comes down to these little tiny moments, and that's what our players need to learn so we get them to that the next level."
"I think we can hold our heads high." Rovers captain, Matteo Polisi, added.
Celebration of B.C. soccer a reminder of game's growth:
Even before a ball was kicked, this game was a big one for not just both sides, but the sport in B.C. as a whole.
Two clubs that have invested heavily into the community side of sport, while also prioritizing the development of young talent, it wasn't just a matchup of two teams, but teams with similar philosophies, too.
As a result, it was fitting that both teams came together to make this game a "celebration of B.C. soccer", using this match as a chance to help further the development of the sport in the province. With an initiative that saw a percentage of all tickets bought by Rovers fans going back to their own club, an offer that was also extended to fellow League1 B.C. clubs Harbourside FC and the Victoria Highlanders, too, providing a tangible impact from this game.
Yet, that wasn't even the biggest legacy this match will leave. Thanks to the proximity of both teams, the Rovers were able to bring a strong group of supporters over on the ferry (fittingly, given their nickname of the 'soccer pirates'), adding to the atmosphere of the game.
Along with Pacific's strong home support, who were in full voice as they tend to do, it made for a great crowd. With both fans cheering throughout the match, it brought great energy to the game as a result.
Plus, with hundreds of youth soccer players in attendance, the Rovers' strong efforts surely proved as an inspiration to the next generation of youngsters, as they got to see a group of players that might've previously been overlooked get a chance to play in a match of this magnitude.
Along with Pacific's efforts, which are those of a club that is still just a half-decade old but has already proven to be a key pipeline for players, that's something else for them to see and be inspired by.
Therefore, this game's impact was always going to be more important than just the 90 minutes in which it was played, with its impact still to be properly felt, really.
That's the true magic of the cup, as countries around the world can attest to, and in this matchup, Canada got a taste of the impact it can bring to a community.
"We need everybody to start buying into the idea that they're going to support their local club, whatever level that is at," Cromack said. "It's not a form of entertainment only, it's a form of community, and you're a part of it. We're just a humble little club, but that's what we want from people, we want people out there taking care of their own."
"I think you saw it today, the Pacific fans were unbelievable, our fans were unbelievable, that's what we want from football in this country, and this cup gave us this opportunity, and hopefully we can keep growing it."
In particular, that'll have a huge impact on the youth, which is crucial. For example, when someone like Heard was a kid growing up on Vancouver Island, he didn't have such opportunities to see and dream of, so for him to see that development in his community means everything to him.
Sometimes, seeing is believing, and a lot of people will be high on belief after a match like this.
"Yeah, I mean just growing up here in Victoria, and this didn't exist," Heard said after. "So the fact that this exists now, it's very special for the kids today, and I hope it inspires those young people to fall in love with this game. Hopefully, this will be pushing them to be on Canadian soccer teams in the future, so it's very cool to be a part of, and you see it getting bigger every year, and yeah, I wish I had it when I was younger."
---
CanPL.ca Player of the Match
Josh Heard, Pacific FC
A constant thorn in the side of the Rovers' defenders, it was fitting that it was Heard that won and converted the penalty that stood as the winning goal. Finishing with three shots, one chance created and three dribbles, it was overall a good night at the office for Pacific's captain.
---
What's next?
Having advanced to the semi-finals of the Canadian Championship, Pacific FC will host the Vancouver Whitecaps either on May 23 or May 24 at Starlight Stadium. Meanwhile, in league play, Pacific will host York United in CPL action at Starlight Stadium on Sunday, May 14 (3 p.m. PT/6 p.m. ET). As for the Rovers, they're back in League1 B.C. action this Saturday, May 13, when they host Harbourside at Swangard Stadium (4 p.m. PT/7 p.m. ET).
Watch all CPL and Canadian Championship matches live on OneSoccer. In addition to its website and app, OneSoccer is now available on TELUS channel 980 and on Fubo TV. Call your local cable provider to ask for OneSoccer today.