MATCH ANALYSIS: Pacific unable to break down resilient Cavalry side in hard-fought 1-1 draw
---
Final Score: Pacific FC 1-1 Cavalry FC
Goalscorers: Heard 42′; Gazdov (OG) 9′
Game of the 2023 season: 8
CPL match: 375
---
Match in a minute or less
Just days after Pacific knocked Cavalry out of the Canadian Championship on penalties at Starlight Stadium, both teams met again at the same location in CPL play, closing out a busy matchday of league action.
In the end, however, nothing would be able to separate both teams after the 90 minutes, as they combined for a 1-1 draw, one that saw both teams split the spoils on the day.
To begin the game, Cavalry got off to a perfect start, as Ali Musse found Goteh Ntignee at the back post, where the young wigner just manage to bundle the ball over the line in what proved to be an Emil Gazdov own goal. Then, at the other end, Pacific clawed one back before half time through Josh Heard, who despite being on the floor, deflected a shot from Ayman Sellouf into the goal off his back to tie things up.
From there, the second half would fail to yield any further goals, as neither side were able to find the final moment needed to grab all three points in this one.
---
Three Observations
Second meeting in as many matches yields another tactical chess match:
Having played each other just days earlier, it was an important question heading into this game – how would both teams adjust to having to see each other so soon again?
Sometimes, getting to play a team twice in a matter of days can be a huge advantage, as the intel that such a game can provide a key edge to whoever can identify any weaknesses. Yet, that can also be a disadvantage, as it leaves teams with a good idea of how the other plays, and with little time to adjust, it can make for a cagey rematch as both teams try to shut down the other's strengths.
In this game, it ended up being a disadvantage, as both teams seemed to be quite familiar with the other's game, which made for quite the tactical matchup.
On Pacific's side, they looked to come out and really control the ball, as they typically try to do. Sensing that, however, Cavalry countered by coming out quite defensive, daring Pacific to break them down.
Considering Pacific were missing attacking midfielder Manny Aparicio due to an injury, it was a justifiable strategy, too, as Pacific has typically struggled to break teams down when he's not in the lineup. For example, take a look at Pacific's opening day win, where expansion side Vancouver FC had done well to sit back and defend for most of the match, before a magical Aparicio half-volley proved to be the difference in a 1-0 win.
To counter that, however, Pacific then had their full backs play very aggressively on Cavalry's wide players, while keeping their centre backs tight to striker Myer Bevan, nullifying the direct outlet those threats could provide for Cavalry when they were looking to get going in transition.
Through that, the game ended up being a matter of who could overcome those battles, much as was the case in their matchup just a few days prior.  Turns out, much like that game, the answer would be neither side in the end, either, as they just couldn't find that final edge.
That doesn't mean that there weren't moments where both sides managed to win those battles, however.
For example, it's no surprise that Cavalry scored their goal by one of their wide players, Ali Musse, creating a half-second of space for himself before finding Goteh Ntignee at the back post with a quality cross to open the score. Then, on the flip side, the one time that Pacific did breach the target came after a prolonged spell of possession, of which they wore down Cavalry until they finally broke their defensive wall.
In the second half, however, both sides were unable to find such joy, as Pacific just couldn't find that final touch in the box, while Cavalry really struggled to get much going out wide as Musse left at half time due to muscle tightness, leaving both teams to split the spoils.
Yet, that's a sign of games between top teams at this level. There's a reason why these sides have usually finished at the top of the standings over the last few years, and that's because they know how to manage those extra details, as reflected in the nature of this cagey draw.
"When two teams go to war like that, it does become a chess match, especially with only a two-day turnaround," Cavalry head coach, Tommy Wheeldon Jr, explained afterwards.
Pacific controls tempo of game, but lacks final ball in key moments:
For the first time all season, Pacific chose to rest new striker Easton Ongaro in this game, as he moved to the bench after starting the club's first two matches.
As a result, it was going to be intriguing to see how Pacific would adjust, as Ongaro was a key focal point in the box over those two matches, serving both as a key outlet in possession, as well as a favoured target for final actions.
Instead, by going with the quick Adonijah Reid up front, who prefers to run the channels and stretch back lines, it made for a fluid front three, as Reid joined Ayman Sellouf and Josh Heard in the attack.
Three typical wingers, they offered a new look to Pacific, as they really pushed Cavalry's back line back with their pace, while doing well to combine with good movement and clever interplay. Along with the movement of midfielders Sean Young and Steffan Yeates, who were also very involved in the attack, as was the always offensive Kunle Dada-Luke at right back, it gave them a lot of numbers to rely upon in the attack.
As a result, Pacific were able to manage an impressive 22 shots in this game, including six on target, as they were able to open up some good avenues in the attack, forcing Cavalry to do a lot of tough running as they set the tempo in this one.
"After their goal, I think that was the switch for us, because after that we came out with attack after attack, we pushed them away, pushed them back," Sellouf noted afterwards. "And that's how we wanted to play over the full match, on the front foot, pushing them back in the attack."
Yet, while they'll be happy with what they did to generate chances, they just lacked two things on the day – a lack of killer instinct, as well as less-than-ideal shot selection.
That's reflected in the stats, as despite their high output of shots, they had just 1.51 xG, for an average of 0.06 xG per shot. Plus, they had just one big chance, despite having several opportunities to shoot the ball in the box, as they were often reluctant to pull the trigger when they got into those dangerous areas.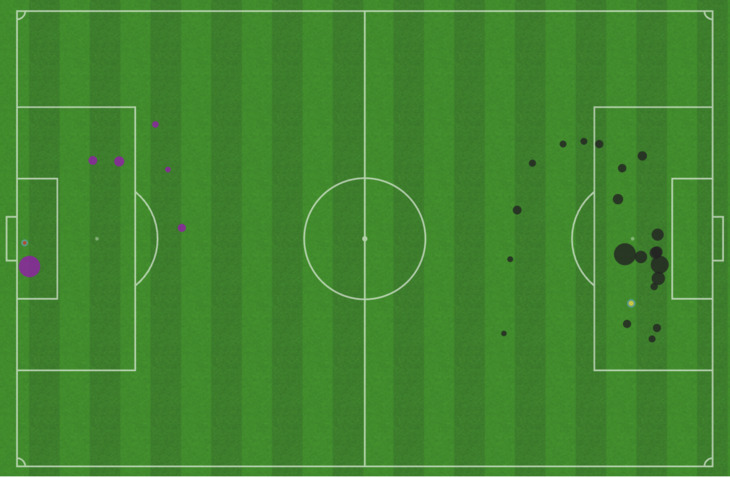 Because of that, they just weren't able to test Cavalry enough in this game, even after they brought on three natural goalscorers in Ongaro, Djenairo Daniels and Kekuta Manneh as substitutes, as each of that trio also missed key chances to punish Cavalry.
Going forward, that'll be something that they'll want to change, as it's so far been a theme of their season through the three games that they've played. Having scored just one goal in each match, despite having good looks in each outing, they're just not being ruthless enough with those opportunities that they're doing well to create for themselves.
Due to a combination of early-season rust and a tendency to go for the perfect play, they've left plenty of opportunities wanting so far this year, and this game was a prime example of that.
If anything, it's almost fitting that their goal today came the way that it did, flying in off of Josh Heard's back, as it was a key lesson that Pacific will want to take to heart as they continue to advance – when the ball falls to them in dangerous areas, they've got to just let instincts take over and punish their opponents at all costs for allowing them to get such opportunities.
"We had a lack of sharpness and smart decisions in the final third in those critical areas, and that comes by playing more games," Pacific's head coach, James Merriman, said afterwards. "And that's going to come as we grow into these games, but I think we're right where we need to be, we said we want to live in their attacking half in the half of that game, and we did that. We had over 20 shots, too, so with that (our finishing) will come."
Cavalry uses defensive experience to grind out road point:
Playing their third game in eight days, with several players missing, Cavalry knew that this game could end badly for them if they didn't go about things the right way.
Especially as Pacific pushed in the second half, eager to give a win to their home fans, Cavalry knew that they had to find a way to just see things over the line, even if it meant gritting their teeth and doing things the ugly way.
In the end, they did just that, putting together a resilient road performance, one where they can be very proud of how they fought right until the bitter end.
It might've meant slowing the game down and clogging things up a bit more, leading the game to be a bit more of a "UFC fight" in the words of head coach Tommy Wheeldon Jr, but it paid off for them, as they did a good job of disrupting Pacific's rhythm on several occasions.
Be it through some tough tackles, key fouls or moments of patience in possession, they did what they needed to in order to get the result they desired, much to the frustration of the home fans.
As a result, they were able to leave with a key road point, one that they have no issues celebrating, knowing how valuable those can be at the end of the season.
Because of that, credit certainly has to be given for that. Cavalry might have been outplayed by Pacific in the end, as they got outshot, out-possessed, out-chanced and out-duelled on the stats sheet, but good teams find a way to get results even when they're not at their best, and Cavalry did that in this game.
Yet, that is a credit to their core group of players. Led by captain Marco Carducci in goal, who had some huge saves and did well to slow down the tempo whenever he was on the ball, as well as defenders Daan Klomp and José Escalante, Cavalry did well to battle for every inch of territory on the field in this game, allowing them to grab that point in the end.
"We know that these are qualities that our guys have, and we had to showcase that today," Klomp said afterwards. "Hopefully next game, we can do that a bit less, and we can dominate the game a bit more, but these are types of games that you take the point and carry on."
"It's tough for anybody to be on the road, and all against tough opponents," Wheeldon Jr added. "It can take a toll on the lads mentally and physically, but we have to suit up, show up and show different sides of us. Last year, we lost these sorts of games on the road. So we're taking this point with us and we'll take it back to ATCO Field for next week."
---
CanPL.ca Player of the Match
Sean Young, Pacific FC
Asked to play a bit higher up the pitch in the absence of Aparicio, Young shone in his new role, doing well to control the tempo of the game with his play. That's reflected in the numbers, too, as he finished with two chances created, two shots, two dribbles, and eight passes into the final third in the attack, while still staying defensively involved, adding three tackles, one clearance, nine recoveries and by winning 10 out of 16 of his duels.
---
What's next?
Pacific will cap off their season-opening homestand on Sunday, April 30th, when they host the defending North Star Shield champions, Forge FC, at Starlight Stadium (5:00 p.m. PT/8:00 p.m. ET). Meanwhile, Cavalry will return back to Calgary, where they'll host Valour in their home opener that same Sunday at ATCO Field (3:00 p.m. MT/4:00 p.m. CT).
Watch all matches live on OneSoccer. In addition to its website and app, OneSoccer is now available on TELUS channel 980 and on Fubo TV. Call your local cable provider to ask for OneSoccer today.