Issey Nakajima-Farran, Part 1: Monkey bites and trade rules
---
There are few players in Canadian soccer history as well-travelled or as fascinating as Issey Nakajima-Farran.
Heck, there are few soccer players anywhere in the world who have experienced the things Nakajima-Farran lists in this fascinating chat with CanPL.ca.
In this two-part series, Nakajima-Farran describes his experiences abroad and at home, trade rules and personal image, the call of the ocean, and even being attacked by a monkey.
The 34-year-old Calgary-born, Japanese-Canadian attacker, who grew up in Tokyo and has played the beautiful game all across the world, returns to Canada in 2019 with Pacific FC of the Canadian Premier League, the latest adventure in a career filled to the brim with exactly that.
This is not Nakajima-Farran's first foray in Canada, of course; the versatile forward has suited up for both Toronto FC and the Montreal Impact in 2014 (more on that later) and has been capped 38 times by the Canadian national team.
But this latest stop on his professional career circuit – which includes stints in Denmark, Singapore, Malaysia, Japan, Australia, England and Cyprus – is, perhaps, the closest he reckons he'll ever feel to belonging to a place he can call his very own.
"I thought that coming to Toronto was the right thing to do," Nakajima-Farran begins, during a phone conversation with CanPL.ca.
Throughout his career, Nakajima-Farran explains, he has felt like an outsider, neither a true Japanese in Japan, or very much a foreign player everywhere else. The only place that has ever felt like home, he says, is Canada.
"I've always envied being a local player," he said. "When I was with the Canadian national team, that's when I truly felt like that."
He continued: "I was really looking forward to coming to Toronto and feeling like a Canadian player playing for a local club.
"But…," he pauses. "It didn't turn out that way."
So the story goes of a player traded against his will, ironically on his birthday, just a short while after scoring the game-winning goal in a Canadian Championship semi-final. Nakajima-Farran took to social media afterward and called the trade "inhumane." He departed to Malaysia at the end of the year, where he has played ever since.
"I didn't want to be traded and go to Montreal," he recounts.
You can sense there's still a hurt in his voice. That trade was the first thing Nakajima-Farran launched into during his chat with CanPL.ca, unprompted by the nature of the question.
"I was very uneducated when it came to coming to the MLS," he lamented. "I didn't think such rules existed. I mainly followed soccer, never followed other sports like basketball or hockey or baseball, and I didn't know you could do that (trade players) in soccer.
"It's a lack of education I had, and I felt certain things were standard.
"So, this was one of the first things I checked with the CPL. I asked (Pacific FC CEO) Rob (Friend), when we first started talking, if there were going to be trades, those sorts of rules? He said no, and I said alright, perfect – I'll be there soon."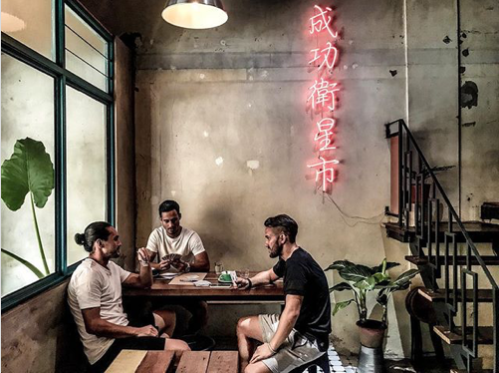 Later on, when asked what the most bizarre experience in his professional career was – expecting answers about culture shock or lifestyle differences in one of the many stops in his career – Nakajima-Farran once again pointed to the MLS' trade rules.
He also described playing in Cyprus during the country's economic crisis as equally strange, though.
"Cyprus, at the time, their banks shut down all ATMs, the grocery stores weren't restocking their shelves, and it was really a difficult time to be there," Nakajima-Farran recalls. "The country took money from the people who had it, right out of their bank accounts, in order to keep the country afloat.
"Guys lost a lot of money from their savings, a lot of people I was friends with. It was a very negative mood, on and off the field."
Malaysia, he continued, offered another surreal moment.
"I was bit by a monkey!" Nakajima-Farran exclaimed, with a laugh.
We'll let him tell the story:
"In Malaysia, I saw this monkey tied to a tree. It was a pet monkey, and had an extremely long leash. He was very friendly with some of the locals. This was the first monkey I'd ever seen so I really wanted to take a photo with it.

I go there, and he's super friendly to everyone else, but as soon as I get close to him, he just jumped on my face and takes my glasses. Now I'm extremely surprised and screaming at the same time, and I grabbed his tail and tried to get my glasses back.

"We had this kind of strange, friendly but forceful fight. Well, I finally got my glasses back, and he jumps onto a tree. Then he looks at me and jumps on my stomach and bites me hard. This all happens in the span of 10 seconds.

It was at a breakfast area, so everyone saw it and were laughing at me, saying 'What the hell is this foreigner doing with this monkey?'

I called my team doctor and I told him what happened, and he said I had to come in right away and get a tetanus shot. It was incredible."