'Something we can all do together': Why CPL supporters are raising money nationwide for Prideraiser campaigns
---
Perhaps the purest beauty of local football is the community that grows around it.
All across the Canadian Premier League, passionate soccer fans have, in the past few years, found themselves drawn to the stands of their local club, many of them devoting themselves to the organized supporters' groups that have sprung up in each city.
Now, those fans are harnessing the power of their collective groups to make a difference outside of the football pitch.
In the month of June — Pride month in much of the world — supporters from each of the CPL's eight clubs have been participating in their own Prideraiser campaigns, raising money for various LGBTQ+-related organizations and charities in local communities (pledge links and information on eight campaigns are below, click here to go directly there).
---
RELATED: Atlético Ottawa players look to 'keep that conversation going' with Playing for Pride campaign
---
What is Prideraiser?
Prideraiser, a North America-wide fundraising system, sees supporters' groups from clubs all over the continent run individual campaigns throughout June. It officially began back in 2017, but over the past few years it's begun to take root in CPL cities — each supporters' group coming on board individually.
Michael Elder, part of the Cavalry FC group Foot Soldiers — who have been involved in Prideraiser since 2019 — explained how it works.
"It's a fun model where you pledge an amount per goal in June," Elder told CanPL.ca. "And that way the more your team succeeds, the more goals your club gets, the greater the donations, so it also makes it just a little more interesting as well — when you're cheering for, say, Cavalry to win, but also score as many goals as they can."
So, every goal a CPL club scores in June means another chunk of money raised by the club that scored.
He added that each individual group chooses a local organization to support — in the Foot Soldiers' case, that's Calgary Outlink, a not-for-profit focused on support, education, and outreach for the LGBTQ+ and allied community in Calgary. So, no two Prideraiser campaigns are alike, as each group forms its own relationship with a chosen foundation.
CPL fans' involvement in Prideraiser really began to explode in 2021. Due to the season's delayed start in the Winnipeg bubble at The Kickoff, supporters' groups made a special arrangement with Prideraiser to run their campaigns through July as well. Ultimately, the five supporters' groups involved (Foot Soldiers, Privateers 1882, Barton Street Battalion, Red River Rising, and Lake Side Buoys) managed to raise $6,414 for local LGBTQ+ organizations.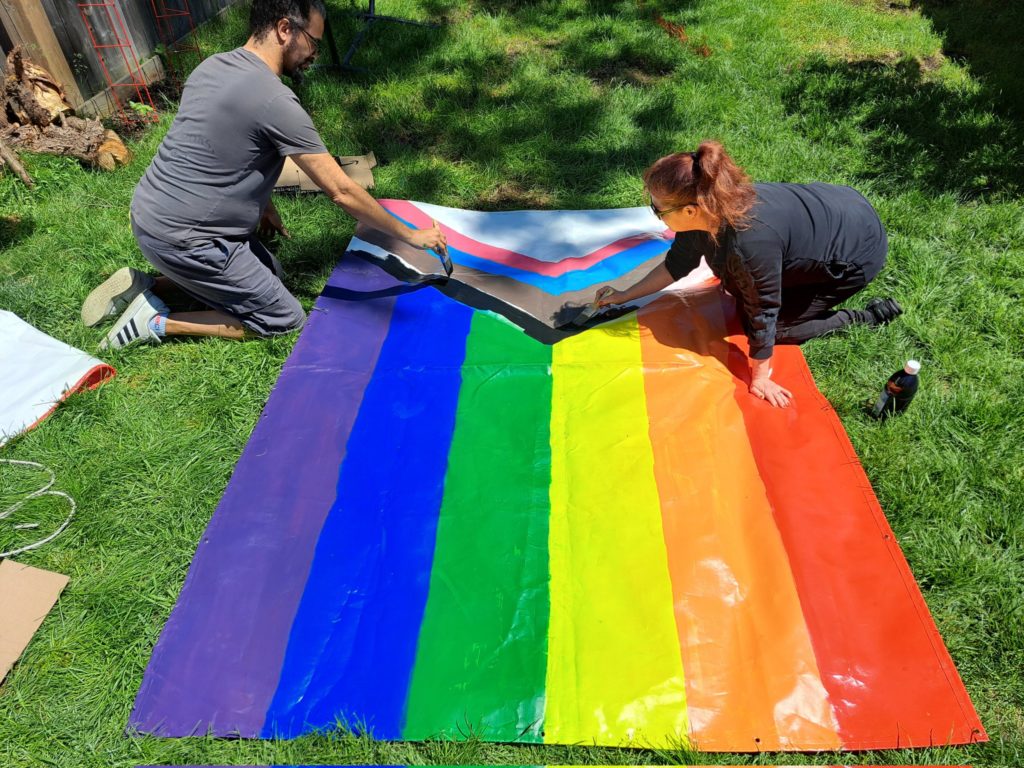 This year, the initiative has taken root in a new way, with CPL clubs playing in their home stadiums in June for the first time since 2019. All eight teams have a Prideraiser campaign, as groups for York United (Northern Corridor), Atlético Ottawa (Bytown Boys), and FC Edmonton (Loyal Company of the River Valley, a podcast run by Eddies fans) have joined the five who took part in 2021.
Each group seems set to raise more than ever this year, with pledged donations continuing to build throughout June. In the case of Pacific FC group Lake Side Buoys, one anonymous supporter has promised to single-handedly match the total they raise, effectively doubling it — a generous offer, considering they raised around $1,300 last time around.
There's an element of friendly competition to it all, of course. Each group is eager to raise more money than the others — Elder joked that his Foot Soldiers group is always keen on raising more than Forge FC's Barton Street Battalion — but that's secondary to the common goal of effecting positive change in eight different Canadian communities.
"The fact that there's at least one representative group for every club is incredible; I don't think there's any other league that can say that," said Josh MacKenzie of Northern Corridor. "And the fact that it's a friendly competition, in the end it all goes to a good cause but at the same time there's rivalry that can happen through it, I think it's pretty incredible."
Nicky Cottee, president of Valour's Red River Rising (who are raising money for Reaching Out Winnipeg), added that there's always been a sense of commonality among CPL supporters' groups that have emerged from the tight-knit Canadian soccer community. Still, even as rivalries grow on the pitch over the years, something like Prideraiser will always bring them back together.
"When we all started these groups before a ball was ever kicked, it was all super friendly; we all knew each other from supporting Canada," Cottee explained. "And as the years have gone on, we're still friendly, we still have our chats and try and work together, but there's a little more rivalry, a little more tension. But June's Prideraiser is kind of something we can all do together."
By virtue of the size of CPL clubs, and the fact they're all so new, each supporters' group has developed a very special connection with its team — which lends itself to such impactful community initiatives. In the Foot Soldiers' case, their Prideraiser has had support from many within Cavalry, including head coach Tommy Wheeldon Jr., and other groups across the league have had similar interactions with their clubs.
"I think it's one of the greatest things about local soccer," Elder said. "I support Spurs in England, but it's not the same when it's not local; it's not the players or coaches that you know. I mean, win, lose, or draw, at the end of the day you see how hard they work and it's really great. And they're always so good about coming over and thanking the supporters, thanking the Foot Soldiers. I feel there is much more of that connection."
Cottee added, on her own experiences with Red River Rising in Winnipeg: "It's one of the things I'm most proud of, the community we've built. It's a place for me that's special because I met a lot of my friends here and where I feel like I belong, but some of the people are from not here, like other countries, and it's a place they feel safe and comfortable."
What makes Prideraiser so important?
Among the core principles of each CPL supporters' group — and indeed, of the CPL itself — is the welcoming, inclusive culture that brings fans together. That, of course, includes anyone who identifies within the LGBTQ+ community.
"For me, football and community goes hand in hand," MacKenzie said. "The football is kind of secondary to what the whole group and Northern Corridor represent. We have people that drive from Kitchener that aren't necessarily part of our direct community, but are part of the overall community through York. And so we want to show we want to be inclusive, we're open to everybody, and we want to help out those who are maybe more marginalized in society than the regular sort of, like, frat boy sports kind of guy, you know?"
Most people nowadays know at least one person in the LGBTQ+ community, and Pride month campaigns can hit home in a variety of different personal ways. In MacKenzie's case, he chose Pflag York Region as his group's charity due to their focus on education and family outreach.
"My best friend is gay, and when he first came out to his parents they brought him to the doctor," MacKenzie said. "For me, a group that can sort of help families and guide them is important."
Sports fans in general do have somewhat of a historic reputation for not being the most tolerant or understanding members of society. That's perhaps why it's so important to fans across the CPL to change that narrative and make their supporters' sections a place anyone can feel comfortable — as long as they're supporting the home side, of course.
On Vancouver Island, Pacific FC group Lake Side Buoys have been making strides to that end, alongside the club itself. Michael Geldreich, the group's president, recently travelled to Los Angeles to represent PFC in Common Goal's Play Proud program, where football clubs from across North America convened for discussions and seminars aimed at rooting out the homophobia that still plagues the sport at various levels.
"It's not only giving me more talking points and more tools to help do this, but it also gave me the impetus to be that first voice to step in and say, 'Okay, here's what you don't know, here are the parts that you haven't thought about,'" Geldreich said.
He explained that, in his view, it's critical that anyone participating in Pride events or fundraisers understands the importance of the movement — that there are genuine, real-world issues the LGBTQ+ community still faces, both around the world and here in Canada.
Geldreich added: "Often you'll hear people be like, 'Well, I'm not gay, why should I care? Why is there a whole month?' All the various things. Well, you see, it's still illegal in a lot of places. You still have issues where players in European leagues will refuse to wear rainbow patches or what have you — without really understanding that, look, you have fans that are wondering should I even be alive, because they have to come to terms with the fact that they're gay, and they might live somewhere where that's illegal, or might not have the support network to let them know, hey, it's going to get better.
"Now there's also a much more visible and vocal trans community, and when you look south of the border and you see what's happening in a lot of places, it's kind of frightening, and all the more reason to not just be, like, 'Hey, this is a celebration of our difference.' No, the reason why (Pride) started is to be more accepting and understanding; to understand that, look, just because you don't identify with this group of people personally, they still have the right to exist. They're not harming you, we're all just people."
At the end of the day, that's the main priority for these groups: ensuring that all are welcome in the stands at a CPL match.
"For something that brings us so much joy and that we have so much passion for from a sporting end, to still see that we can use it to be the change we want to see in the world, it's a huge part of what we're able to accomplish," said Geldreich.
---
2022 CPL Prideraiser Campaigns:
The Lake Side Buoys are raising money for the Victoria Pride Society, a non-profit, volunteer-based organization dedicated to supporting Victoria's LGBTQ+ community. They're known for organizing Victoria's annual Pride festival and parade, but provide outreach and support programs throughout the year.
For more information on this campaign, click here.
The Foot Soldiers are supporting Calgary Outlink, a group focused on support, outreach, education, and referral for the LGBTQ+ and allied communities in Calgary.
For more information on this campaign, click here.
Eddies fans this year are donating to CHEW Project in Edmonton, which works to provide health and wellness services to LGBTQ+ youth, as well as education and support services and mental health programs.
For more information on this campaign, click here.
In Winnipeg, the supporters' organization of choice is Reaching Out Winnipeg, which is focused on helping those in the LGBTQ+ community arriving from other countries who have faced discrimination or persecution and are seeking asylum in Winnipeg.
For more information on this campaign, click here.
The Battalion are raising money for speqtrum, a Hamilton-based organization that provides programming and services to LGBTQ+ youth in the local community.
For more information on this campaign, click here.
Northern Corridor have chosen Pflag York Region, a volunteer-led local charity focused on supporting LGBTQ+ youth and providing education and resources for families.
For more information on this campaign, click here.
The Bytown Boys are supporting Queerios — Western Ottawa Community Resource Centre, which is a drop-in program for LGBTQ+ youth between the ages of 12-18 focused on fostering positive mental health and social skills, as well as providing skill-building and counselling services.
For more information on this campaign, click here.
Out east, the Privateers are raising money for Youth Project NS, which offers support and services to youth 25 and under surrounding issues of sexual orientation and gender identity through support groups, counselling, educational workshops, and more.
For more information on this campaign, click here.
---
With files from Lake Side Buoys, Red River Rising, Foot Soldiers, Barton Street Battalion, Bytown Boys, and Northern Corridor.