SQUIZZ: Canadian soccer in dizzying, dream-like state following CPL's arrival
---
Dreams can be big and dreams can be small — and this weekend, dreams of all shapes and sizes came true in Canadian soccer.
Of those realized dreams, the biggest was naturally the Canadian Premier League's official transcendence from an on-paper business to a real-life sporting venture, firmly lodged in our hearts and minds.
But for those of us who've been yelling into the void for years, trying against all odds to fill the Canadian soccer bandwagon, it was actually the smaller details that made the biggest impact.
We dreamed, for instance, that the first goal in CPL history would be produced by a Canadian kid … and, oh yeah, if it could also be a nicely constructed one, as opposed to a calamitous own-goal or something similarly aesthetically unpleasant, that would be nice too.
Just a few minutes into the league's life on Saturday, York9 FC's Ryan Telfer obliged on both counts.
We dreamed that the inaugural showdown in league history would, for lack of a less trite figure of speech, have it all — and to our delight, it delivered.
From the back-and-forth action and big saves on either side, to the boisterous crowd and the league's first big disciplinary talking point (should Kyle Bekker have been sent off?), it was impossible to rip your focus away from Forge FC vs. York9 FC.
There was also the dream that, after so many people spent so much time and energy bringing this league into existence, so much time and energy scraping and clawing just to get someone, anyone, to give a damn about Canadian soccer … after all that, the dream remained that starting this weekend, the players could start doing the sell job for us.
And boy, did they come through.
Despite having just months (in some cases, weeks) to prepare, to coalesce personally and tactically, these four teams — Forge, York9, Pacific FC and HFX Wanderers — managed to pull together two competitive, physical, and exciting games that surpassed nearly everyone's expectations when it came to quality.
After all, beyond the relative lack of familiarity within the teams, there was also the pressure of performing at the birth of a new league, in front of cameras beaming the games worldwide. The teams could have been forgiven for playing drab, safe styles, aiming to avoid a loss rather than going for a win.
Instead, skillful players stepped up to the occasion, the gravity of the weekend pushing them to try new things in an attempt to one-up the opposition and dazzle their respective audiences.
Sure, we're just two games into what will be a long season of ebb-and-flow performances by all seven squads. But for anyone with the lingering perception that a Canadian (long-time code for "bad at men's soccer") league simply couldn't produce quality, this weekend has hopefully been a wake-up call.
It's a perception that's permeated deep into the Canadian sporting consciousness—  but one that, with time, the CPL will ideally help to correct.
Just this weekend, I rushed off my couch at the final whistle of Forge/Y9 to attend a community soccer event near my home out on the west coast. There, I told a teenager about Pacific FC's impending home opener in a new Canadian league. He raised an eyebrow and questioned the merit of soccer in Canada. For him, and for others his age, Canada hasn't exactly been a powerhouse in the sport. We chatted about the value of the CPL, which ended with the sort of "huh" that one could assume was the teenage mode of communicating, "Ah, yes, I see your point, thank you."
He may head out to a Pacific FC game soon, or he might not. And perhaps it's too late (or simply beyond the scope of anyone's abilities) to change a teenager's mind. But for those even younger, the soccer world they'll grow up in is a fundamentally different one than any of us are familiar with.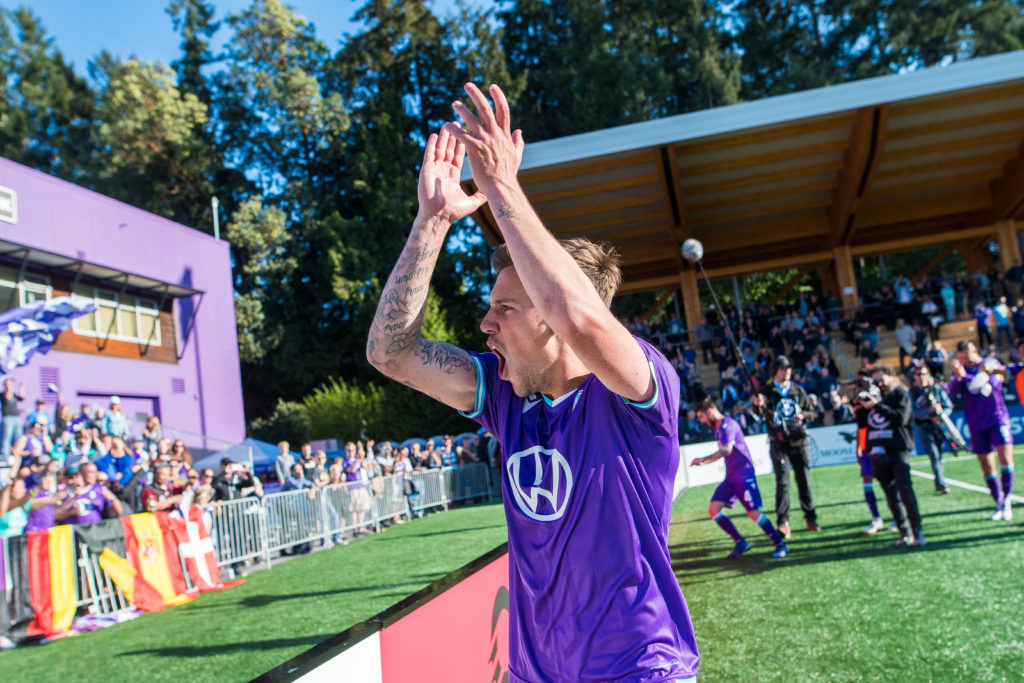 For instance, some old friends in Ontario — a couple of whom fall into the same "yelling into the void about Canadian soccer for a long time" camp as me — celebrated the CPL's arrival by driving down Highway 401 to Hamilton with their sons to catch the game.
They wanted to be part of history; of course, the kids may not have fully appreciated the game's nuances in the same way that their dads did.
"My four-year-old son spent most of the game playing with his seat, and his favourite part was the giant inflatable soccer ball bouncing around the stands at halftime," said Grant Surridge, with whom I've shared a blog, a podcast and plenty of road trips.
"But after so many lows over the past decade and a half, I couldn't help but feel a sense of overriding optimism — that maybe his journey with this game will be filled with more joy than mine, should he choose to take it."
It's ultimately the boy's choice to make in the long run; but he won't be making it based on his dad badgering him about the importance of supporting the local game for the abstract promise of some national-team pay-off somewhere down the road.
He'll make it based on the fact that he's a Canadian kid who can watch Canadian players in a Canadian league and, shock of all shocks, actually have fun doing it.
And by the time he's a teenager, maybe the idea that Canada sucks at men's soccer will be some vague, distant concept to which he can't even relate.
Dreamland, indeed.