TRAINING UPDATE: Cavalry full strength, Ledgerwood 'day-to-day'
---
CALGARY — Cavalry FC has been here before: The biggest game of the year.
However, the lead up to Saturday's opening leg of the 2019 Canadian Premier League Finals versus Forge FC doesn't change for the team from Calgary, with head coach Tommy Wheeldon Jr. saying routines and training are status quo, just like during the Spring campaign, Canadian Championship, and Fall season before it.
"Every game is a chess match," Wheeldon Jr. told CanPL.ca. "This is just one now with more eyes on it. I think we know the best version of ourselves.
"Like every game we've approached, the Vancouver Whitecaps or York9, we focus on, what are the strengths of that team? How do we nullify them? What are their weaknesses, and how do we expose it? How do we put our best foot forward? With that, we have more than a chance of success. We've shown that more than we've failed over the course of this season."
He's right. The Cavs have dealt with plenty since the opening game of the inaugural season. Don't forget, because of the team's impressive run to the semifinals of the Canadian Championship, they've played more games than anyone else, too.
Next, the injuries.
Defender Chris Serban was lost before the campaign even began. Defender Dean Northover and midfielder Mauro Eustaquio suffered respective knee injuries during the season. Mason Trafford, Jonathan Wheeldon, Jordan Brown, Sergio Camargo and Nik Ledgerwood all missed time with various ailments.
That's where the gaffer credits his club's depth.
"Different ways of playing, different ways of winning, different formations. I think what we've advertised now is a versatility, and that can be personnel or formation," Wheeldon Jr. stated. "It's helped us now because, when you play teams, and in this case, we're playing Forge nine times when all is said and done, we've got to have a different way: Plan A, B and C.
"We haven't missed a beat because players can play in different positions. You look at our centre-backs, the best centre-backs in the league. Jonathan Wheeldon is unbeaten in 14 games. Mason Trafford is probably the best left-sided centre-half, and then you've got Dominik Zator, who is on the look for the national team. Joel Waterman, he's just a spectacular player. You go through our midfield, our wides."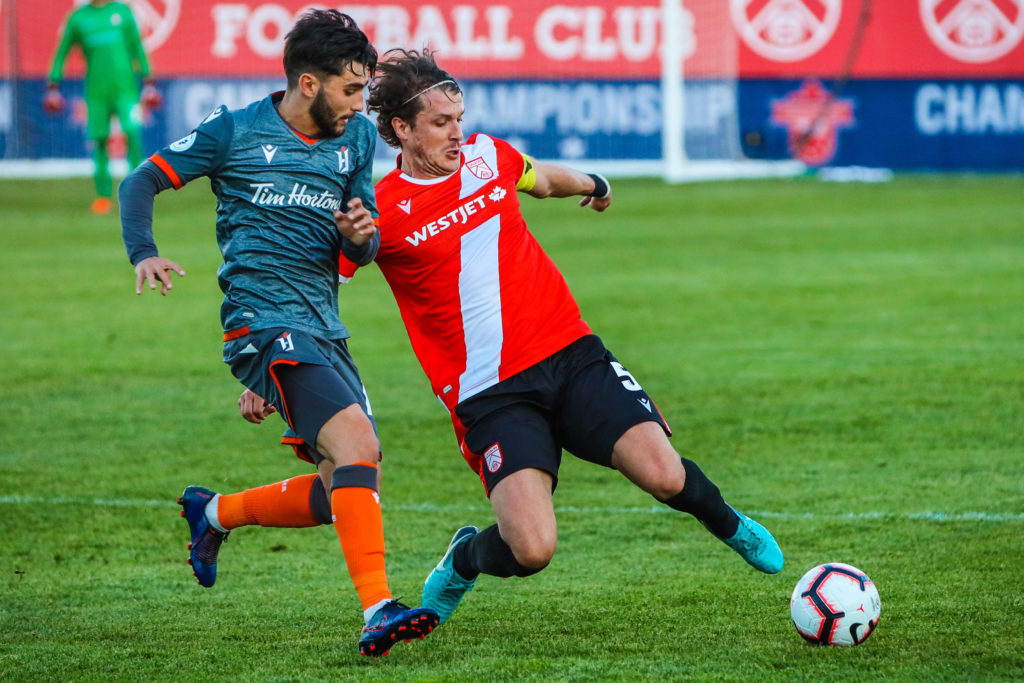 And there's more good news approaching Saturday's playoff tilt in Hamilton. Other than the three players listed above with season-ending injuries, the rest of his squad is at near 100 per cent health.
"That's half of the battle," the head coach admitted, mentioning they're keeping an eye on captain Ledgerwood, who took a head knock versus Forge earlier this month. "Nik, we're taking day-to-day, easing him back in to make sure he's got no repercussions."
With the luxury of so many bodies ready to suit up, Wheeldon Jr. will have some decisions to make as training continues this week, with players looking to start the weekend match.
"Look at the goals scored both Sergio Camargo and Oliver Minatel, seven and eight apiece as out and out number 10s," he said. "Both of them are different. We call Oliver the 'Ghost from Brazil' because you don't notice him, and he just sneaks up. Sergio is dynamic and works fast. He's got that Sergio Aguero-type build to him. He's explosive like him."
When it's time to hand in the game sheet to the officials for the Finals, Wheeldon Jr. knows there won't be hard feelings or any resentment, because the side's motto since day one has been 'Hunt Together.'
"Togetherness is a big part of our DNA," he explained. "Look at the Valour game where the guys grabbed Mauro [Eustaquio]'s jersey and held it up just after he got injured. It's no different than Chris Serban, who was injured in pre-season. The guys are going to dinner at his dad's restaurant. It was a promise they made his dad at the beginning of the season, hosting them.
"They look after each other. When we had this battle with Forge and benches cleared, it was because our guys felt that Tristan Borges gets in the face of Dom Malonga. They were just protecting their own. They're there for each other."