Cavalry blanks Valour to become 1st team to win at The Island Games
---
It took four games and the third matchday for The Island Games to finally produce a winner.
Marcus Haber and Sergio Camargo scored first-half goals to guide Cavalry FC to a comfortable 2-0 victory over Valour FC in CPL regular season action on Sunday from Charlottetown.
Cavalry's win was the first recorded by any team so far during the CPL regular season – the first three games ended in 2-2 draws, including the season opener between the Cavs and Forge FC.
Goalkeeper Marco Carducci earned the first clean sheet of the campaign in the win for the Cavs, who were the first team to play twice at The Island Games. Sunday marked Valour's CPL season debut.
Cavalry carried the bulk of play right from the opening kickoff, and took the lead just before the half-hour mark. Cavalry's Bruno Zebie expertly won the ball in midfield and went on a surging run, and Mohamed Farsi delivered a great ball across the box to the far post where Haber out-muscled his defensive marker to head it home.
The Cavs padded their lead four minutes later. Camargo converted from the penalty spot via an audacious Panenka after Valour defender Andrew Jean-Baptiste was called for a handball inside the box.
Valour offered little in the second half (although they were denied a clear penalty decision late in the game), and Cavalry comfortably held on for the win.
Cavalry handed starts to newcomers Robert Boskovic (on loan from Toronto FC II) and Haber (who played for Pacific FC in 2019). Jair Cordova and Jose Hernandez (minor lower body injuries) did not dress, but both will likely be available for Cavalry's next match. Valour's starting 11 featured 10 newcomers, with Dylan Carreiro the only holdover from 2019.
Valour FC returns to action on Aug. 19 when it takes on Atlético Ottawa (1:00 p.m. ET/2:00 p.m. AT), while Cavalry faces FC Edmonton in Al Classico on Aug. 20 (8:00 p.m. ET/9:00 p.m. AT)
---
RELATED READING: Wheeldon lauds 'next man up' attitude from Cavalry || Rob Gale: Valour lacked 'bravery' in season opener
---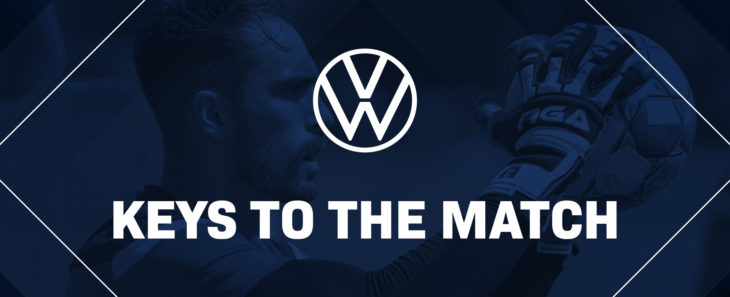 Valour FC: Vet springboard – Veteran forward Daryl Fordyce was subbed out at the start of the second half after he had a pretty quiet opening 45 minutes.
Cavalry FC: Don't underestimate opponents – The Calgary-based team took control of the match early on, and didn't let up on Valour, even after taking a 2-0 lead.
---
BOX SCORE
Goals
29'– Marcus Haber (Cavalry FC)
33' – Sergio Camargo (Cavalry FC)
Discipline
11' Yellow – Sergio Camargo (Cavalry FC)
37' Yellow – Fraser Aird (Valour FC)
49' Yellow – Robert Boskovic (Cavalry FC)
69' Yellow – Dante Campbell (Valour FC)
---
TOP PERFORMER
Marcus Haber (Cavalry FC)
The Canadian international scored in his debut for the Cavs, and effectively used his size and physical style to serve as the main reference point of the attack. Honourable mention to Mohamed Farsi.