Cavalry stands tall to take down Pacific FC, go 1st place in 2nd group stage
One matchday into round two of The Island Games, and there's one team atop the standings.
Cavalry FC, as they were in the first round, are the first side to win in the second group stage, earning a 3-1 decision over Pacific FC on Wednesday night.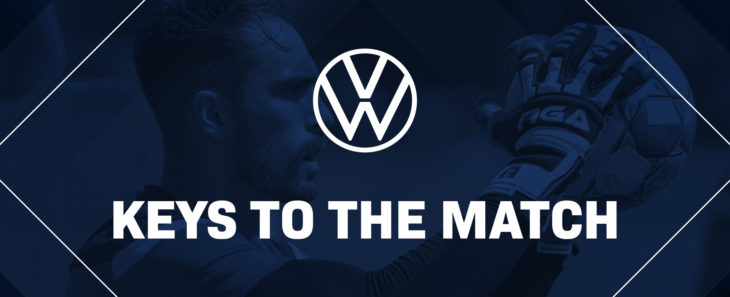 Things started out well for the Cavs, who had three shots in the opening 10 minutes as they took control of the game. They took the lead in the 15th minute when Mohamed Farsi was taken down in the box and Nik Ledgerwood stepped up to convert the penalty kick.
The rest of the first half saw Cavalry pressing hard, happy to keep Pacific from probing too deep into the attacking third. The Cavs nearly went up 2-0 in the 20th minute, as a Jordan Brown through ball found Nico Pasquotti for a one-on-one opportunity with the goalkeeper, but he skied his shot.
Pasquotti's night came to a premature end in the 31st minute, causing concern for the Cavs as the attacker felt something in his knee and had to be replaced by Bruno Zebie.
Cavalry came out firing in the second half as well, though, with Ledgerwood taken off at the interval for Elijah Adekugbe. With fresh legs, the midfielder was able to pounce on a loose ball at the top of the box in the 49th minute, and he finished from the edge of the six-yard box to make it 2-0.
At the other end, Pacific's goal came from a corner kick, as a ball fired into traffic in the box managed to hit Cavalry defender Dominick Zator and Pacific's 19-year-old midfielder Sean Young to bounce into the net.
Pacific's attempt to get back into it was in vain, however. Cavalry restored their two-goal lead about 20 minutes later, as Farsi came bursting in down the right half-channel to pick off a poor defensive pass, and his strike went perfectly off the far post and back in to make it 3-1.
Although Pacific worked hard to at least find another goal, keeping the lion's share of possession and winning more duels than Cavalry, ultimately it wasn't their night as the open-play scoring chances didn't quite materialize. They had a number of set-piece opportunities late in the game, but the Cavs effectively stopped them from playing their trademark wide game.
Both sides return for their second match of the group stage on Saturday. Pacific will kick things off against Forge FC (12:00 p.m. ET/1:00 p.m. AT), and then Cavalry will take on HFX Wanderers (3:00 p.m.ET/4:00 p.m. AT).
---
RELATED READING: Cavalry thriving under pressure at Island Games || Pacific's penalty woes continue in Cavalry loss
---
BOX SCORE
Goals
15′ – Nik Ledgerwood (Cavalry FC)
49′ – Elijah Adekugbe (Cavalry FC)
53′ – Sean Young (Pacific FC)
75′ – Mohamed Farsi (Cavalry FC)
Discipline
64′ – Yellow: Josh Heard (Pacific FC)
66′ – Yellow: Mohamed Farsi (Cavalry FC)
70′ – Yellow: Elliot Simmons (Cavalry FC)
---
Mohamed Farsi (Cavalry FC)
The young wingback was phenomenal again on Wednesday night, doing damage in the area where Pacific likes playing the most — along the flank. His pinpoint shot for Cavalry's third goal was world class, and it was that moment of brilliance that took a lot of the wind out of Pacific's sails after they'd scored.