Cavalry's clinching win over York9 overshadowed by injury to Oliver Minatel
Cavalry FC's 1-0 win over York9 FC on Saturday in Charlottetown came at a price.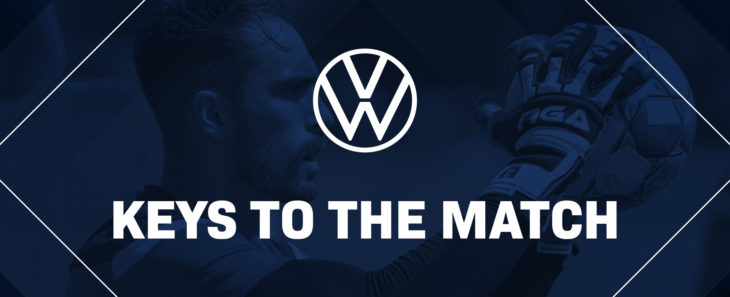 By collecting three points, Cavalry clinched a second-round berth at The Island Games. But winger Oliver Minatel was taken to a local hospital after suffering a serious lower-body injury in the first half, putting a damper on the Cavs' post-game celebrations.
Cavalry coach Tommy Wheeldon Jr. told reporters after the game that Minatel was to undergo immediate surgery.
While Cavalry clinched top spot in the CPL's first-round table (with 13 points), York9 (third place, 10 points) must await the results of Sunday's Pacific FC (sixth place, eight points) vs. FC Edmonton game to see if they advance. If Pacific wins, York is eliminated. If Pacific loses or draws, York advances.
Regardless of the result in Sunday's HFX Wanderers FC vs. Atlético Ottawa match, either HFX (fourth place, nine points) or Ottawa (seventh place, eight points) will move ahead of York in the standings.
Coming off back-to-back losses in PEI, Wheeldon Jr. made five lineup changes, including Jordan Brown starting up top. Y9's Jim Brennan made three changes, with Joseph Di Chiara (back from suspension), Michael Petrasso (returning from injury) and Chris Mannella in the starting 11.
The match came to a complete standstill in the 12th minute when Minatel crashed to the ground following a challenge for a 50/50 ball by Y9's Roger Thompson.
After receiving treatment from team trainers for several minutes, Minatel was stretchered off the field and was taken to a local hospital. Minatel was replaced by Marcus Haber. Thompson did not receive a caution on the play.
Cavalry fans immediately took to social media in support of Minatel:
Our thoughts are with you @OliverMinatel. You will return better than ever.

— Foot Soldiers (@footsoldierssg) September 5, 2020
The rest of the first half quietly unfolded, with only half-scoring chances coming from Cavalry's Nik Ledgerwood and Y9's Ryan Telfer.
The first shot on target didn't come until the 55th minute, when Cavalry goalkeeper Marco Carducci comfortably handled Petrasso's attempt. Moments later, Y9's Nathan Ingham made a great point-blank save on Haber's header from close range off a corner kick.
The breakthrough came in the 69th minute as Haber pounced on a rebound given up by Ingham off Nathan Mavila's shot from outside the box and slotted it home.
Saturday's loss was York's first of The Island Games.
Cavalry will be back in action next Wednesday, the first matchday of the second round at The Island Games.
Thanks to all of the fans for your concerns and we will keep you updated on Oliver's recovery.

That one was #ForOliver. pic.twitter.com/c1BWoVlYGR

— Cavalry FC (@CPLCavalryFC) September 5, 2020
---
RELATED READING: Cavalry rallies for Minatel to beat York9 || York9 left frustrated in season-jeopardizing loss
---
BOX SCORE
Goals
69'– Marcus Haber (Cavalry FC)
Discipline
45'+1' – Yellow: Luca Gasparotto (York9 FC)
81' – Yellow: Joseph Di Chiara (York9 FC)
87' – Yellow: Ryan Telfer (York9 FC)
90' – Yellow: Nik Ledgerwood (Cavalry FC)
---
Marcus Haber (Cavalry FC)
It couldn't have been easy to enter the game off the bench and replace Minatel. But the Canadian international didn't let what happened to his teammate affect his play. He was dangerous in the Cavs' attack and showed great composure on the winning goal.