'Coastal Clash' between Pacific FC and HFX Wanderers ends in stalemate in PEI
The CPL's first (and possibly only) "Coastal Clash" of the 2020 season offered plenty of entertainment and goals.
Ibrahima Sanoh converted a penalty in the 86th minute to help HFX Wanderers FC earn a 2-2 draw with Pacific FC on Saturday at The Island Games in Charlottetown.
Pacific's young team showed well in Pa-Modou Kah's debut as coach, while the Wanderers saw both of their goals come from penalties.
CPL rookie Cory Bent earned an early penalty when he was fouled by Pacific goalkeeper Nolan Wirth inside the box, and Brazilian newcomer João Morelli converted from the spot to give HFX a 1-0 lead in the 11th minute.
Terran Campbell had a chance to equalize nine minutes later after a brilliant setup by Victor Blasco, but the young Canadian ballooned his shot over the crossbar from close range.
Pacific tied it in second half when Campbell's audacious chip shot hit the crossbar, and Zach Verhoeven collected the rebound before firing a shot from inside the box that found the back of the net.
The Tridents took the lead with 15 minutes left in regulation. Josh Heard made a great play on the touchline to keep the ball in play, and after HFX couldn't clear its lines, Marco Bustos smashed his shot past goalkeeper Jason Beaulieu.
HFX were handed a lifeline late in the game when Akeem Garcia was brought down inside the box by Pacific's Lukas MacNaughton. Ibrahima Sanoh buried his penalty shot to draw HFX level.
Pacific FC returns to action on Aug. 18 when it takes on York9 FC (1:00 p.m. ET/2:00 p.m. AT), while HFX Wanderers FC faces Forge FC on Aug. 19 (8:00 p.m. ET/9:00 p.m. AT)
---
RELATED READING: Pacific FC leaves season-opening draw with confidence despite rust || Stephen Hart: Wanderers showed 'good character' to avoid collapse
---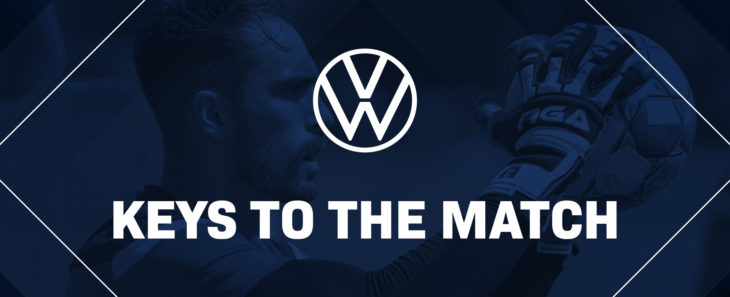 HFX Wanderers FC: Wing play – Cory Bent was impressive in his CPL debut, as the young rookie terrorized Pacific down the right flank.
Pacific FC: Veteran stability/youthful energy – While Spanish midfielder Victor Blasco (26 years old) provided plenty of stability, Canadian striker Terran Campbell (21) didn't look particularly lively.
---
BOX SCORE
Goals
12' – João Morelli (HFX Wanderers FC)
68' – Zach Verhoven (Pacific FC)
75' – Marco Bustos (Pacific FC)
86' – Ibrahima Sanoh (HFX Wanderers FC)
Discipline
44' – Jordan Haynes (Pacific FC)
65' – Louis Béland-Goyette (HFX Wanderers FC)
44' – Matthew Baldisimo (Pacific FC)
---
MAN OF THE MATCH
Cory Bent (HFX Wanderers FC)
The No. 1 pick in the 2019 CPL-U SPORTS Draft was very solid in his league debut, impressing with his speed and non-stop running in both attack and tracking back to play defence.