Forge earns draw with HFX via controversial penalty in 2nd round opener
---
The second round of The Island Games kicked off with a bit of controversy on Wednesday.
Forge FC and HFX Wanderers FC battled to a 1-1 draw in their group-stage opener, a result marred by a contentious penalty decision that gave the reigning league champs a precious point.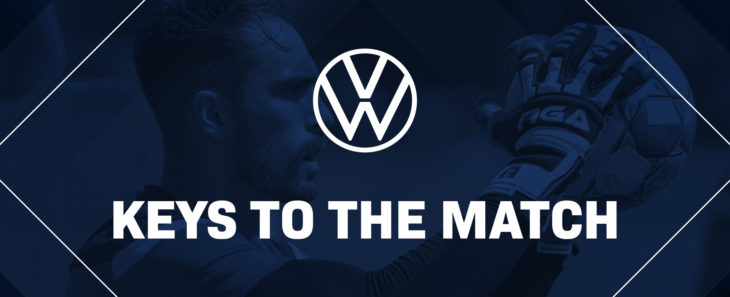 HFX's press generated early chances and put Forge, who was uncharacteristically unsure in its build-up play in the first half, on the back foot.
The Wanderers struck on one of those chances just two minutes into the match. João Morelli stripped the ball off of Forge defensive midfielder Alexander Achinioti-Jonsson and fed a perfect through ball to Akeem Garcia. The Trinidad and Tobago international made no mistake with a finish with the outside of his foot, grabbing his season-leading fifth goal.
The Wanderers handled Forge with ease for the rest of the first half, preventing the defending champs from recording a shot on target. Paolo Sabak's yellow card for dissent after throwing the ball away summarized Forge's lethargic first 45 minutes.
Forge emerged from halftime looking more composed. Sustained final-third penetration and good ball movement led to the tying goal – albeit a controversial one– in the 55th minute.
In arguably the most contentious penalty decision of The Island Games, HFX defender Jake Ruby was called for a handball inside the box while blocking a cross from close range. Replays showed the fullback's arm was firmly to his side. Regardless, Sabak stepped up and converted to even the score at 1-1.
HFX stepped on the gas following Sabak's penalty, leading to a back-and-forth final 30 minutes of regulation. Controversy was abound, too, with penalty shouts from Wanderer's Jems Greffard and Alessandro Riggi raising tensions on the pitch.
Alex Marshall came inches away from giving the Wanderers another lead off a free kick. Forge, in better shape offensively than the first half, looked good value to score in open play en route to recording nine second-half shots – the most dangerous of which coming from substitute Gabriel Balbinotti's audacious chip in the 86th minute.
Both sides return to action on Saturday. Forge takes on Pacific FC (12pm ET/1pm AT, OneSoccer/CBC) while the Wanderers face Cavalry FC (3pm ET/4pm AT, OneSoccer/CBC).
---
RELATED READING: Smyrniotis commends Forge's recovery after early missteps || Wanderers reeling from penalty heartbreak vs. Forge
---
BOX SCORE
Goals
3' – Akeem Garcia (HFX Wanderers FC)
56' – Paolo Sabak (Forge FC)
Discipline
44' Yellow – Paolo Sabak (Forge FC)
56' Yellow – Jake Ruby (HFX Wanderers FC)
71' Yellow – David Edgar (Forge FC)
---
Akeem Garcia (HFX Wanderers): Garcia earns top performer honours in back-to-back matches with his fifth goal in the CPL season. A brilliant outside-the-boot finish put the Wanderers on top and Forge on notice. He was good in HFX's aggressive press, too, looking tireless across his 83 minute shift.