Forge claims victory at Island Games, Pacific eliminated as penalty woes continue
---
Pacific FC's penalty troubles have continued at The Island Games.
The Vancouver Island club fell at the hands of Forge FC on Saturday afternoon, losing 2-0 to see their hopes of winning a league championship dashed.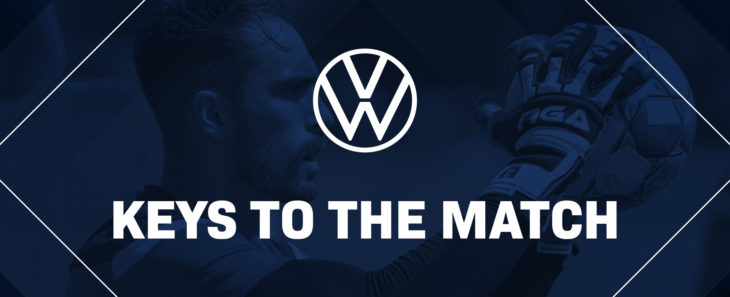 Sadly for Pa-Modou Kah's team, Pacific have now been mathematically eliminated from qualifying for the CPL Finals on Sept. 19.
The three points put Forge, temporarily at least, on top of the group stage standings ahead of Cavalry's match against HFX Wanderers FC on Saturday. With one game left in this round, Pacific remain on zero points, meaning they won't be able to get into the top two.
Forge's breakthrough came around the midpoint of the first half.
Jonathan Grant, making a fast run into the box, went down thanks to a push in the back from Pacific's Kadin Chung, as the Tridents conceded their sixth penalty kick of The Island Games. Daniel Krutzen slotted the penalty into the bottom left corner to give his side this lead.
The first half was otherwise quite an even affair, with Pacific having much more possession (almost 70 per cent) but both sides finding chances.
Despite some opportunities for Pacific to level the score, though, it was Forge that struck again in the second half.
Moments after the Tridents failed to convert a chance at the other end, Forge hit them on the counter-attack, as Kadell Thomas fed a perfect through ball in for Anthony Novak, whose left-footed finish was too fast for goalkeeper Callum Irving.
Needing to score twice to earn a draw and keep their season alive, Pacific continued trying to probe the Forge defence with a number of attacking substitutions, but ultimately they weren't able to make much of their massive share of possession. They didn't manage to take a shot on target in the second half, as Forge did well to comprehensively shut them down.
---
RELATED READING: Forge nears 2nd CPL final after 'off the chalkboard' win vs. Pacific || Pacific holding heads high despite elimination
---
BOX SCORE
Goals
35′ – Daniel Krutzen (Forge FC)
71′ – Anthony Novak (Forge FC)
Discipline
34′ – Yellow: Kadin Chung (Pacific FC)
36′ – Yellow: Sean Young (Pacific FC)
43′ – Yellow: Gabriel Balbinotti (Forge FC)
84′ – Yellow: Alexander Achinioti-Jonsson (Forge FC)
---
TOP PERFORMER
Jonathan Grant (Forge FC)
Typically a right back, Grant returned from injury and immediately filled in at left wing. He added a new dimension to the Forge attack, making cutting runs along the touchline. He won the penalty for Forge by outstripped Chung, and he was extremely dangerous whenever the ball came to his side in just over an hour of work.