Forge FC vs. HFX Wanderers FC: 6 players to watch in 2020 CPL Final
Forge FC vs. HFX Wanderers FC.
They have already played to a pair of 1-1 draws at The Island Games, but that streak of stalemates will come to an abrupt end on Saturday when they square off in the 2020 CPL Final (2:00 p.m. ET/3:00 p.m. AT, on OneSoccer and CBC).
Both teams arrive at this championship finale on the back of consistent outings through two rounds in Prince Edward Island, with several key players distinguishing themselves with brilliant performances.
Which of these players could make the ultimate difference on Saturday? Who should you keep close tabs on during the 2020 CPL Final?
Consider the following list of six names…
---
RELATED READING: Black Lives Matter – Helpful reading and video resources
---
AKEEM GARCIA
This wouldn't be much of a list if it didn't include the Golden Boot leader at The Island Games. HFX has bagged 15 goals, which means Garcia's six goals accounts for a staggering 40 per cent of the team's offensive output. The Trinidad and Tobago international also ranks second in the CPL in shots (18) and has effectively linked up with Brazilian teammate João Morelli in forming the league's best attacking partnership in PEI.
KYLE BEKKER
With quiet leadership and consistent performances in PEI, the Forge captain has to be considered a candidate for the league's Player of the Year award when The Island Games are done and dusted. Bekker has a team-leading three goals, and he has been a dominant force in the centre of midfield, playing a pivotal role in helping the reigning champions book a second consecutive trip to the CPL Finals.
JOÃO MORELLI
The Brazilian has been one of the CPL's best newcomers this season, taking the league by storm with his dynamic and inventive attacking style. With four goals, Morelli ranks third in league scoring, and has proven a handful for opposing defenders who have had difficulty tracking his slick movements off the ball and his dangerous runs into the final third of the pitch.
TRISTON HENRY
Often overlooked by pundits, Henry has been the best goalkeeper at The Island Games by some distance. He's faced 21 shots (third-most in the league) through nine appearances, and leads the CPL in clean sheets, with four. The young Canadian has come up with some big saves, and he will likely be called upon to do so again versus HFX's high-powered attack on Saturday.
ANDRE RAMPERSAD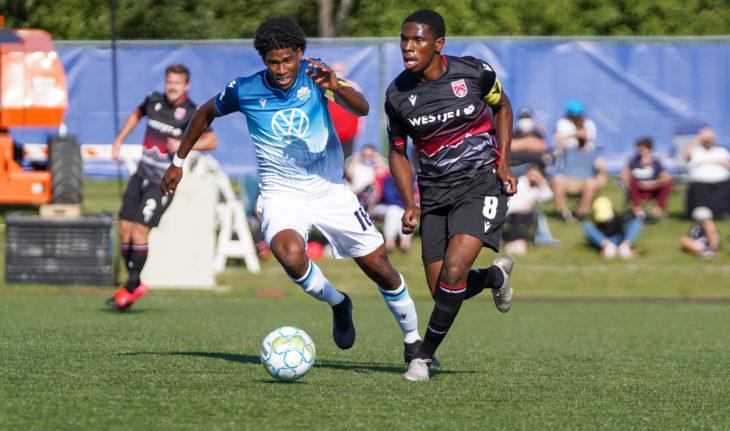 Rampersad has been an unsung hero during HFX's run to the 2020 CPL Finals. He's played in all 10 matches at The Island Games, logging 730 minutes of playing time (third-most on the team). The Trinidadian has been a bulwark and workhorse in midfield, making 16 defensive interceptions (fourth-best in the CPL) and has displayed some fine playmaking skills in earning a pair of assists.
DANIEL KRUTZEN
Has there been a better defender at The Island Games? The young Belgian has been stellar in the heart of Forge's back line playing alongside Canadian international David Edgar, making a league-leading 26 interceptions. He's a big reason why Forge has posted four clean sheets (more than any other team) and boasts the best defensive record in the CPL, with just eight goals against.