HFX Wanderers go joint-top of Island Games table with win over Cavalry
From last place in 2019 to being on the verge of the 2020 CPL Finals – it's been quite the journey for HFX Wanderers FC.
The Wanderers bested 10-man Cavalry FC 2-1 on Saturday afternoon, and they're now in a prime position to qualify for the CPL's championship game.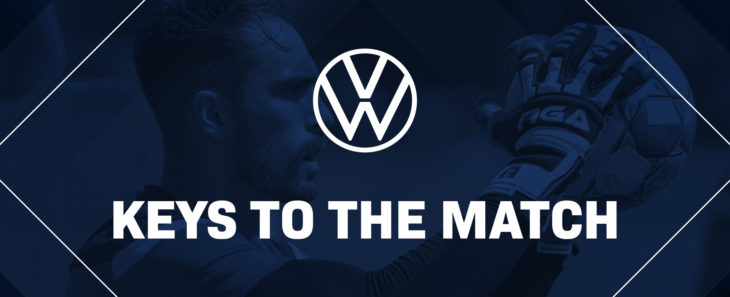 With two matchdays of the second round at The Island Games in the books, HFX and Forge FC are atop the table with four points apiece, but Forge holds the tiebreaker based on goal difference (+2 to +1). Cavalry sits third (three points), while Pacific FC (no points) is fourth.
The second round wraps up next week with HFX, Cavalry and Forge all looking to qualify for the 2020 CPL Finals, which are scheduled for Sept. 19 (2:00 p.m. ET on OneSoccer and CBC). Pacific has already been eliminated from contention.
HFX is unbeaten in six matches (with four wins), the longest current streak at The Island Games. Cavalry entered this contest in first place, and a win would have allowed them to advance to the finals. Now, they're on the outside looking in, and will enter the final matchday of this group stage with some work to do.
Both these teams close out the second round next Tuesday: Cavalry plays Forge (1:00 p.m. ET/2:00 p.m. AT), while HFX meets Pacific (8:00 p.m. ET/9:00 p.m. AT).
The Cavs played most of Saturday's game with only 10 men after defender Jonathan Wheeldon earned a pair of early yellow cards.
Golden Boot leader Akeem Garcia was hauled down inside the Cavs' box by Wheeldon, who was sent off for his second caution after only 11 minutes. Garcia converted from the penalty spot for his sixth goal of the campaign.
Garcia turned provider by delivering a through ball that sent João Morelli in alone on goal not long after. Morelli was brought down inside the box by Cavs goalkeeper Marco Carducci and then scored from the penalty spot to give the Wanderers a two-goal cushion going into halftime.
HFX soaked up the pressure to start the second half as the Cavs found another gear and showed much more life in attack, thanks in large part to forward Jordan Brown. Cavalry were rewarded for their persistence in the 80th minute as substitute Jair Córdova scored his first goal of the season, stabbing home his shot from close range after HFX couldn't clear its lines.
---
RELATED READING: HFX survives 2nd-half Cavalry surge as Hart shoulders blame for tactical change || 10-man Cavalry takes pride' from exhausting loss to HFX
---
BOX SCORE
Goals
12' – Akeem Garcia (HFX Wanderers FC)
41' – João Morelli (HFX Wanderers FC)
80' – Jair Córdova (Cavalry FC)
Discipline
2' – Yellow: Jonathan Wheeldon (Cavalry FC)
11' – 2nd Yellow: Jonathan Wheeldon (Cavalry FC)
40' – Yellow: Marco Carducci (Cavalry FC)
83' – Yellow: Nathan Mavila (Cavalry FC)
---
TOP PERFORMER
Akeem Garcia (HFX Wanderers FC)
The Trinidad and Tobago international earned the first penalty of the game, and then converted from the spot. It was also his pass that eventually resulted in João Morelli earning a second penalty and scoring from the spot.