Pacific FC: 3 key performers of 2019
---
All season long, CanPL.ca reviewed key performers from each Canadian Premier League match, giving due credit to a trio of players who impressed over 90 minutes. Now, we offer this one last look at standout performers for Pacific FC to bring a close to an exciting inaugural CPL campaign.
---
The first season of professional soccer on Vancouver Island was a fun one. Things didn't quite work out for Pacific FC in the standings, as they finished fifth in the overall table, but there was plenty of reasons to watch the Tridents.
For one, they embodied, more than another CPL team, the spirit of the 1,000 minute rule for under-21 players. Most of Pacific's greatest contributors were U21s, with the club's total minutes for youngsters topping the rest of the league combined.
---
RELATED READING: Pacific FC: 2019 season in review
---
Pacific's sextet of young stars who contributed the most, all of whom re-signed for 2020, deserve special recognition here. Noah Verhoeven, Kadin Chung, Matthew Baldisimo, Alessandro Hojabrpour, and Zach Verhoven all made serious waves in 2019, playing a ton of minutes as new professionals. Only one of the under-21 core, Terran Campbell, officially made our list of key performers, but it was tempting to cheat and use one of the three spots here for an amalgam of the other five.
Still, young players on their first professional deals need some more seasoned veterans to help them out. The two vets on our list fit in perfectly among the youngsters at Pacific this year.
---
3 Key Performers for 2019
---
1. Terran Campbell
Position: Striker
Appearances (starts): 28 (27)
Minutes played: 2,334
Goals: 11 (2nd most in CPL)
Assists: 2
Shots on target: 23
Big chances: 12
Pass accuracy: 77.20%
Let's start with the most obvious choice, shall we?
Campbell was one of the most prolific scorers in the CPL in 2019, finishing second in the Golden Boot race with 11 goals — tied with Dominique Malonga and two back of Tristan Borges. He was Pacific's only player nominated for a year-end award, earning some recognition as an under-21 Canadian Player of the Year candidate.
It took Campbell a little time to truly establish himself as the lethal striker we know him to be now. He shuffled through a variety of positions, from midfield to the wing to the middle, before going on an absolute tear as an out-and-out forward at the start of the Fall season. He scored five goals in the first four games of the Spring season, becoming a top striker in the league almost overnight.
Just 20 years old for most of the campaign, Campbell was rightly nicknamed "the Hulk" for his imposing stature and ability to out-muscle opponents. He commanded space in the box both with and without the ball. He'd never been such a consistent goalscorer in his previous stints with Whitecaps FC 2 or Fresno FC of the USL, but he found his place in Pacific.
What they said: "He shoots, and he just hits the net. When push comes to shove in the last minute, and you're still chasing that goal, you have a guy that you can count on." – Issey Nakajima-Farran, Pacific FC player
---
2. Victor Blasco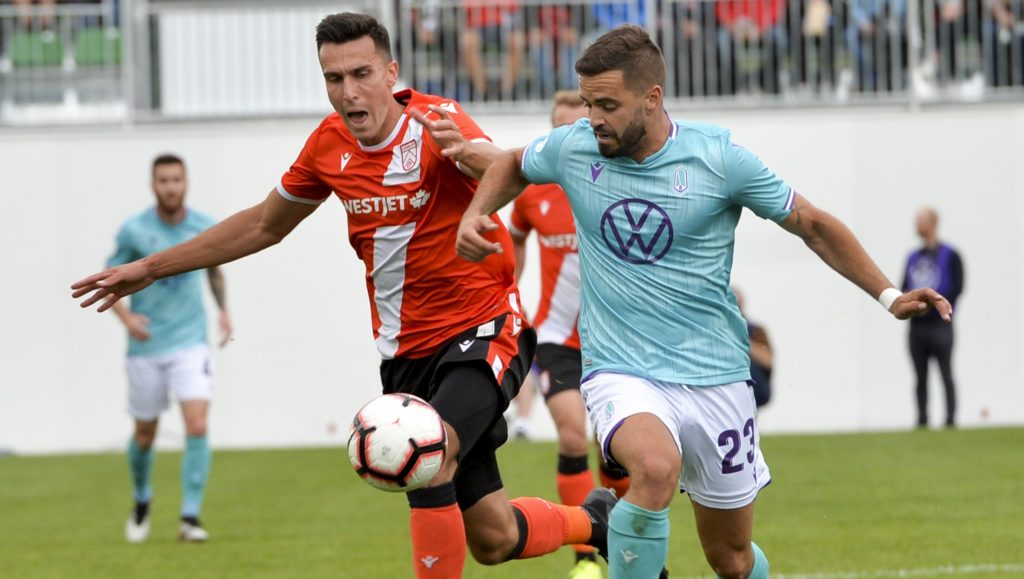 Position: Winger
Appearances (starts): 25 (19)
Minutes played: 1,584
Goals: 6
Assists: 3
Big chances created: 6 (team-high)
Successful 1v1s: 54 (6th in CPL)
Successful duels: 164 (team-high)
Pass accuracy: 75.20%
The Spaniard had a breakout season on Van Isle, and was finally able to show off his La Masia-honed skills in a fully professional league. He'd been around the block a few times in amateur and semi-pro soccer, with plenty of reps at the B.C. college level with Vancouver Island University.
Blasco found his way at Pacific, reuniting with now-interim coach James Merriman, who'd helped him find his footing upon arrival in B.C. He brought a touch of class to the Tridents' attack, proving himself as one of the best wingers in the CPL in one-on-one situations. The highlight of his 2019 was his free kick blast in July to help Pacific take down HFX Wanderers, but he had a hand in many of his side's best attacking moves, helping serve up chances for Campbell.
He was a dynamic player all year, offering an exciting brand of football that fit in well with the mentality at Westhills Stadium.
What they said: "Where Victor's come in the last eight months… I mean, he was playing men's league in Vancouver. He's been at the (top) level, and he's been sort of spat out, and he knows the opportunity he has right now." – Rob Friend, Pacific FC CEO
---
3. Ben Fisk
Position: Winger
Appearances (starts): 24 (19)
Minutes played: 1,662
Goals: 6
Assists: 5 (joint-1st in CPL)
Shots: 32 (2nd on team)
Big Chances: 7
Pass accuracy: 77.70%
This Vancouver native had a similar impact to Blasco on Pacific's young lineup. Having bounced around several European leagues (plus a stint at FC Edmonton in the NASL), he came home to British Columbia and became a leader at Pacific. He started the season strong before slowing down a bit in June, but he was consistently a threat (when healthy) in the Fall season.
Fisk looked comfortable on either wing, dribbling confidently up the flanks and often cutting in to shoot. He linked up well with Campbell and other attackers, ranking near the top of the CPL's midfielders in key passes.
It seemed that, after years of turbulence, Fisk found a place to flourish on Vancouver Island. He was one of the faces of Pacific FC in 2019, and one of the club's most vocal leaders, as well as a productive attacker. He wore the armband a few times for the side, and he was well deserving of the honour.
What they said: "He brings a lot of leadership and a lot of composure. Wherever he's played, I think he's a player than can make something happen out of nothing … He's the type of player we need to keep healthy through the season." — Marcus Haber, Pacific FC player
Pacific FC's Top 5 goals from 2019