Pacific FC holds off Cavalry FC comeback bid to win 2nd straight at The Island Games
---
Things are closer than ever in the CPL this week.
Just three days removed from their loss to Atlético Ottawa, table-topping Cavalry FC fell again on Sunday as Pacific FC soared to a 2-1 victory in PEI.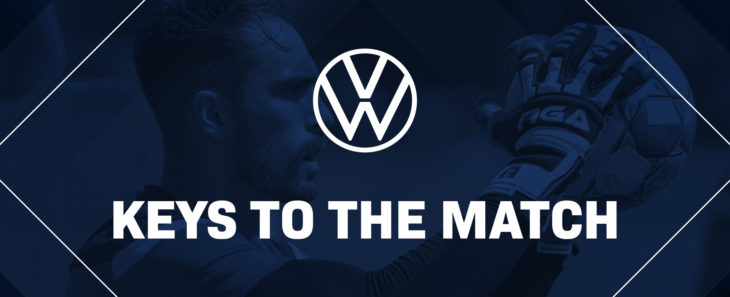 This marked the first time that Cavalry FC lost back-to-back regular season games in club history.
The win moved Pacific all the way from sixth place up to third, as they continue to stake their claim for a top-four spot at The Island Games. Cavalry remained in first place, although they'll have to wait a little longer to clinch their spot in the next round.
Pa-Modou Kah's Pacific side came out firing in this one, earning six shots in the first half as they climbed to an early 2-0 lead. Marco Bustos put the Vancouver Island club on the board first in the 22nd minute, as Jamar Dixon picked the ball off a Cavs defender and Bustos finished the chance with a strong left-footed shot.
Just a few minutes later, Robert Boskovic appeared to have equalized for Cavalry, but his well-taken header was ruled to be offside. Almost immediately after, it was Pacific going back up the other way, as a Victor Blasco cross found Alejandro Díaz in the six-yard box and the Mexican made it 2-0.
Not able to capitalize on a third golden chance (Sean Young hit the crossbar from inside the six-yard box), Pacific went into halftime up two goal against the first-place Cavalry.
Tommy Wheeldon Jr.'s team pressed to get back into things in the second half, controlling much more of the ball in the 20 minutes after the interval. They earned a golden opportunity in the 55th minute, as a tackle right at the edge of the box was ruled to be inside, giving the Cavs a penalty.
Nathan Mavila made no mistake from the spot, making it 2-1 and giving Cavalry life, but ultimately it wasn't enough.
Pacific returns to the pitch Wednesday for their first-ever tilt with Atlético Ottawa (8pm ET/9pm AT, OneSoccer). Cavalry enjoys a rare week off before facing York9 FC next Saturday (3pm ET/4pm AT, OneSoccer/CBC).
---
RELATED READING: Wheeldon calls for 'desire' from Cavalry, tips hat to well-prepared Pacific || Pacific finds 'game-changers' in crucial upset win over Cavalry: 'A lot of grit'
---
BOX SCORE
Goals
22′ – Marco Bustos (Pacific FC)
26′ – Alejandro Díaz (Pacific FC)
55′ – Nathan Mavila (Cavalry FC)
Discipline
20′ – Yellow: Marcus Haber (Cavalry FC)
55′ – Yellow: Jordan Haynes (Pacific FC)
72′ – Yellow: Robert Boskovic (Cavalry FC)
90+5′ – Yellow: Mohamed Farsi (Cavalry FC)
---
Marco Bustos (Pacific FC)
Possibly his best game in a Pacific kit yet. Bustos' goal was brilliantly taken, with four clean touches from his left foot, and he made three key passes to further create opportunities. He looked to create something every time he got the ball in the attacking third — which was often.