Second-half onslaught lifts Valour FC over 10-men Atlético Ottawa
---
Pour lire en français, cliquez ici.
---
That's not quite how Atlético Ottawa drew it up.
Their second-ever CPL match was a frustrating one on Wednesday, as they fell 4-0 to Valour FC at The Island Games.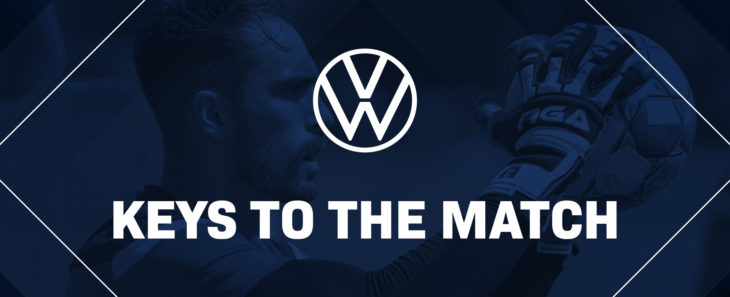 For the second game in a row, a red card and a penalty kick (this time both occurring at the same time) doomed Ottawa. After generating several chances through the first hour of the contest, Valour finally took the lead in the 65th minute, as Atleti defender Milovan Kapor dragged down Stefan Cebara in the 18-yard box.
Kapor, a repeat offender for the afternoon, earned a second yellow card from referee Filip Dujic, who also awarded a spot kick to Valour. Fraser Aird found the bottom right corner of the net with his penalty, opening his CPL account and giving Valour the lead they needed.
The Winnipeg-based side doubled their advantage in the 78th minute, as Haitian international defender Andrew Jean-Baptiste produced a towering header from a corner kick to nod into the top corner. The club's third goal came on the brink of the 90th minute, as captain Dylan Carreiro slotted home from distance.
Jose Galán added a fourth for Valour in the 91st minute, as he managed to stay composed in the box to finish from around the penalty spot.
Valour had a ton of chances throughout the afternoon, with Atlético goalkeeper Nacho Zabal coming up big on many occasions. He made seven saves, some of them point-blank, to keep his side right in it, up until Aird's penalty and Jean-Baptiste's header sank them.
The expansion side also saw the CPL debut of several youngsters, including 18-year-old defender Gianfranco Facchineri and 16-year-old midfielder Antoine Coupland.
Valour coach Rob Gale made five changes to his team that lost to Cavalry FC last weekend, with Austin Ricci coming in to lead the line, Masta Kacher playing a major role on the left wing, and Brett Levis moving to fullback.
The two clubs will now look ahead to the weekend. Valour will take on another Ontario foe in York9 FC on Saturday (1:00 p.m. ET/2:00 p.m. AT), while Atlético Ottawa braces for its first meeting with FC Edmonton on Sunday (12:00 p.m. ET/1:00 p.m. AT).
---
RELATED READING: Mista sounds off on lacklustre Ottawa || Gale dismisses 'rubbish' talk with blowout win
---
BOX SCORE
Goals
65′ – Fraser Aird (Valour FC)
78′ – Andrew Jean-Baptiste (Valour FC)
90′ – Dylan Carreiro (Valour FC)
90'+2′ – José Galán (Valour FC)
Discipline
4′ Yellow – Fraser Aird (Valour FC)
8′ Yellow – Milovan Kapor (Atlético Ottawa)
29′ Yellow – Austin Ricci (Valour FC)
29′ Yellow –Victor Martínez (Atlético Ottawa)
64′ 2nd Yellow – Milovan Kapor (Atlético Ottawa)
81′ Yellow – Masta Kacher (Valour FC)
---
Fraser Aird — Valour FC: Aside from scoring the opening penalty, Aird was busy all afternoon on the right wing. His hard-nosed intensity set the tone early, and he was crucial to the attack with three shots and three key passes.