The other Larin: Elijah sees Canadian Premier League as potential 'second opportunity'
---
TORONTO — If his older brother Cyle is Elijah Larin's favourite footballer, one of the elder Larin's Besiktas teammates is a close second.
Beyond his on-pitch talent, Ricardo Quaresma's face and neck tattoos appeal to Larin, who defined his own face art during last week's Open Trials in Toronto.
"It means unconditional love," Larin, 21, said of the small symbol that dangles from the corner of his right eye. The word "limitless" descends from Larin's left sideburn to his chin.
"I don't need to limit myself to certain things. I can do anything," he added during a break in play on Day 1 of the Canadian Premier League's coast-to-coast talent search.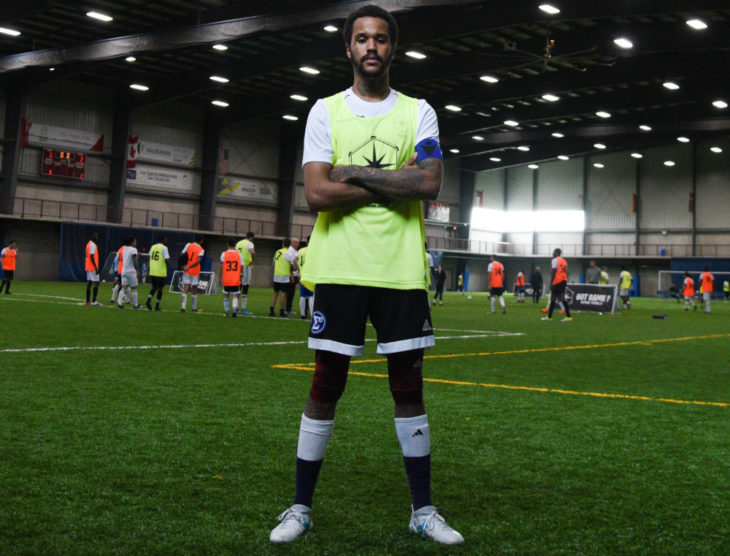 They were minor anecdotes that came after CanPL.ca's initial — if not blunt — opening questions: So, what are you doing here?
Where have you been? Where does Elijah Larin want to go?
"I just feel like this is a second opportunity for me to reach my first dream, which was to be a professional soccer player," Larin said. "This is a new opportunity for Canadians — a professional league. I'm just giving it my shot."
His motivation, it seems, is at least partially offset by the weight of pondering what might have been.
Larin's back, eager to impress, after a lengthy absence that included a positive junior college stint before a knee injury that, perhaps, altered the course of his career.
After spending his formative years developing alongside Cyle at Sigma FC, Larin said he "took a break" from the game after high school.
"I didn't want to go to school at the time," he said. "I pursued new interests. I was a good artist so I became a tattoo artist."
Yet his attachment to the game, his initial "dream," remained, and Larin returned to Sigma 18 months later in an effort to follow in his brother's footsteps.
According to Larin, top NCAA schools — the University of Connecticut, North Carolina and more — took interest upon his return to the sport.
"I didn't have the grades," Larin explained. "I went to (Broward College) first to get my credits and potentially transfer to (an NCAA school)."
Larin was one of Broward's leading scorers in 2015, collecting 10 goals and eight assists through 14 games before tearing his MCL in his second season.
"Once you go through a knee injury (those schools) don't want to take a chance on you," Larin added. "Now I'm back, working on my knee, getting it better, strengthening."
The left-footed Larin showed flashes during last week's Toronto trials, scoring off a well-taken half-volley from distance and demonstrating a desire to get on the ball and take on defenders. He advanced to Day 2 of the CPL's Open Trials.
"I'm a winger. I want to take players on," Larin explained. "My brother is more of a target man — like Didier Drogba. He's one of (Cyle's) idols, someone he models his game after."
While Larin doesn't exactly model his game after Cyle, his older brother has been an example for as long as he can remember.
"Whatever he did I'd follow. That's why he's a big part of my life," Larin said.
"He'd play hockey and I got into hockey. Once he went into soccer I got into soccer. Whatever he'd do, I'd do — like a little brother following a big brother. He's a big influence."
And still is.
Larin drew laughter when the conversation turned to the Canadian international.
"He's really busy," Larin deadpanned. "(He's) playing in the (UEFA) Champions League.
"He's a good guy," he continued. "He always wanted me to get back into (soccer) because he knows my talent. He'd always say to me, 'You should be here, too.'"
Both of the Larin brothers will be at BMO Field Tuesday night when Canada meets Dominica in a Nations League qualifier.
But while Cyle will be on the pitch, potentially scoring goals and receiving accolades in front of family, the younger Larin will be in the stands, admiring someone he's always followed while chasing his own dream.
"It's not hard. I could have been there if I'd pushed myself harder. A lot of people tell me I should be there, too," a motivated Larin told CanPL.ca.
"But I took different routes. Now I'm just trying to get my second shot. (The CPL) could be it."