Valour FC sinks FC Edmonton with late goal at Island Games
An exciting second half led Valour FC to a 2-1 victory over FC Edmonton at The Island Games in Charlottetown on Saturday.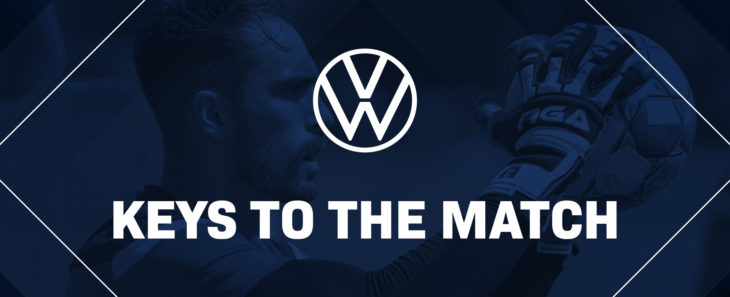 Masta Kacher's late winner put Valour temporality in third place in the CPL's standings, and in a great position to claim a spot in the top four (and a berth in the second round).
Edmonton has collected only one point from their five first-round matches.
A cagey first half saw few goal-scoring chances. FCE relied heavily on link-up play with Easton Ongaro, while Valour pressed hard in search for a goal in transition. Raphael Ohin had the best chance of the first half when a rare breakdown by the Eddies gave the powerful midfielder a shot from distance.
The game came alive after halftime with both sides exploding out of the blocks desperate for a win.
FCE, holding the bulk of possession over 90 minutes, looked comfortable with the ball around the box. At the other end, Valour's Stefan Cebara – playing on the right wing – smashed a short-angle short off the crossbar.
The first chance of the game for either side came for Valour FC via the penalty spot when Mele Temguia tripped up Valour forward Austin Ricci. Daryl Fordyce was denied initially by Edmonton 'keeper Connor James, but calmly finished the rebound to give Valour the lead.
FC Edmonton scored an equalizer in the 72nd minute when Ongaro made good on his promising play in the first half. A well-placed cross from Terique Mohammed found Ongaro who headed home. The Eddies kept applying pressure, with Ongaro the target of a desperation clearance from just a few yards out. A late break on goal and shot from Tomi Ameobi was their final quality opportunity of the match.
Kacher's dagger came in the 88th minute when a corner was headed to the top of box. The midfielder smashed home the winner with confidence.
Edmonton returns to action on Tuesday when they meet York9 FC (8:00 p.m. ET/9:00 p.m. AT), while Valour plays HFX Wanderers FC on Wednesday (1:00 p.m. ET/2:00 p.m. AT).
---
RELATED READING: Paulus sticks up for players, reflects on himself after FCE loss || Rob Gale, Valour commiserate after win over FCE: 'So much respect for them'
---
BOX SCORE
Goals
61'– Daryl Fordyce (Valour FC)
73'– Easton Ongaro (FC Edmonton)
88'– Masta Kacher (Valour FC)
Discipline
38' Yellow – Duran Lee (FC Edmonton)
65' Yellow – Erik Zetterberg (FC Edmonton)
68' Yellow – Austin Ricci (Valour FC)
81' Yellow – Tomi Ameobi (FC Edmonton)
81' Yellow – Stefan Cebara (Valour FC)
83' Yellow – Dylan Carreiro (Valour FC)
---
TOP PERFORMER
Easton Ongaro (FC Edmonton)
FC Edmonton's lumbering forward looked good value to score for the full 90 minutes. An early penalty shout – and dive – was quickly forgiven with his piercing runs and exciting hold-up play. His second-half goal showed great "in-the-box" awareness to drive to the near post and find the goal.