York9 claims dramatic 905 Derby win with 3 set-piece goals vs. Forge
The 2020 CPL season has been turned on its head.
In what has to be considered as the best match of The Island Games so far, York9 FC took the spoils in the 905 Derby on Wednesday afternoon with a fiery 3-2 win over Forge FC.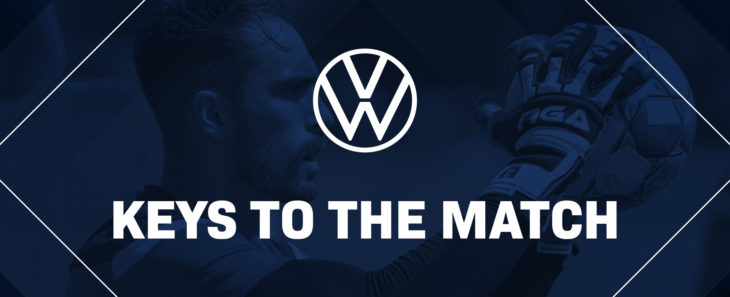 With the victory, York9 shot up the CPL table into third place (for now) with six points, putting them ahead of Pacific FC by one — and just two back of Forge in second.
All it takes is a few moments, and York9 took theirs in this one. After the first 20 minutes of the match left no daylight between the two clubs, the Nine Stripes leapt out to a sudden lead with a pair of set-pieces.
First, it was Manny Aparicio standing over a free kick on the edge of the box in the 27th minute. His effort hit the left post, rolling directly into the path of Kyle Porter who scored on the rebound. Just seven minutes later, Porter hit a corner kick low to the near post, which Joseph Di Chiara managed to flick into the goal over 'keeper Triston Henry.
The CPL champions wouldn't go down that easily, though. Forge coach Bobby Smyrniotis made a trio of bold substitutions at halftime, bringing on Chris Nanco, Anthony Novak, and Maxim Tissot (and sacrificing captain Kyle Bekker in the process).
The move paid off immediately, as Nanco managed to get around the York9 backline by passing to himself and finished well off the turf to make it 2-1. Alex Achinioti-Jonsson scored the equalizer in the 52nd minute, seizing on a rebound in the box after a free kick.
Although, by that point, Forge looked to be on an unstoppable path to victory, fortune seemed to favour York9 as they continued to win set-piece opportunities in the attacking third. Eight minutes after Forge levelled things, York9 earned a penalty off an Achinioti-Jonsson handball in the box. Di Chiara slotted the spot kick into the bottom left corner for his second of the day, putting his side back in front.
Of course, Forge refused to go quietly. They sent a fury of attacking moves at the York9 box in the late second half, with several threatening chances ultimately cleared by excellent last-ditch defending.
Both teams return to action on the weekend in PEI. York9 takes on HFX Wanderers FC on Saturday (3:00 p.m. ET/4:00 p.m. AT), while Forge faces Atlético Ottawa on Sunday (3:00 p.m. ET/4:00 p.m. AT).
---
RELATED READING: Forge's Smyrniotis laments first-half performance || Brennan delighted with execution as York9 finally rewarded
---
BOX SCORE
Goals
27′ – Kyle Porter (York9 FC)
34′ – Joseph Di Chiara (York9 FC)
49′ – Chris Nanco (Forge FC)
52′ – Alexander Achinioti-Jonsson (Forge FC)
60′ – Joseph Di Chiara (York9 FC)
Discipline
40′ Yellow – David Edgar (Forge FC)
53′ Yellow – Manuel Aparicio (York9 FC)
72′ Yellow – Kwame Awuah (Forge FC)
90+3′ Yellow – Maxim Tissot (Forge FC)
---
Joe Di Chiara (York9 FC)
It's not every day a player scores twice from set-pieces. Di Chiara's movement on his first goal (York9's second) was excellent to get in front of the goalkeeper and find the net. He also led his team in touches (56) and duels won (11), and he had a sparkling 97.4 per cent passing accuracy with 38 attempts.